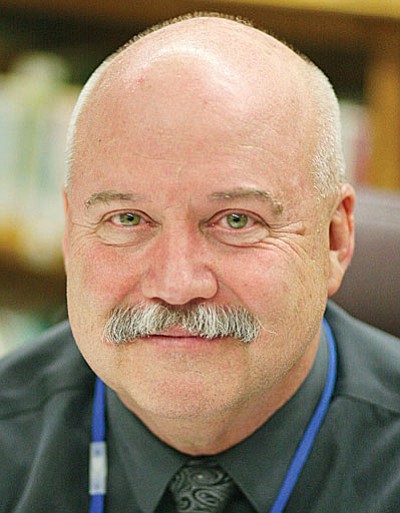 Originally Published: May 21, 2016 2:26 p.m.
VERDE VALLEY - The odds of finding an educator unhappy should Proposition 123 pass are about as good as finding a haystack in a needle.
But that doesn't mean that Verde Valley schools would have all the money they need.
Nowadays, schools don't have the luxury to turn down help - any help - even if it doesn't help enough.
As a representative of the Mingus Union High School District, Superintendent Dr. Paul Tighe cannot legally give advice on how to vote, nor can he make an effort to influence an election. Which is why Dr. Tighe, as well as other school superintendents and principals flat out said "no comment" when asked about their views on Proposition 123 leading up to the May 17 election.
But after the election, Dr. Tighe offers a sympathetic point of view because though 123 would be a step in the proverbial right direction, a "permanent, responsible funding stream is needed to support a high quality education system."
Says Dr. Tighe, the "failure of the Legislature to address these needs is inhibiting Arizona's ability to attract employers with highly skilled and compensated workers."
For schools to both attract and retain its educators, Dr. Tighe says they "need livable wages for teachers and better working conditions Which means that capital funding needs to be "restored to fully fund the formula, with a long term funding plan for K-12 education."
Show the money
Friday, Proposition 123 was ahead by nearly 16,800 votes, with more than 520,000 votes in support, and about 503,000 against. If voters do indeed say yes to the measure, Mingus Union High School District's teachers and staff would receive a 3 percent compensation increase during the current year, and a 4 percent increase for the next school year.
At Cottonwood-Oak Creek School District, the board could approve a 4.25 percent inflationary increase beginning with school year 2015-2016 as an addendum to contracts already in place.
"It's the board's final decision on what the budget and salary recommendations are," Cottonwood-Oak Creek School District Barb U'Ren said last week.
Though it could mean spending part of June reworking the current fiscal year's budget, the Camp Verde Unified School District governing board pre-approved a 4 percent wage increase pending Prop 123's passing at its May 10 meeting. Says Superintendent Dennis Goodwin, the increase in pay would be "for everybody," not just teachers.
"Also the administrators and support staff," Goodwin says. "When you try to keep your support staff, your technology people, you're not just competing with other schools. You're competing with industry."
Money spent to keep good teachers is one thing. But money spent to give teachers the resources they need is another thing - and it's that other thing where Prop 123 comes up short, educators are saying.
"Unless you get grants, or have other means," Goodwin says.
The Sedona Oak Creek Unified School District has made "great efforts to plan effectively to have a strong capital plan," says district Superintendent David Lykins. But the passing of 123 would help his district as well, and Lykins says he is prepared.
"We [would] be revising our budget prior to June 30 allocating the Prop 123 funding allocation into employees' salaries to strengthen our instructional delivery to all of our students," Lykins says.
The passing of Proposition 123 would allow the Sedona Oak Creek district to "allocate any additional revenues to our salary schedule for our teachers and employees who support the delivery of increased student achievement, school safety and school climate," Lykins says. "With a more competitive salary schedule, it will enable all Arizona school districts to compensate their employees, which is well deserved."
Restoration
Though the expected increase in pay would improve each school's ability to both recruit and retain its teachers, Dr. Tighe says that Proposition 123 would not restore K-12 education funding to 2008 levels, when Arizona was still at one of the lowest levels when ranked by state.
"Prop 123 [would] raise Arizona from 49th in education funding to 49th," he says. "There is no plan for restoration of capital funding, which is still only funded at less than 15 percent of the funding formula."
Though the short term benefit of 123 means additional compensation for both teachers and staff, Tighe says it is "difficult to identify long term benefits."
"We are grateful that the voters support education," Dr. Tighe says. "Those in opposition to Prop 123 have mostly stated they support education and want additional funding for education, but they do not believe the proposition provides sufficient funding or addresses the issue properly."
-- Follow Bill Helm on Twitter @BillHelm42 and on Facebook at @CampVerdeBugle