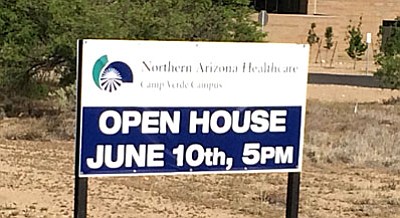 Originally Published: May 21, 2016 2:08 p.m.
CAMP VERDE - The new Camp Verde Campus of Northern Arizona Healthcare (NAH) is conducting an open house June 10 at 5 p.m., with the public invited to partake in campus tours and light refreshments.
Construction of the 26,000 square-foot facility at the northeast corner of SR 260 and W. Finnie Flat Road began Jan. 2015. In response to community feedback, the campus features a half-mile public walking trail, a xeriscape landscape planted with 120 indigenous trees and a food and beverage cart in the lobby.
The new facility expands the availability of medical services in the east Verde Valley. These services include primary care with extended hours, an optical shop with eye exams, a lab that provides blood draws and an x-ray department with the latest technology. Other specialty services include a rehab and sports medicine suite with aquatic, speech, occupational and physical therapies. Visiting specialists in fields such as cardiology, endocrinology, orthopedics and neurology also rotate through the facility. Education and support services, such as hospital-to-home transition as well as diabetes education, will also be made available.
While the medical facility lacks an emergency department, it does have a helipad for air ambulance transport. The helipad is to be utilized to transport critically injured patients received from local EMS to either Verde Valley Medical Center or Flagstaff Medical Center, both of which are NAH campuses.
According to NAH, the facility reflects a transition away from reactionary treatment to more preventative treatment.
- Tom Tracey