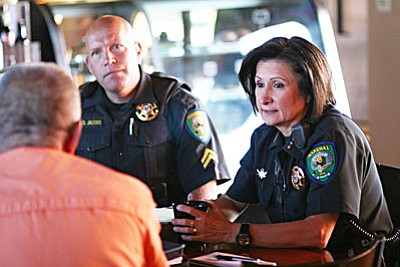 Originally Published: May 24, 2016 1:51 p.m.
CAMP VERDE - Perhaps the big news at Monday's Coffee with a Cop is that this month's meeting was held a week early.
The final Monday of each month, representatives from the Camp Verde Marshal's Office meet at Thanks a Latte to discuss local law enforcement happenings and answer questions of Camp Verdeans - or anyone interested in Camp Verde.
With Memorial Day this year on the final Monday of May, the Marshal's Office decided to meet on May 23. Which worked out well for Darryl Olinick and his wife Rebecca Moyer, both of Riverside, California.
It's not often that visitors have an opportunity to sit with the locals - or with Camp Verde Marshal Nancy Gardner. Not only were Olinick and his wife Moyer able to learn a bit about Camp Verde's police department before heading off to a job interview, they left with smiles on their faces.
"It's very moving to me that the town's people - and the marshal would open their arms to me and my wife," Olinick said.
DUI saturation provides 'good presence'
Both Olinick and Moyer told Marshal Gardner and Corporal Dan Jacobs that they were curious about an incident on May 21 when they saw several Marshal's vehicles in the downtown area in Camp Verde. According to Jacobs, the incident the visitors saw was likely connected to a DUI saturation, which according to Marshal Gardner is something the marshal's office tries to conduct "every other month at a minimum."
"The frequency of the enforcement depends on how much of the grant funds we have," Marshal Gardner said. "CVMO receives grant funding for overtime from the Governor's Office of Highway Safety (GOHS) to remove impaired drivers from the road. The goal is to save lives, by removing impaired drivers from the road before they can seriously injure or kill someone."
Police departments are given mandatory dates for these DUI saturation events, which according to Marshal Gardner are mostly on or near the holidays.
"There are other times that are discretionary for the agency to conduct DUI enforcement within their jurisdiction, and we allow our traffic supervisor, Corporal Jacobs to decide what dates those will be," Marshal Gardner said. "When we choose to conduct a DUI enforcement detail, Corporal Jacobs sends an email out to the department for interested deputies to participate. There could be anywhere from one to six deputies who want to participate; it varies every time."
Generally, the length of the detail varies anywhere from four hours to eight hours. According to Marshal Gardner, the primary goal of the DUI saturations is "to remind citizens to pay attention, obey the traffic laws and wear seatbelts."
According to Corporal Jacobs, there were eight total stops during the May 21 DUI saturation, which included seven warnings, one citation and one red light violation.
"Not a large amount of stops, but I think we provided a good presence to prevent graduates from drinking and driving," Jacobs said.
-- Follow Bill Helm on Twitter @BillHelm42 and on Facebook at @CampVerdeBugle