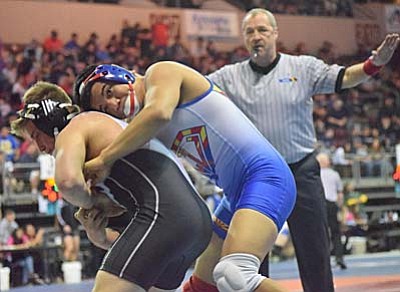 Originally Published: May 31, 2016 11:04 a.m.
CAMP VERDE - The turnout for Weekend Wars during Memorial Day was outstanding. We had visitors from the Northern, Southern, Eastern and Western Arizona. They bring much Tourism monies needed to sustain our local economy.
It is no secret that the production of first-class wrestlers at the elementary and middle school levels is critical to the future success of the Camp Verde High School Wrestling program. Being recognized this week is Rowen Wolfe, Adrienne Zepeda, Brody Townsend and Rhett Uhler, who all went undefeated this weekend. Wrestling is a difficult sport. It is not always fun.
The combination of grueling training, cutting weight, and working through pain and injuries is more than a normal kid today can handle. It is a testament to the determination and mental toughness of the athletes in the sport.
It is a brutal sport. You have two people out there in a match, you are all alone and no one to depend on. It is just you; if you don't get it done, it does not get done. At the same time you have someone coming against you one-on-one who is trying to make sure you don't get it done. That's why wrestlers are different.
To go in that room every day to get beat up and come back the next day takes a rare breed. But that is exactly what our youth need today if we are to prepare for whatever the future holds for them.
Conrad Brady, an incoming eighth grader, put on another stellar performance this weekend. Conrad's strength, courage and character are an inspiration to others. He continues to compete against those bigger and older than him to help him prepare for the future. He is a slick technician who rarely loses his head, regardless of the situation.  It's this maturity, far beyond his years, that makes all the difference.  He is patient and waits for his openings and opportunities. He is a young man with a lot of courage and inspiration. For his off-season dedication and tournament efforts, Conrad was named the outstanding wrestler in the Middle School division.
Representing Camp Verde High School at 125 lbs. was Ezequiel Casillas who put forth a great showing. He is a tremendous competitor and he's got great balance, core strength and quickness. Ezequiel is on a quest to join that elite group of state champions here at Camp Verde. He is a tough, solid wrestler who keeps coming at you, no matter what he might be hit with.  He's skilled and, at the same time, has that mental toughness that makes all the difference in the tough matches.
At 130 lbs. is Korben Uhler an incoming freshman who isn't the strongest kid in the block but on a wrestling mat those things don't matter. What he does have is toughness, heart and a drive to improve that has helped him become a true technician. He is a wrestler who can beat you with his skills rather than his athletic ability. Wrestling since second grade, Korben's commitment to wrestling is paying off, when his mastery of the sport allowed him to plow through older High School challengers and defeat an out of state champion. His goal now is to make history and become Camp Verde's next four timer.
Also going undefeated was Hayden Uhler. He is truly a master of his craft- he knows how to score on the edge, is smart enough to know to attack in the "transitions". He is very explosive, and his shots are as pinpointed as a laser. He continues to amaze his foes, at Camp Verde's Weekend Wars. Hayden is powerful and explodes into every action. Even better, while all that power and quickness is put into play, you can see the gears turning, planning out the next three or four moves in advance. Hayden is most dangerous from his feet and a serious finisher.
In the upper weight division, Favian Chagolla accepted all challenges and put on what many called "Clinics".
He displayed a barrage of take downs, tilts and pins. All challengers were devastated and overwhelmed. With champion-like qualities of courage, fortitude, determination, tenacity and perseverance, Favian proves that if you dedicate yourself and work hard, you will succeed.
The Unsung Hero Award within the Community this week goes to Walmart. Their works of charity, encourages our kids and helps them advance in the community.
Walmart's community service empowers both adults and children alike to be successful in life and helps create opportunities for our kids to achieve their dreams.
Walmart has a vision of a better tomorrow and has changed many lives for the best. Thank you Walmart and keep up the good work!
Many thanks to Dennis Sterrett, Bob Weir, Tracy Tudor, Rudy Galaviz from Flag Tee Factory t shirt, SanMar, Gabriel Chagolla, Camp Verde Journal, Charlie from Sol-Air, Jack Young, Marion Manning, Dan Harkins of Harkins Theatres, Jonora Mejia of Verde Valley Ambulance CO, John McReynolds of Babes Roundup, Greg Elmer Bashas' food store, Camp Verde Bugle, Camp Verde School District, Anna Valenzuela from Bashas', Snap Fitness Camp Verde, La Fonda Mexican Food, Alicia's Secret Assisted Living Home, Bill Geyer of BG Automotive, Salt River Materials Group (Phoenix Cement), Rosie Bux of El Dorado Residential Care Home, Sara and Larry Bean, Jean and Marshall Morgan, Janet Norris, Jeremy J. Uhler and Denae A. Uhler, The Bassous Family from Tierra Verde Builders, Terry Ligon of Ligon Excavation, Valdez Architects PC, Chris Tortorello of Total custom homes, Dr. Kirk Westervelt, Susan Simbric of Fort Verde Management, Bueler Funeral Homes, Anthony Pugliano the owner of the Sedona Chevron Station, Logan & Leah Robbins, Premier Diesel Equipment & Turbo, Louis and Irene Rezzonico of Camp Verde feed Store, Walmart, Aaron Hancock of Arizona-wrestling.com, Rose Smith of Bob's Tree and Landscaping and most importantly the Lord Jesus Christ.
More like this story