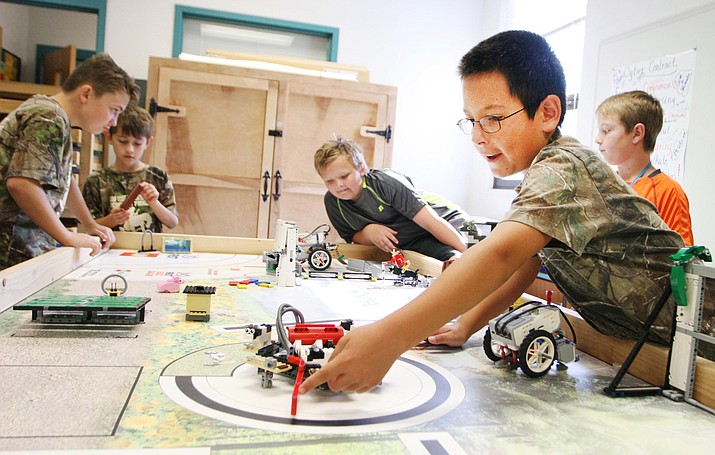 Originally Published: November 1, 2016 1:53 p.m.
CAMP VERDE – Not too many people would voluntarily go to their jobs on a non-workday.
Even fewer are likely to go to school when not required.
But at Camp Verde Elementary School, a dozen or so children show up each Friday to learn about science, technology, engineering and math – by playing with robots.
Members of the Cyber Cowboys Robotics Program, the aspiring engineers are classified in one of three categories based on their know-how. Their leader, Robotics Coach/Instructor Peggy Dickey, has her students' sights set on the First Lego League's Animal Allies national robotics competition.
But first, team members are assembling their best design ideas into a final robot to participate in the competition's regional qualifier in Flagstaff, scheduled for Dec. 3. At the Flagstaff regionals, team members will pick missions in which they can earn the most points.
Cadets – collaborators – team members
The children are classified as either cadets, meaning in training; collaborators, which are seasoned robotic students who can help their classmates; then finally the Cyber Cowboy Team Members.
Cadets Tyler Roth and Hunter Mathews both want to learn Bluetooth programming.
"Also I want to learn how to program my bot and how to use teamwork with friends," Roth says.
Whether cadet, collaborator or team member, the Friday robotics children at CVES each has the opportunity to participate "by designing, building and computer programming Lego robots to accomplish missions given to them by the First Lego League," Dickey says.
For fifth-grader Hezakiah Meschede, building and testing the robots to complete missions, "whether it's a success or we're close to making it a success, gives me a feeling of success to complete a mission."
Participating in the First Lego League competition is one of several robotics programs at Camp Verde elementary. Other programs are beginning, intermediate and advanced robotics, Concoct Your Own Creation, Master the Missions, and Battle of the Bots.
Problem-solving
"My goal is to inspire a passion for S.T.E.M. that may lead these students to a successful engineering or technology careers in the future," Dickey says. "I am trying to do my part in growing a new crop of engineers."
Though Dickey surely has more robotics knowledge than the children, she encourages them to "try to solve a problem first."
"I don't walk up and solve problems for them," Dickey says.
Which is good for fifth grader Brandon Bullard, one of the unit's collaborators.
"I've learned that there are hard times in everything, and that you just have to get past it," Bullard says. "Move on and see what's wrong. You have to try, try again and do it right."
Bullard, like the majority of his cohorts, wants to learn how to build and program high tech robots.
"I want to be a robotics engineer," Bullard says.
What they're learning
Fifth grader Jaydon Padilla, says he has learned about robot building and programming, and he wants to learn how to design video games.
Joey Dickey, also in fifth grade, has learned "how to build a stable chassis block, programming and how to do team building projects."
Dickey also says he wants to learn "more java script programming."
On the list of things fourth grader Joshua Gardner has learned in the Friday robotics unit is "social skills."
Looking for sponsors
Dickey says she created the school's robotics program because her students asked her. But she's finding that running a new program outside the basics of education needs more than a willing teacher and interested pupils.
"Since the program started, the demand for robotics has exploded," Dickey says. "However, there is no money in the school budget to purchase more robots or to pay for competition and tournament-related expenses. Students have to raise the money for these expenses through business sponsorships and tax credit donations from the public."
The school's robotics program is looking for sponsors and public support to fund its First Lego League competition shirts, as well as 10 new robots for its Battle of the Bots tournament.
Anyone interested in helping support CVES robotics can contact Peggy Dickey at pdickey@campverdeschools.org.
More like this story