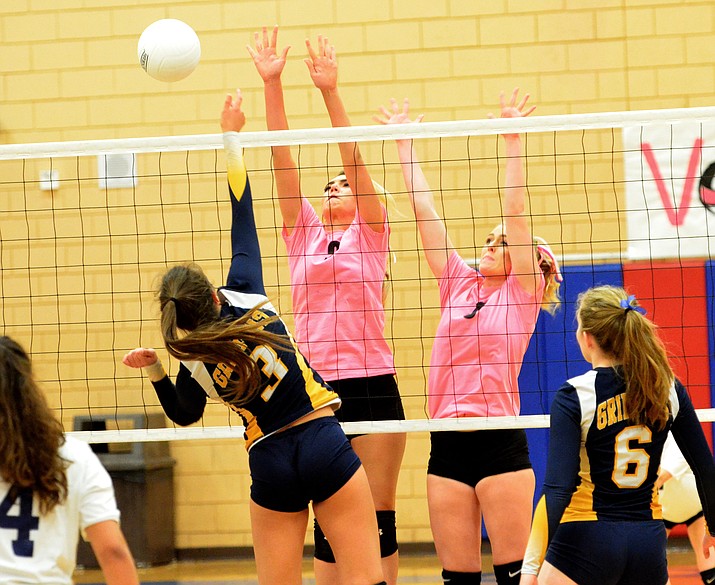 Photo by Vyto Starinskas.
Originally Published: November 3, 2016 10:19 a.m.
As our season comes to an end and I reflect over the past three months, a few words that come to mind are: improved, character, motivated and future.
Improved
Coming into a program that has been languished over the past years has its challenges for both coach and athlete. We demanded a lot of these young ladies immediately, beginning with attitude and work ethic, as well as going back to the basics and implementing a lot of fundamentals.
We worked very little on attacking, except for when it was being incorporated into other drills. We stressed to them how the game does not exist without a serve or pass. By the end of the season, our serve received was significantly better and the girls were taking balls not only underhand but overhand as well, which was powerful because they could get to the short float serves as well as hard deep ones (with their hands) and runs more offensive plays.
We began the season with a 6-2 offense, which was new to all of them, as they played a 4-2 in the past. The 6-2 offers three attackers in the front row always, while the 4 -2 only offers two, since the setter sets from the front row versus the back row (6-2).
The 6-2 is more challenging for the setter, because they are having to transition from the back row to make their set, instead of already being set up in the front row (4-2). As the season progressed, we decided that it would be more valuable for the team to run a 5-1 instead of the 6-2.
This required Maddison Johnson to be the primary setter and allowed us to utilize strong attacker, Bennett Holm, (who was the other setter in the 6-2) to now be primarily a RS (right side) hitter. The 5-1 is extremely demanding on any setter, as they are in the setting role for the entire game; transitioning from all locations on the court to get up and set the ball from the front row.
The varsity also learned a new defense this year and was capable of running either a rotational or perimeter defense based on how our opponents were attacking their sets. Not only did the girls verbalize their improvement but many other coaches, parents and spectators approached our coaching staff to tell us what a difference they have seen since the beginning of the season to the end.
It is very exciting to think about everything these young ladies learned, implemented and improved on in just three short months.
Character
Being a past female collegiate athlete, mother of two daughters' and now a coach; I am very in tune with attitudes and how infectious they can be on both an individual and a team.
We put 'attitude' on the top of our priority list and emphasized how it can either build or destroy. We also employed the Character Matter's Curriculum that Camp Verde has for its student athletes into our program: "... Not only on equipping them with the qualities necessary to perform on a high level in their sport, but is preparing them to succeed in life."
Each week we would select one of the 11 Character Qualities (unafraid, natural, balance, reliable, excellence, attitude, knowledge, alert, battle, love and enthusiasm) to break down and discuss how it could be implemented into our program and lives.
At the end of the week, while the ladies worked on demonstrating that quality during practice and play, coaches would select a Character Competitor of the Week.
As a program, we also participated in community service. The ladies took part in trash beautification around the entire school district as well as Butler Park and spent an afternoon making Thanksgiving crafts and spending time with the residents at the Haven of Camp Verde's retirement home.
The ladies especially enjoyed spending time at the Haven and expressed the joy it brought them and how eager they were to go back.
Motivated
The majority of our volleyball athletes' this year consisted of lower classmen; 3 seniors, 5 juniors, 4 sophomores and 11 freshmen. The coaching staff is not only motivated by this but extremely eager to get started on building a program for Camp Verde Volleyball.
During the season, we were able to spark a fire. As it came to an end, many of the girls were approaching the coaches to find out what was going to take place in the off season.
Coaches and athletes are primed and ready to continue with setting goals, reaching them and going new heights! During the season, we (coaches and players) ended practice early to support and watch the 8th grade volleyball girls take on Sedona. We are excited to start working with these young athletes.
At the end of their season, the team took 3rd overall and standouts Maya Hedges and Tyler McDonald were chosen as 1st and 2nd All-Tournament Team. Our High School players also put on a very pleasing display at our final game against Northland Prep. Both squads played right with both accomplished teams.
Our JV squad consists of only two juniors and one sophomore; the remainder of the nine young ladies are all freshmen. The Varsity also kept right up with Northland Prep, whose majority of their team, as well as their starters, are composed of seniors. Northland Prep also made it into the state playoffs last year.
Future
The Camp Verde Cowboys are looking forward to starting a dynasty that athletes are proud to be a part of. Coaches are working hard on laying down the ground work and are planting seeds that they are hoping will produce a program to be reckoned with both on a physical and emotional level.
We will break for the month of November/December and begin open gyms immediately following the New Year. To begin a Club team, the registration process needs to be completed the summer before the season. Because we missed out on the opportunity this year, we will consider it for next year as a possibility.
Since I was a three-sport athlete through all High School and still played collegiate volleyball, I am not completely convinced that 'club' is the way to go for athletes. Burnout, injuries and missing out on the opportunity to play multiple sports who cannot only condition other muscle groups to help in the athlete's primary sport, but also aid in strengthening other athletic programs for the school, are just a few reasons why I am not completely all for club ball.
I do realize, however, how club is the new generation for athletics and how our program could be at a disadvantage if we chose not to do it. Therefore, the coaching staff will be doing a lot of thinking to determine what will be best for our athletes.
What were some of the pressure's felt trying to win and keep the girls motivated? As a first-year coach, my mindset was never focused on the wins. I knew I had a bigger challenge ahead. My No. 1 goal was to breathe some life into the program, making the players hungry to come back for more and proud to be part of the program. I would always tell the girls to concentrate on their attitudes and have fun, because even athletes with the best talent falter when they lose sight of those two qualities.
Ironically, when they did just that, they played extremely well. This was where the majority of my focus was kept during the season. With goals of coaching long term, I knew I had to build a solid foundation and for me that began with great attitudes.

What did you learn that you didn't know? It was different coming in and playing the coaching role versus the player, which I have done for so many years. I learned to appreciate my past coaches so much more
It is unbelievable what it takes to be a coach, and all the many facets that I didn't even realize had to be taken on.
There is a lot of stress involved and prayer every day to ensure that you are making all the right decisions to help guide and steer these young ladies not only in a positive direction with their sport but also in life.
Final Thoughts
I am so incredibly proud of the heart and hard work you all demonstrated over the last three months. With all new coaches, injuries, personality differences and lineup changes, you all did an exceptional job and persevered until the very end.
Not many teams would be able to accomplish what you young ladies did and come back asking for more. I hope that each, and every one of you are able to take one gem from this season and understand how truly proud I am of you all.
Maddison Johnson (a.k.a. Maddie), you have been a pure joy and delight to have on our team this year. I am going to miss your easy going and fun-loving sarcastic personality. You are the true definition of NO drama and are a coach's dream! Thank you for being such a positive remodel to everyone and modeling a true Cowboy with your selflessness, discipline, accountability, teachable spirit and leadership. You have definitely placed the bar high for future athletes, and I am blessed to have had you for my first-year coaching. The sky is the limit and there is not a doubt in my mind that you can't do whatever you set your mind to.
Tiauna Day (a.k.a. T), your love for the game and your teammates amazes me. Voted as team captain by your teammates, you were already a leader from the start and never gave up on yourself or your teammates. Not only did you hold yourself to high standards, but you also encouraged your teammates to play with more heart and have better attitudes. I love how you always gave it your and continued "swinging for the fence" until the very end. You have a persevering soul, never lose sight of that! Thank you for the love you showed to yourself, teammates, coaches and volleyball.
Shelby (a.k.a. Shelb). I remembered volunteering two years ago when you were placed as the team manager and told that you would be able to earn your spot on the team with hard work. I was blown away with your commitment and raw ability, and soon you found your spot on the team. You came back the following year and not only made the varsity team but was one of its lead players. This year you have managed to juggle school, CNA, work, bills and volleyball all while getting accepted into NAU. Though you were injured for the majority of the season, I hope that you are able to take some of the lessons along with you as you begin your new chapter of life.
Thank you ...
I want to start by thanking my husband, Chase Armstrong, and daughters Haygen and Payslee for being so supportive over the last few months. It has not been easy stepping down from doing everything for my family to relying on my husband to be, Mr. Dad. Chase, thank you for truly being involved and asking me every day how volleyball was going, for cooking dinner, doing my bath and bed time routine with the girls and being a soccer dad. There is absolutely no way that I could have done this without you.
I also would like to thank my coaches; Susan Holm, Crystal Drake and Lisa Oothoudt. I knew that I wasn't going to be able to do this on my own, and all three of these women were instrumental this season. Thank you, Susan, for your wisdom, strength and mentorship. In addition, for driving us to all our games. Thank you, Crystal, for coaching our JV team and preparing our young athletes, as well as going through all the loops of ordering new jerseys and apparel for everyone! And finally, thank you Lisa Oothoudt, for coming out and being another advocate to our athletes and going on the NAU trip! All three of these women are wives and mothers and take time away from their families to help enrich the lives of the young ladies in our program.
Another big thank you to our Administration. Especially Athletic Director, Mark Showers, for all his patience while dealing with a first-time coach! He received countless emails from me, most of which were like a book. In addition, thank you to Jill Rayburn and Amy Johnson (athletic secretaries), for helping me with all the fun "paperwork" side of athletics that I didn't know existed! a
One more thank you to the parents and fans who showed their support. This season would not have been possible without you!