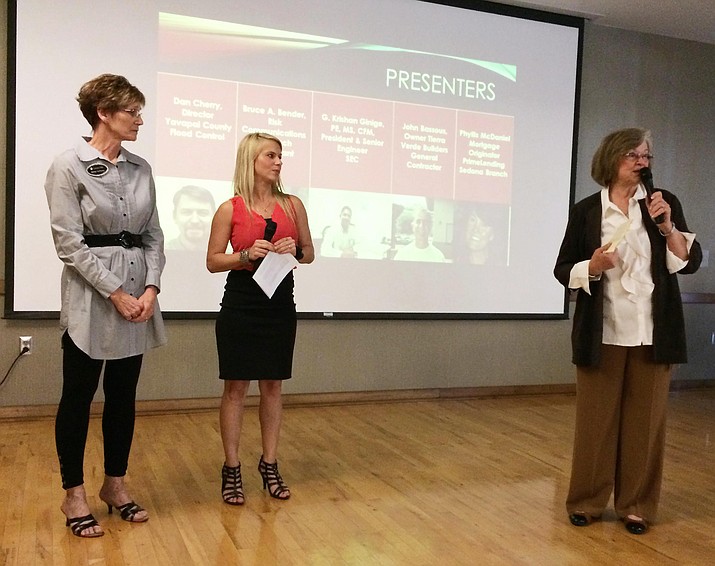 Originally Published: November 3, 2016 12:42 p.m.
VERDE VALLEY – Updated floodplain mapping and decreased government subsidies are going to make flood insurance more expensive in the Verde Valley, as well as more likely to be required.
Close to 180 attendees packed a FEMA (Federal Emergency Management Agency) seminar at the Cottonwood Recreation Center Nov. 1 to hear builders, flood engineers, government officials and mortgage lenders explain the ramifications of these recent changes. The program was organized by Esther Talbert, broker, Yavapai Realty along with Lawyer's Title staff Betsy LeTarte, vice president, branch manager and escrow officer and Michelle Murie, sales executive.
Two major changes in store for Verde Valley homeowners
Current and future homeowners in the Verde Valley are being faced with two major changes.
One is the recent updating of flood mapping. Some areas of Yavapai County have not had floodplains mapped for decades, if at all. So recent re-mapping with advanced digital technology has revealed new flood-prone areas.
The other is the president's signing of the Biggerts-Waters Flood Insurance Act, which ended government subsidies for policy holders in the National Flood Insurance Program (NFIP). The act was passed by Congress when NFIP's "no turn-down" policy resulted in unsustainable losses from flood-prone areas. However, when premiums were hiked to compensate, a significant number of home buyers no longer could afford to buy the NFIP required by mortgage lenders. So the federal government turned to the private sector to offer affordable flood insurance by allowing companies to decline certain high-risk properties. Homeowners requiring high-risk NFIP coverage will see their premiums jump 15 to 25 percent a year, every year, until they reach the full unsubsidized rate.
All of the Verde Valley is a floodplain
"How many of you live in a floodplain?" asked Bruce Bender, senior vice president, Bender Consulting Services, Inc. "This is where everyone's hand should go up. There is high-risk, medium-risk and low-risk, but there is no such thing here as a 'No flood zone.'"
"Thirty-five percent of Arizona's flood claims come from moderate- to low-risk properties," said Bender. "High-risk begins when you have a 26 percent chance of flooding during a 30-year mortgage. Flood insurance is required by most lenders because you have a higher risk of flood than fire."
Flood Insurance Rate Maps (FIRM) became a reality in Yavapai County on Sept. 18, 1985. Homes built prior to that date are considered "pre-FIRM" and have no flood rating at all. Updates to flood mapping can affect flood insurance rates, as well as the cost of home construction.
"People new to the area ask, 'This is a desert - - why do I need flood insurance?' Well, look at all the washes," said Phyllis McDaniel, mortgage originator, PrimeLending of Sedona. "Sixty percent of all declared disasters are due to flooding."
How much is this going to cost me?
Bender says primary residence flood insurance increases "will go up 15 to 18 percent per year, 25 percent a year for some buildings, non-primary residences and businesses, until reaching full-risk rated." An annual surcharge of $25 for primary residences and $250 for all others will go into effect. And Bender warned that flood policies allowed to lapse over 90 days "could have to pay the full-risk rate."
An estimate given for a $250,000 high-risk home put the price at $2,700 to $3,400 annually for a NFIP policy, while pricing for an equivalent private sector policy averaged $951. When opting for private policies, the insurance reform act provides consumer protection provisions such as equivalent coverage and fair cancellation procedures.
For those considering building a home in a flood-prone area, it can be done - - for a price. Foundations must be elevated above flood level and reinforced to withstand such forces as scouring, velocity and flood-driven debris.
John Bassous, owner of Tierra Verde Builders, estimated the cost for building to code in a low-impact flooding area increases the cost by 10 percent, with mid-impact areas costing 20 percent more and high-impact flood zones 40 percent more.
"One homeowner ended-up spending $640 per square-foot," he said.
For this reason, Bassous recommends dealing with professionals when purchasing.
"I get calls where I think, "You must have bought this on Craigslist.' That $4,500 lot with a great view has a river cutting through it and it will cost you half-a million dollars to build your dream home," he said.
The good news
Dan Cherry, director, Yavapai County Flood Control (YCFC) brought some good news to the three-hour presentation. Efforts by his department at gaining high-risk properties a FEMA rating of 7 (with 10 being the worst) resulted in homeowners gaining a 15 percent discount on flood insurance.
"In 1985, Yavapai County agreed to map flood hazards and manage the floodplain to FEMA minimum standards. In return, citizens have access to federal flood insurance and disaster assistance," said Cherry.
He noted that the county was awarded a $1.2 million grant to restudy the entire length of Oak Creek from its confluence of the Verde River into Coconino County. The results of the flood mapping will impact future home costs and insurance premiums throughout the watershed.
To remain aware of updated flood mapping, visit the YCFC website at www.ycflood.com. The site offers tools such as announcements of stakeholder meetings, a parcel search for floodplains and rainfall results from 100 gauges located throughout the county.
More like this story