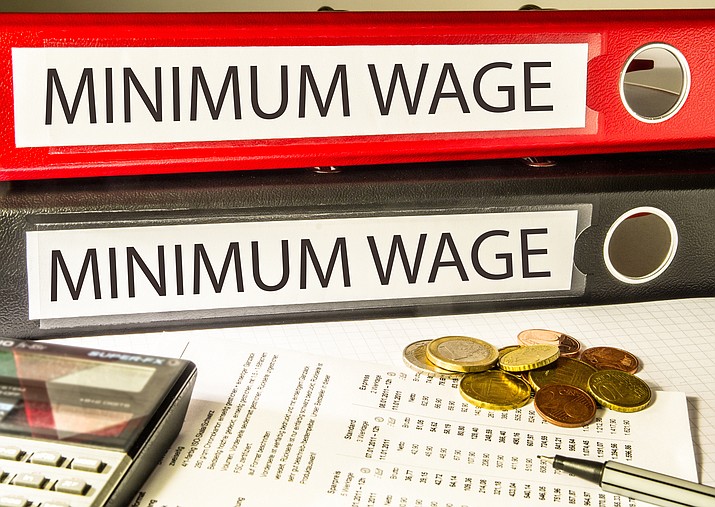 Originally Published: November 8, 2016 9:24 p.m.
PHOENIX -- Hundreds of thousands of Arizonans appear destined to get a salary increase come January.
Preliminary results show Proposition 206 being approved on a margin of close to 3-2. The outcome was essentially preordained, with the business community mounting only token opposition.
Proponents, by contrast, collected close to $4.3 million. In fact, they had so much money -- and so little opposition.
Proposition 206 is an outgrowth of a 2006 voter-approved law which established Arizona's first-ever minimum wage, setting it at $6.75 an hour when federal law allowed companies to pay just $5.15. The 2006 law also requires annual inflation adjustments which have pushed the minimum now to $8.05 an hour; it would have gone up another dime automatically in January.
The initiative instead proposed a January increase to $10 an hour, rising eventually to $12 by 2020. It also mandates something not in the original measure: at least three paid days off a year.
Opponents raised less than $40,000, with three-fourths of that from the Arizona Chamber of Commerce and Industry. Chamber spokesman Garrick Taylor said it was "not a mistake'' to essentially give the pro-206 campaign a free pass.
"We've got finite resources that we've got to deploy where we have most chance of making an impact,'' he said. And Taylor said the chances of making that impact here were virtually nil.
"Unfortunately, when these things get on the ballot across the country, they're likely to pass,'' he said. Taylor said the limited funds the anti-206 committee had were used to create a "grassroots'' campaign to spread the Chamber's message that higher minimum wages mean fewer jobs, especially for those just entering the workforce.
Campaign manager Bill Scheel has figured there are about 779,000 Arizonans now earning below $12 an hour, or about a quarter of the state workforce. He also estimated about 934,000 Arizonans are in jobs where there is no paid sick leave.
Prop 206 supporters had so much cash -- and so little opposition -- that they diverted some of their resources to help elect Democrats. But in a report released Tuesday, state Elections Director Eric Spencer said that diversion, or at least the way they did it, was illegal.
He said if Arizonans for Fair Wages and Healthy Families wanted to back candidates it had to first form a separate political committee. And Spencer now is asking the attorney general's office to pursue charges against the organization.
But Scheel called the finding "kind of shocking'' and said it is Spencer who is off base. He said Spencer's conclusion is based solely on guidelines issued by the secretary of state's office.
"A finance guide is not statute,'' Scheel said. "It doesn't have the force of law.''
And he rejected Spencer's contention that the proper and transparent way to have helped candidates would have been to form a separate committee and transfer the initiative's excess funding there.
"That's laughable,'' Scheel said.
"The way people hide resources is creating lots of committees,'' he said, transferring money back and forth until the real source is no longer discernible. Scheel said all anyone has to do to figure out who funded both the ballot measure and the candidates is look at the initiative committee's reports.
On Twitter: @azcapmedia