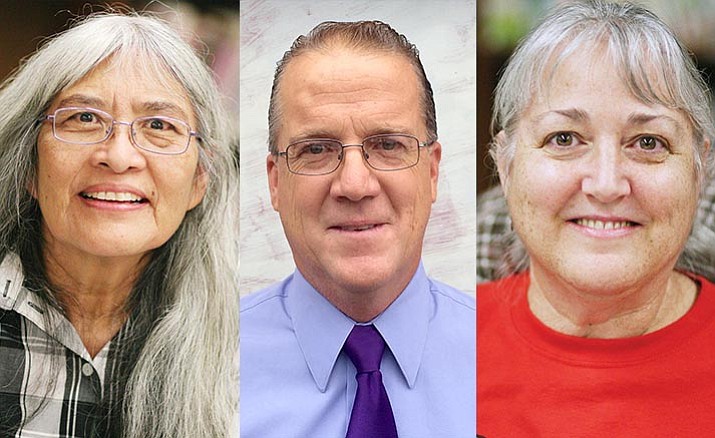 Originally Published: November 10, 2016 11:21 a.m.
CAMP VERDE – The last time Eric Lawton served on a school board, a fire devastated his community. And he learned a little something about planning ahead.
Lawton, who served on the Yarnell School District Board in 2013, was elected Tuesday as the newest member of the Camp Verde Unified School District's governing board.
Narrowly defeating another challenger – June Trinidad – Lawton will join incumbents Helen Freeman and Christine Schneider when the board members are expected to begin their four-year terms at their Jan. 10, 2017 meeting.
"I definitely want to thank God, first and foremost, then the people who voted for me," said Lawton, who served less than a year on the Yarnell school board before moving his family to Camp Verde.
The Yarnell school board had a scheduled meeting for the Tuesday following the June 30, 2013 fire that took the lives of 19 City of Prescott firefighters known as the Granite Mountain Hotshots. But they couldn't get back into the town "for about a week," Lawton recalled.
"A lot of people showed their support. And fortunately, the school was okay for the next year because our budget was in place," Lawton said.
But in 2014 and 2015, the school district's budget was not prepared to handle the loss of property tax revenue from homes destroyed by the fire, Lawton said.
"It didn't hit home for me until I realized the effect it would have down the road," Lawton said. "Helps me think now about some of the things we don't think are so important, but that we should look ahead. You can't look at things as just 'right now.' You're going to have an impact down the road, possibly for people who one day take over for you."
Before seeking election to the CVUSD board, Lawton began volunteering at Camp Verde Middle School.
Trinidad, who lost to Lawton by less than 30 votes, just finished an evening of movies and pizza when she found out the election results.
"I'm OK with it," said Trinidad, a local business owner. "I figured Helen and Christine, being on the board, would get the votes to stay on the board. And Eric is involved with the school right now."
After she turned in the necessary paperwork to seek election, Trinidad attended a candidates' workshop, which she said caused her to question "my actual running."
"It was a real eye-opener," Trinidad said. "I learned it would be difficult to be on the school board because there are a lot of legal issues you have to be careful with. Had I known that [before turning in the paperwork], I would have thought long and hard about running."
"But that's not to say that in two years, I wouldn't consider it again," Trinidad also said.
Freeman, who will be starting her third term on the CVUSD board, is 20-year teacher in Camp Verde. Freeman, who has spent the past 10 years at American Heritage Academy after 10 years at Camp Verde Elementary School, said she "appreciate[s] the support from the community."
"I look forward to keep working on the strategic plan that we discussed [Tuesday night]," said Freeman, who garnered 27.98 percent of the vote. "We're headed in the right direction."
Schneider, who unofficially finished with 25.67 percent of the vote, first sought election four years ago "as a way to give back for the opportunities I have been blessed with," she stated in a pre-election Q&A published by Verde Valley Newspapers.
"Parents mandated their students receive a well-rounded education," Schneider stated. "With that, the board and school administrators defined what a well-rounded education is today."
Freeman finished the election with 1,443 votes, Schneider with 1,324 votes, Lawton with 1,199 votes and Trinidad with 1,171 votes, as of 8:14 a.m. Wednesday.
-- Follow Bill Helm on Twitter @BillHelm42 and on Facebook at @CampVerdeBugle