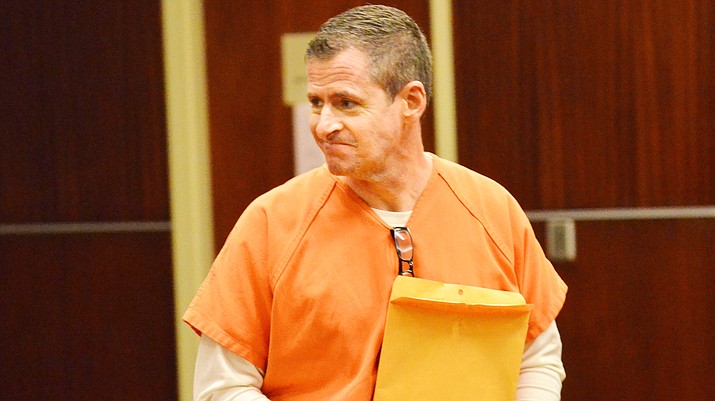 Originally Published: November 15, 2016 2:12 p.m.
CAMP VERDE – Seth Lawrence Collins stood before Judge Michael Bluff at Yavapai Superior Court in Camp Verde Tuesday requesting a new lawyer and a motion to withdraw from his plea deal.
Judge Bluff said he had reviewed all the materials, including a letter and statement from Collins.
Collins said he was unable to communicate effectively with his defense attorney, Matthew Springer. Specifically, he referred to the investigation and the toxicology reports from the other driver involved in the Nov. 21, 2014, crash on SR 260 that injured a van-load of people.
Collins said he had requested the disclosure, and had asked and waited for evidence, but was told by Springer that it was unavailable. Collins said he received the toxicology report - aside from the last page of the document that detailed the other driver's blood test results - which he said was crucial to his defense, only after he signed the plea deal. He also claimed the investigation is still not finished.
Collins asked Springer to withdraw the plea after he received the Flagstaff Medical Center report showing the toxicology analysis of the other driver involved in the crash.
After a conversation, Springer suggested that Collins write a letter to the judge for a request for a new lawyer, said Collins.
In the letter, Judge Bluff said that it had stated that Collins thought that Springer didn't fight hard enough, and that he should have gotten a better deal. In the plea deal that Collins signed last month, he would serve between 21-25 years in prison. Without the plea, and if the case went to trial, he could face a maximum prison term of 195 ¾ years, with 126 years flat time.
Springer disagreed with the allegation that he didn't communicate on a regular basis with Collins, and Judge Bluff said it appeared that the two talked at least once a week.
Collins told Judge Bluff that his desire was to go to trial all along, but that Springer kept telling him that he'd go to prison for life if he didn't sign the plea. Judge Bluff said that may be true, as discussed in a previous hearing.
Collins also said that five nice letters from his family – some of whom were present in court - were written, but that four of them somehow were misplaced. He stated that Springer doesn't want to defend him or take him to trial, and wouldn't want anyone representing him that felt that way.
After a recess, Judge Bluff came back into court and denied Collins' request for a new lawyer. Judge Bluff said he didn't find a completely fractured relationship between Collins and Springeer, and didn't find a complete and total breakdown of communication. Judge Bluff said the conflict comes from the strategy of the plea. Judge Bluff also noted that his request comes late into the game, just a month after the plea deal and right before sentencing. The victims have been waiting for their day in court as well, he said.
Judge Bluff also said that he considered the quality of counsel, and stated that he had worked with Springer a long time, and his effectiveness is not an issue. Springer is an experienced trial attorney who has been very successful, said Judge Bluff.
Collins said he would like for his family to hire a new attorney to represent him. Judge Bluff had no objection. Collins also said he would like to file a motion to withdraw the plea.
Public Defender Stephanie Willison said the victims are trying to put this past them, and requested that the case not be dragged out longer. Collins requested 10 days to file his motion, and was given 30 days to hire a new lawyer.
Collins, 45, plead guilty Oct. 4 to eight counts of aggravated assault, two counts of endangerment, one count of aggravated DUI, and one count of methamphetamine possession.
On the night of the accident, with a suspended license and under the influence of methamphetamine, Collins fell asleep at the wheel, crossed over the center line and injured a van-load of eight people on SR 260. Five medical helicopters were lined up on the highway that evening to receive the three adults and five children to fly them to trauma centers.