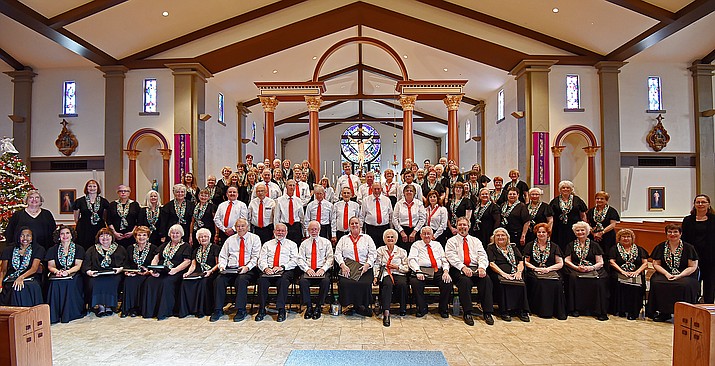 ---
---
December 18, the Verde Valley Voices will present their Christmas Concert at Immaculate Conception Church on 89A. Doors will open at 2:15 and the concert will start at 3.
"I'm loving this music!" says Joy Simons, the conductor of the Voices.  "We're celebrating 20 years of singing here and the program is full of favorites we've sung through the years.  Even some songs from the very beginnings of this choir when we were small but mighty."
The Verde Valley Voices started 20 years ago under the direction of Joy.  Since then Beverly Hall led the choir for 15 years and Caleb Nihira directed the 2014/15 season.  Through the years the Voices have become a vibrant part of our community; presenting concerts small and large across the Verde Valley.
Trish Wood has been leading the Voices as president for several years.  "This group of singers is a big part of the joy in my life.  I can't think of anyone else I want to sing in the holidays with!"
This year's concert features some fun songs like a Doo-Wop Rudolf and "I Want a Hippopotamus for Christmas," some classics like "It's the Most Wonderful Time of the Year" and "Silent Night," with some beautiful choral features like "Candlelight Carol" and "O Magnum Mysterium."
"This choir works very hard and it shows," says Joy.  "It's a pleasure to make such beautiful singing.  I can't wait to share it all with everyone on December 18."
Tickets are only $10.00 each.  Children 12 and under are free.  Tickets can be bought in advance in Cottonwood at Mount Hope Foods, Verde Floral, and Desert Dancer; and in Camp Verde at Sweet Grace Consignment Shop.