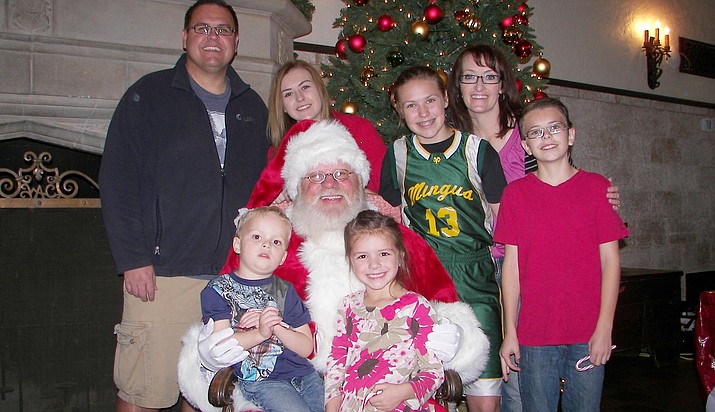 Originally Published: November 29, 2016 2:19 p.m.
Santa comes to Clarkdale
Visit Santa on Dec. 9 between noon and 2 p.m. at the Clark Memorial Clubhouse-Men's Lounge, 39 S. 9th St., Clarkdale.
Children can visit with Santa and have their picture taken with the guest of honor, enjoy hot chocolate and cookies and create an ornament with artists from Made In Clarkdale to hang on the Town Park Tree.
Admission is free. Doors close promptly at 2 p.m. For more information, call 928-639-2460.
Caroling in the Clarkdale Town Park
Join your friends and neighbors Friday, Dec. 16 at 6 p.m. at Clarkdale Town Park for this festive community sing-along of all the favorite carols of the season.
Song lyrics and hot chocolate to warm your bones will be provided. Please bring a flashlight and dress according to the weather.
The event is free. Carolers are asked to meet at the Clarkdale Town Park Gazebo, 1001 Main St. For more information, call 928-639-2460.
'Tis the Season to be Swingin' YC Instrumental Concert
Thursday, Dec. 1 from 7 p.m. to 8 p.m., Yavapai College presents 'Tis the Season to be Swingin' by the YC Instrumental Concert.
From the traditional to the contemporary, this evening of jazz is sure to set your holiday season a light. Join the Yavapai College Roughriders and Trailblazers big bands as they bring-in the New Year with some holiday swing. Hear jazz renditions of all of your favorite music to share with family and friends during this festive time of year.
The concert will be held at the Verde Valley Campus, Room M-137, 601 Black Hills Drive, Clarkdale. For more information, call 928-776-2000.
Holiday Home Tour in Lake Montezuma
The Lake Montezuma Women's Civic Club will sponsor a Holiday Home Tour as a fundraiser for scholarships and community support.  The tour will take place on Saturday, December 17 from 2-5 p.m.  Tickets are $10 each (ages 12 and under are free) and may be purchased from Civic Club members, businesses with Gingerbread signs or purchased at the door.  The tour will start at the Beaver Creek School Board Room, 4810 E Beaver Creek Rd. in Rimrock or Betty Hart's Home at 3765 E Montezuma Ave. in Lake Montezuma.  The tour includes the 1932 Rock School House, Carolers, Bake Sale, Raffle (items from participating Beaver Creek Businesses) and five decorated homes.  
Iris Spring Ranch site for Cornville holiday event
The Cornville Historical Society is pleased to announce its Annual Holiday Fundraiser Event at beautiful Iris Spring Ranch (part of the historic El Rancho Bonito), 675 Black Hawk Drive in Cornville, near Mormon Crossing. The event will take place from 1 to 4 pm, Sunday, December 11, 2016, and will feature a history presentation by Society researcher Janet Cassagio and music by Cornville native Alvie Self. The program will be followed by the Society's popular raffle of holiday baskets featuring gift certificates and themed items. Holiday treats and beverages will be served. The event will be outdoors and chairs will be limited, so bring a folding chair to assure a seat. In case of inclement weather, the event will be moved to Oak Creek School. Let's hope for good weather, as the natural spring-fed pool at the ranch is not to be missed.
Cost of the event is $10 per person, including ten gift basket raffle tickets to be issued at the door. Raffle tickets will also be sold at the event. Admission will be limited; and reservations are required in advance. Tickets are available on a first-come-first-serve basis. Reserve a ticket by contacting Cheryl Chamberlain, 639-0865 or wormworm@earthlink.net. After reserving your ticket, send payment to Cornville Historical Society, c/o Cheryl Chamberlain, P.O. Box 1337, Cornville AZ 86325. Tickets will be mailed in advance or held for pick up at the door.

Tapping workshop at the Library
The Cottonwood Public Library is hosting a free workshop called "Tap That! Our Fingertips Heal" with Tyffany Howard. Tapping is a simple self-help tool that enhances the spirit, mind and body connection. Whatever ails you: stress, worry, anxiety, writer's block, weight challenges, relationship issues, money issues, fear, grief, sadness, depression and on and on, you can always tap that! Learn how our fingertips heal and receive greater clarity, peace, enhanced spiritual connection, greater flow of ideas, better health and more. This class will take place in the Library meeting room on Saturday, December 3rd from noon to 1:30 p.m. Tyffany Howard, Jurist Doctor, is an author, inspirational and international speaker, spiritual teacher, workshop/retreat leader, artist, tapping facilitator and Reverend of Metaphysical Science. The Library is located at 100 S 6th St in Cottonwood.
Verde Community Church presents Celebration of Lights Dec. 10 
Verde Community Church presents its 6th annual Celebration of Lights!  As we explore the wonder and joy of God's Son coming to earth and how it changed everything...forever, we also look at five life-changing gifts:  the gifts of Expectancy, Grace, Reconciliation, Adoption and Jesus. The beautiful thing about these gifts...they're FREE! 
Bring the whole family to this great night of music, drama, lights and fun! Childcare is available for children up to 4 years old. Show times are 3:00 pm and 7:00 pm on Saturday, December 10th. Pick up your complimentary tickets at the Verde Community Church office during the week (8:00-4:00) or on Sunday mornings at 9:30 at the information booth.
Verde Community Church is located at 102 S. Willard St. in Cottonwood (next to the hospital). For more information, call the church office at 928-634-3645 or check out www.verdecc.com.
Give blood, get pizza!
Give blood Nov. 18 – Dec. 31 and receive a voucher for a free pizza slice and soft drink,donated by Fratelli Pizza.
Offer valid at both Flagstaff locations. Must present voucher. Not valid with any other offer. One voucher per party per visit.
No cash value. Voucher is not refundable nor can be redeemed/sold for cash. No purchase is necessary, but the donor may be responsible for applicable tax. This voucher may not be combined with another discount and is subject to availability. The voucher is non-transferable and must be redeemed by donor in person; donor may be asked to show ID. Please present before ordering. Void if copied or purchased.
Eligibility Questions? Call 1-800-288-2199 X5497 www.FratelliPizza.net
Camp Verde Community Blood Drive
Tuesday, December 13, 11 a.m. to 4 p.m.
Camp Verde Ranger District at 300 East Highway 260
Contact Irene Peoble at 928-567-9227 or visit
www.Bloodhero.com (Sponsor code: CampVerdeCommunity )
Dump the Drugs event Dec. 17 in Lake Montezuma
A "Dump the Drugs" event will be held on Saturday, Dec. 17, in Lake Montezuma at the Beaver Creek Adult Center. The Beaver Creek Community Action Team, Yavapai County Sheriff's Office and MATFORCE are hosting this event.
Seventy-eight people die each day in the nation from opioid overdose. The CDC reports that prescription pain relievers are the driving force behind those deaths. Proper disposal of unwanted medication will help keep potentially dangerous drugs out of the wrong hands and also from getting into our water systems.
Unwanted prescription and over-the-counter medications can be dropped off between 10:00 AM and noon at Beaver Creek Adult Center, 4250 E. Zuni Way in Lake Montezuma.
For more information call 928-708-0100 or online at matforce.org.
Jerome Kids Christmas Carnival Dec. 2
The Jerome Chamber of Commerce has something special in store for Verde Valley kids this holiday season. The Kids Carnival will be held on December 2nd in Spook Hall, beginning at 6 p.m.
There will be plenty to keep everyone occupied while we wait for the arrival of Mrs. Claus and Santa. There will be cookie decorating, ornament making, games, letter writing to Santa and more.
Special musical guests The Lepardz will be performing. This Jerome girl band is made up of Sophilla Villescas, singer, Jamee Chenoweth, drummer, Lexie Sorrells, guitar and Alexandra Carey, keyboard and bass. They will be playing their original song  'Drive Away, Fly Away' and lots of Christmas songs. Mrs. Claus will read "Twas the Night before Christmas" and Santa will arrive and have plenty of time for everyone to have their photo taken with him. Bring your camera and a handmade card to give to Santa to show your love.
The cost is $5 per person with tickets sold either before at 928-634-2604 or at the door.
For more information, contact Diana Martin at 928-634-2604.
12th annual Sedona Marathon Feb. 4 
Register for the 12th Annual Sedona Marathon Event taking place on February 4, 2017. Sign-up with your family and friends before December 31, 2016, to save on registration with Early Bird pricing!
The boutique destination race event is expected to host more than 3,000 runners and walkers who will participate in one of these breathtaking panoramic races: 5K, 10K, Half Marathon or Full Marathon race.
The course will take registrants through the scenic Coconino National Forest District.
Spectators, supporters and participants will be treated to an Expo and Packet Pick-Up at the classic Elk Lodge of Sedona. The Expo will feature vendors that will inspire and entertain both locals and visitors alike. All registrants will also have access to a fully loaded Virtual Goodie bag, a gender specific tech running t-shirt, and all finishers will receive a Finishers Medal.  
Sign up before December 31, 2016, to save on registration with Early Bird pricing!
For details and to register, visit SedonaMarathon.com.
Camp Verde Parks and Recreation call for Christmas Craft Bazaar
Camp Verde Parks and Recreation is accepting registrations for the annual Christmas Craft Bazaar and the Parade of Lights. This year's bazaar will be held Saturday, Dec. 10 from 10 a.m. to 4 p.m. in the Community Center Gym on Hollamon Street. We are looking to showcase locally and regionally made quality products for this show. If you are a crafter of gifts or Christmas decorations don't miss this opportunity to show off your talents. This is a chance for local residents and visitors alike to browse a selection of unique gift and decorating ideas. Crafters will not be required to provide individual liability insurance. Booth space is $25 per vendor with limited electric availability and includes two 8 foot tables in an L shape. The Town's annual Parade of Lights will also be held that evening at 6 p.m. just outside the Gym. Registration for the parade is free. After the parade Santa and Mrs. Claus will be in the Gym to meet children and hear their Christmas wishes. Vendors and parade entrants can contact Camp Verde Parks and Recreation with questions or to register at 395 S. Main St. or (928) 554-0829 or Shawna.figy@campverde.az.gov
Camp Verde Parks and Recreation announces Winter Co-ed Volleyball
Camp Verde Parks and Recreation announces registration for Winter Co-Ed Volleyball season. The season will start Sunday, Jan. 22 in the Community Center Gym at 51 E. Hollamon Street. Games will be played Sunday afternoons through March 29. Registration is $150 per team. Gather your friends, form your team and have some fun. Due to the increased interest in co-ed volleyball, we are also looking for an additional official. If you or someone you know is interested in being a paid volleyball official, please contact us. For more information contact Shawna Figy at Parks and Recreation (928) 554-0829.
Give more to Verde Valley charities
Taxpayers can give more to their favorite Arizona tax credit eligible nonprofits. The State of Arizona has increased the Arizona Charitable Tax Credits, allowing taxpayers to keep more of their tax dollars local by donating up to $400 for single person or $800 for couples filing jointly to qualifying nonprofits.
The Verde Valley Tax Credit Coalition is a membership organization that has formed to create awareness and provide a portal for qualifying nonprofits that help low-income families and individuals meet basic needs.
Member nonprofits in our communities include: Angie's House, Steps to Recovery Homes, Cottonwood House of Ruth, Lions Club Foundation, Old Town Mission, Rainbow Acres, Verde Valley Caregivers, Verde Valley Sanctuary, Verde Valley Habitat for Humanity, and Verde Valley Senior Center.
Taxpayers can make donations to the above charities by going to: www.vvtaxcredit.org. The state also extended the deadline to make tax credit donations to April 15, 2017. These donations will qualify for your 2016 tax returns. And you don't need to itemize.
Please visit vvtaxcredit.org and see how you can help local nonprofits impact the lives of Verde Valley families, seniors, and children.
Free tutoring at the library
One of the objectives of the Cottonwood Public Library is to provide services that help children and young adults become lifetime readers and users of the library, awakening their curiosity and stimulating their imagination and skills to provide an awareness and knowledge of the world and themselves. The Youth Services department offers many programs that promote early literacy and lifelong learning on a weekly basis.
For example, the Library offers free tutoring sessions every Tuesday and Thursday in the Youth Services Homework Zone. Students ranging from elementary school through high school are encouraged to sign up if they need a little help with their studies. On Tuesdays from 4 to 5 p.m. students from first through fifth grade can sign up for a free tutoring session with Rebecca Lawrence, a Library volunteer and retired teacher.
On Thursdays from 4 to 5 p.m. Library staff member and former math teacher Jane Morrow is available to help students from first grade through high school. The Library recently received a thank you note from a grandma of two students who have been tutoring with Jane. She says her grandkids "have been tutoring with Jane every Thursday at 4 p.m.
She has helped them so much that their grades went up." If you are interested in signing up for a free tutoring lesson at the Library please call 928-340-2788. All students are welcome and the Library encourages parents to sign their children up for a library card if they don't already have one.
The Cottonwood Public Library also offers many free online resources to students of all ages. Tutor.com is an excellent example. All it takes is a library card to get connected to an online tutor who can help you with any subject you need. Experience one-on-one interaction with qualified experts in Science, Technology, English, Math, Computer Literacy and more. You can even upload your resume to be polished by a friendly and skilled online tutor.
To access Tutor.com start at the Cottonwood Public Library website: www.ctwpl.info. Click on the Online Resources button on the left to bring up a list of all of the free online resources available to you with your library card. If you would like to learn more about all of the online resources the Library provides you can sign up for the Radical Resources class held on the fourth Friday of every month. Call 928-340-2782 to register. The Library is located at 100 S 6th St in Cottonwood. 
More like this story