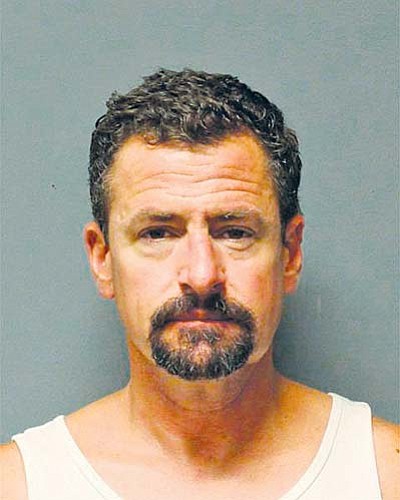 Originally Published: October 4, 2016 10:25 a.m.
CAMP VERDE - Before Judge Michael Bluff at Yavapai County Superior Court, Seth Lawrence Collins accepted a plea deal, admitting guilt to charges that resulted from a serious head-on collision.
Collins, 45, plead guilty Tuesday to eight counts of aggravated assault, two counts of endangerment, one count of aggravated DUI, and one count of methamphetamine possession.
Nov. 21, 2014, Collins - with a suspended license and under the influence of methamphetamine, fell asleep at the wheel, crossed over the center line and injured a van-load of eight people on SR 260. Five medical helicopters were lined up on the highway that evening to receive the three adults and five children to fly them to trauma center.
For this accident, Collins accepted a plea in which he would serve between 21-25 years in prison. Judge Bluff said he would need to talk to the victims of the accident before he made a decision on Collins' prison term.
Without the plea, and if the cases went to trial, Collins could have faced a maximum prison term of 195.75 years with 126 years flat time.
Collins also faces two additional cases involving possession of drug paraphernalia and prison contraband. With the plea, he faces a probation term of possibly 7.5 years. The hearing lasted about two hours. Collins brought up that because he had no recollection of the incident, he asked for a reconstruction of the accident. He said the plea was changed and extended after this request. After discussion with both Judge Bluff and his defense attorney Matt Springer, he understood the questions being asked of him. Collins said he didn't dispute the charges, and agreed that his actions were reckless. He agreed to the plea deal. The jury trial date has been vacated, and the sentencing for all three cases is scheduled for Nov. 15.