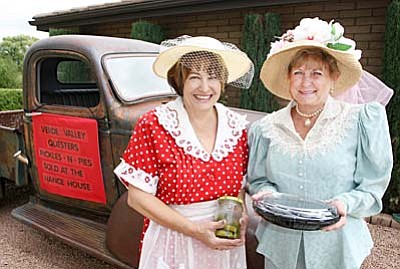 Originally Published: October 6, 2016 12:36 p.m.
CAMP VERDE - Recently, Malia Adache and Diana Hopper took a break from marketing strategies - and pie baking - for a quick photograph in front of the 1942 Chevy truck they and other Verde Valley Questers plan to ride in Saturday's Fort Verde Days parade.
Each year, the Questers sell hand-made pickles, slices of home-baked pies - or even whole pies - as they raise money to restore the kitchen in the Historic Hance House on Coppinger Street, across from Fort Verde State Historic Park.
"Looking for a country sink and dual drain boards," Hopper says.
This year, the Questers, along with their pickles and pies will be at the Hance House from 10:30 a.m. Saturday until there are no more pickles - and no more pies.
No shortage of pies at the Hance House, with Dutch apple, peach, blueberry/strawberry, rhubarb/strawberry, raspberry, blueberry and pecan.
The jarred pickles, Adache says, are "not dill pickles, more sweet, with a little bit of pepper in them - really good ice cold."
"The recipe was from when the Hance House was built," Adache says. "Originally, [Quester] Lynn Sweitzer's grandma's recipe."
Pickles will be available for $8 per jar, with whole pies available at $15 each or $3 for a slice - or even slices of pie ala mode for $5. All "donations" are tax-deductible.
The Verde Valley Questers are a local group interested in historic preservation. The Historic Hance House, built in 1917 by Judge George Hance, is owned by the Camp Verde Historical Society.
-- Follow Bill Helm on Twitter @BillHelm42 and on Facebook at @CampVerdeBugle
More like this story