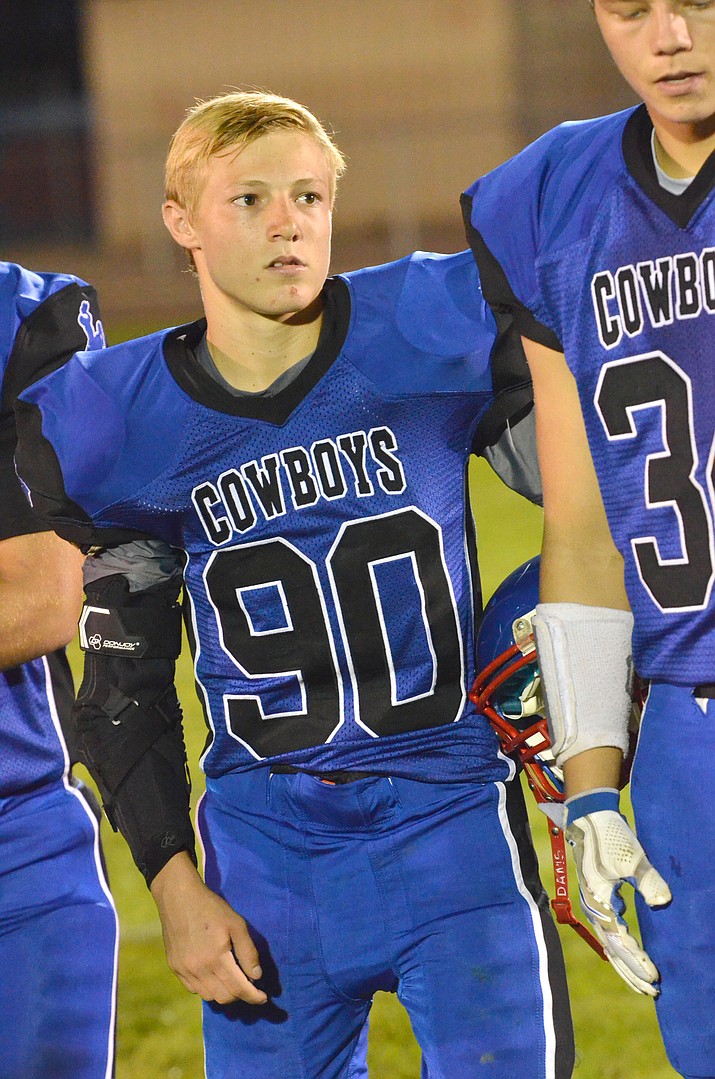 Originally Published: October 19, 2016 4:48 p.m.
On the football field, he is often the smallest player in the game. Camp Verde free safety Dominq Bruno embodies the saying it is not the size of the dog in the fight but the size of the fight in the dog. Bruno is not afraid to collide with foes much bigger than he is. It is his ultimate goal to impose his will on his opponents. He is egoless. As a starter for the varsity, he will go down and play junior varsity football and think nothing of it. It is not beneath himto play JV; Bruno just loves competition.
In a JV game against Tonopah Valley, near the end of the game, a Tonopah receiver caught a pass near the sideline,and Bruno from his free safety spot saw him and without hesitation covered the ten yards to collide with the much-bigger tight end that made such a sound that the whole stadium gasped in silence. Both players stood out of bounds and looked at each other and Bruno went back to the Cowboy huddle, while the Tonopah Valley player stayed on the sidelines. Bruno plays without fear or reservation of his own safety.
He has led the Cowboys on a revitalization in wins this season. He has been moved to tailback, from slot back. With one more win this season the Cowboys can have the most wins than at any time in the last four seasons.
"My whole family is short and aggressive," Bruno said.
Camp Verde Bugle: Why are you starting as a sophomore?
Bruno: I work harder than everyone else. That is why I'm starting as a sophomore.
Camp Verde Bugle: Are you one of the fastest players on the team?
Bruno: Yes.
Camp Verde Bugle: You don't have any fear?
Bruno: No.
Camp Verde Bugle: What does it mean to be starting as a sophomore?
Bruno: It means a lot that I get to play with my brothers out here.
Camp Verde Bugle: Your team seems to be in better shape during the games. Why is that?
Bruno: The way Coach Rhoades conditions us; we are not dying when we come off the field, and it is helping with the little injuries, and we are not as tired during the games.
Camp Verde Bugle: You guys have moved from the spread to the I, has that made a difference?
Bruno: Yes, it has. It has made a difference in the running game; we are getting better blocking. And it opens up the middle.
Camp Verde Bugle: What do think about when you get the ball on a power I right?
Bruno: I just make sure I have the ball, and then I try not to get caught.
Camp Verde Bugle: The hits on you as a runner don't bother you?
Bruno: No. I just think I'm as big as them, and I will hit them and make them feel me.
Camp Verde Bugle: What kind of music do you listen to?
Bruno: I'm a little redneck. I'll listen to country, Thomas Ray, Jason Alden and I'll listen to that old stuff too: George Strait, Garth Brooks, Brooks and Dunn.
Camp Verde Bugle: What would it mean to finish with a winning record?
Bruno: I would rather finish strong than start out strong.
Camp Verde Bugle: Do you want to play college football when you graduate in two years?
Bruno: It would mean a lot to me for my grandmother, and to be able to be the first in my family to go to college means a lot. I want to make sure I get my grades.
Camp Verde Bugle: Do you prefer offense or defense?
Bruno: Defense. I love to hit.