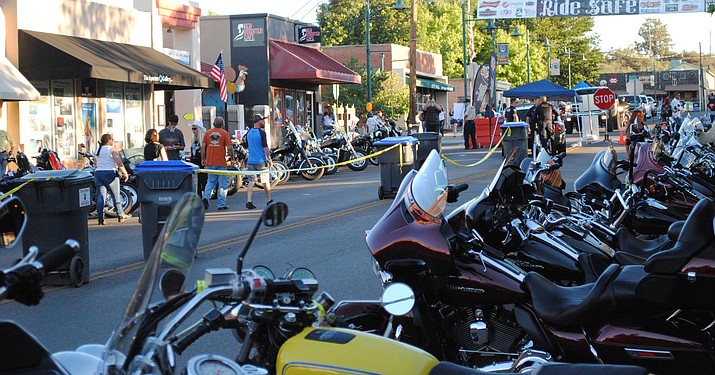 Originally Published: October 20, 2016 1:10 p.m.
You can please some of the people all of the time and all of the people some of the time, but you can't please all of the people all of the time.
Abraham Lincoln is often credited with coining that phrase, even though it's more likely he adapted it from poet John Lydgate.
But no matter its origin, the words still ring true today and they certainly are applicable here in the Verde Valley when it comes to the annual Thunder Valley Rally event.
As was the case a year ago when city officials gave their annual overview of Thunder Valley Rally that a significant number of folks – many of them Old Town merchants – this week said they were sick of the weekend biker extravaganza.
At the same time, there are many more people who believe TVR is a great thing for Cottonwood and the entire Verde Valley. Certainly, you cannot ignore the impact it has on sales tax revenue for Cottonwood and other Valley communities.
So what do we do now since, once again, there are those most affected by the event – Old Town merchants – who wish the event would just go away? They cannot be ignored, and we cannot discount their opinions with the disclaimer used by the city's economic development director Tuesday that there are just as many folks, if not more, who whole-heartedly support the event. No, there is a consistent message coming from a significant number of folks who make a living down in Old Town that Thunder Valley Rally is a rotten weekend for them.
City officials predictably will do what they always do when such a conflict arises. They will plan another meeting, at which time we'll hear more of what we've already heard before.
In this instance, it's probably best to just move the issue to the back-burner for now. There is plenty of time for all involved to do some serious thinking about what's best for the future of Thunder Valley Rally and bring their ideas to the table when a new City Council takes office in January.
The Cottonwood City Council will be a new dynamic after the first of the year. We will have a new mayor, as well as two brand new faces on the council. It's time for some new people to take a turn at this hotbed of controversy. Besides, what better way to test their mettle than to start them off with the burner turned on full-flame.
There are many on the current council who are defensive when it comes to criticism concerning Thunder Valley Rally. It has become an us-against-them tug of war over both the propriety of the event as well as its location in Old Town. Ditto for city staff members who refuse to talk to news reporters when they perceive questions as placing Thunder Valley Rally in something other than its best possible light.
When it becomes this personal to the decision makers, it's clearly time to pass the baton to someone who will view the issue with more objectivity.
Thunder Valley Rally needs a rest for now and a set of fresh eyes after the first of the year.