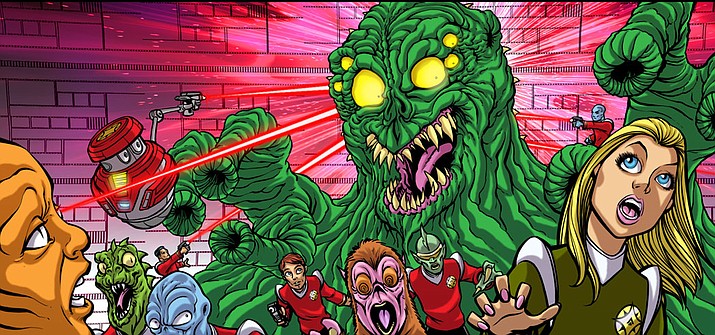 ---
---
VERDE VALLEY – The 2nd Annual Cottonwood Comic Book Show - 'The Sequel Awakens' returns Saturday, Oct. 29 from 10 a.m. to 5 p.m. at Cornerstone Church, 412 N. 10th St., Cottonwood. Featured are comic creators, comic book vendors and a variety of panels.
Guests of honor include veteran animator Stephen Reid (Teenage Mutant Ninja Turtles, Titan A.E., Space Jam) as well as writers Brian Augustyn (Batman, Gotham by Gaslight and The Flash for DC Comics) and Michael Gallagher (Marvel Comics' Guardians of the Galaxy, Mighty Mouse and Spy vs Spy for Mad Magazine).
Local comic book artists, podcasters and authors will be in attendance. Panels will include a table-top gaming panel, Sketch Off and a panel featuring guests (including guests of honor). Guests are encouraged to arrive in costume.
Last year's inaugural event (co-founded by professional comic creators David Beaty and Jan Marc Quisumbing) drew participants from throughout the state. Here's what Quisumbing had to say about the show's success, as well as what's new this year:
Q: In your mind, what were the highlights of last year's event?
A: "For me the biggest highlight was listening to the buzz of voices as artists interacted with attendees. I saw a lot of smiles that day and it was great. Cornerstone Church went above and beyond to make sure all the artists and guests were having a good time."
"I spent most of my time walking back from the 'vendor' room to 'artist alley' just making sure everything was flowing. I spent a good amount of time talking in or watching the panels. The best part was watching kids interact and ask questions to the guests."
Q: What did you learn from last year's event?
A: "To have faith that it will all work out. And to get as much info to the public, whether it's going hard on social media to remind people about the show or making sure signs leading to the show are out early."
Q: How do you feel about the attendance last year?
A: "For the size of the show, I think attendance was good. My hope that for this year's show we get more of a turn out, and that comes from getting the word out to more."
Q: What will be different this year?
A: "This year, the church has a bigger space we can utilize and keep all the artist and vendors in the same space. I think it'll help keep a nice back and forth flow between the panels (sketch-off, meet the guests of honor) and where the artists and writers are."
Q: You created something out of nothing last year and it was well-received. What do you hope to accomplish with these events?
A: "We accomplished so much just by asking the community 'Do you want to do this?' and they said 'Yes.' For that, I'm grateful. My hope is that they keep going. Again, I hope these shows encourage art and reading. If it inspires a child to pick up a pencil and draw, great."
If You Go ...
• What: The 2nd Annual Cottonwood Comic Book Show: 'The Sequel Awakens'
• Where: Cornerstone Church, 412 N. 10th St., Cottonwood, next to the Spirit gas station
• When: Oct. 29 from 10 a.m. to 5 p.m.
• How Much: $5 at the door, children 10 years-old and under are free. Parking is free. (Proceeds help the Cornerstone Church youth group).
• Contact: The Northern Arizona Cartoonist Association at nazcartoonists@gmail.com or via their Facebook page (@NAZCAinfo).