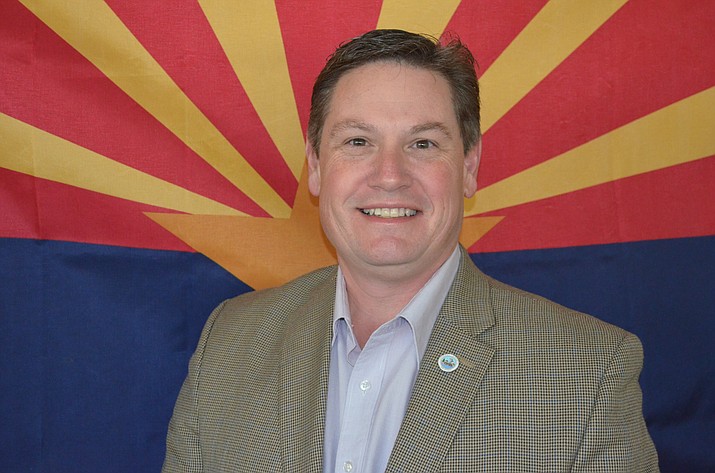 Originally Published: October 25, 2016 1:46 p.m.
VERDE VALLEY – When the Yavapai County Board of Supervisors convened Oct. 19 in Cottonwood, individual members went to bat for their constituents - - with the outcome still hanging in the air.
City vs. county: Chair Jack Smith questions lease of county property
One issue was a lease renewal between the county and the Central Yavapai Metropolitan Planning Organization (CYMPO) for office space at the Commerce Center Circle.
The CYMPO provides a forum for elected officials and transportation experts to plan infrastructure within the municipalities of Prescott, Prescott Valley, Chino Valley, Dewey-Humboldt and Yavapai County in conjunction with the Arizona Department of Transportation. In 2011, Yavapai County leased 1,300 sq. ft. of office space to the CYMPO and the agreement is up for renewal Sept. 30.
Chair Jack Smith, District 5 (Dewey) raised some questions regarding the agreement.
"I would point out that Yavapai County holds 24 percent of the responsibility but in the last years of the contract, Yavapai County controls over $30,000. Prescott Valley holds 32 percent controlling $10,000. Prescott City also has 32 percent of the responsibility but paid $5,400, so the percentages are skewed greatly," said Smith. "I would say you are taking away from Districts 3 and 2. I don't think my taxpayers want to contribute to CYMPO."
Smith also contested CYMPO plans "to expand to Cordes Lakes to Seligman and Ashfork and it wasn't for board discussion. Who thinks they can arbitrarily assume our responsibility?" adding "I don't like expanding boundaries unless we expand membership of the CYMPO to be more inclusive."
CYMPO Administrator Christopher Bridges clarified that "we pay a separate utility bill" and that "financing and human resources was in the City of Prescott so the City of Prescott burden was same burden as you today. What I suggest is Jack (Fields, Assistant County Administrator) rework our budget. Whatever works out most fair is fine by me."
Responding to Smith, Fields reminded the board "this is a lease agreement. I would question whether the board should jump into areas not agendized today," suggesting instead "perhaps we renew another six months until the end of the fiscal year," said Fields.
The board unanimously agreed, with Smith acknowledging "they (CYMPO) do a good job of planning and setting priorities."
County vs state: Supervisors Brown, Davis question state's motive of gift to county
A seemingly-innocuous agenda item to "approve request for the Board of Supervisors to accept a donation of right of way for Crooks Canyon Road, southeast of Kirkland" faced a "time-out" by District Supervisors Craig Brown, District 4 (Prescott) and Chip Davis, District 3 (Cottonwood).
Byron Jaspers, Public Works Director presented that "Arizona Game and Fish is acquiring right of way for Crooks Canyon Road across private property from Walnut Grove Road to the (national) forest boundary. Crooks Canyon is a county-maintained road with documented right of way only across state land in Section 10, T11N, R3W. (Arizona) Game and Fish wishes to complete legal right of way for the public's use in accessing public lands to the east of this area."
Davis asked, "Why purchase private property to gain right of way and why would they deed it back to the county? We have roads that access federal public land all over the state. Why are they interested in providing access to national forests which are not Arizona jurisdiction?"
"I don't have a good answer. They offered to do this for us," said Jaspers. "My understanding is that it (Crooks Canyon Road) butts-up to forest land at the end."
Davis countered that "the 'road ends at private property and does not provide access to forest land."
Supervisor Brown joined-in, stating, "Every time the state or feds want to spend $180,000, I'd like to know more" and gained board agreement to defer a vote until more information could be acquired.
Key resignations accepted
The board accepted the resignations of two key employees entering retirement: Prescott Justice Court Judge Arthur Markham and Free Library District Director Barbara Kile.
"Judge Markham has been a remarkable judge for 30 years," said Smith. "He has made his imprint on this county and it is a positive one."
Kile also received praise from the board, with Brown saying, "you were instrumental in helping put the Baldwin Library to fruition. We had a real tough time in budgeting when the economy was not good and Barb was able to come forward and work with us help in the end game."
As the two long-time staffers were departing, two additional positions were gaining board approval.
Debbie Savoini was approved as the Interim Director of the Community Health Center of Yavapai (CHYC). Last month, the board approved an agreement with the Prescott Free Clinic, Inc., for the operation of the CHCY as a county department and approved the new position of director. Savoini was appointed as the Interim Executive Director until a new director could be recruited.
Also, a temporary Human Resources Receptionist position was approved to cover vacancies.
New employment laws impact county overtime
A recent change in federal employment law pertaining to overtime eligibility resulted in Human Resources Director Wendy Ross seeking approval to revise 22 affected job descriptions.
The Department of Labor (DOL) announced in May that, effective Dec. 1, 2016, the annual salary for employees to be exempted from receiving overtime pay after 40 hours is being raised from $23,660 to $47,476.
Davis voiced whether borderline salaries would best be adjusted over the threshold, saying, "I go through the budget every year and a ton make more than $47,000 a year and they are hourly."
Ross explained that "people who are far up in the (wage range) step may be above the salary threshold, while anyone whose range starts below the threshold may become non-exempt - - which may (ultimately) give them a salary above the threshold." She added that she wanted to avoid having "multiple people under the same title - - some exempt, some non-exempt - - for the same work."
Ironically, the new pay protection law "excludes personal staff of elected officials," said Ross.
Mistake or Manslaughter?
"I am a retired warden with the Arizona Department of Corrections and today I want to speak about a tragedy that occurred in our county."
During Wednesday's County Board of Supervisors meeting, a compelling Call to the Public was expressed by Prescott resident John Larkin who took the County Attorney and Prescott Valley Police to task.
Police say that on April 2, retired Phoenix firefighter and Dewey resident Thomas R. Hall, 74, was riding his motorcycle on Highway 69 east of Mendecino Road when he was struck from behind and killed by a following motorist. Coincidentally, the incident was videotaped by Life Line EMTs who witnessed the events leading to the crash.
According to police, the motorist, a 46-year-old woman driving a Nissan Sentra, was cited for failure to control speed to avoid a collision but was not criminally prosecuted.
"The outrage is the fact that she was not charged originally. I spoke with the chief of police in Prescott Valley and they didn't charge her, they were waiting for the county attorney to charge her, which I think is horrible," said Larkin. "Secondly, the county attorney did not take the (felony) case, she was charged with a misdemeanor and let go."
Per Larkin, "If you were to review the charge of manslaughter, it is the taking of life because of a reckless act. This was not a fender bender - - this was a loss of life."
The Yavapai County Attorney's office was contacted for comment, with Chief Deputy County Attorney Dennis McGrane saying "at this point, it is under additional review."
"The criminal state of mind in Title 13 - - basically, we have to determine whether we have evidence to take to court and prove these elements," said McGrane. "The fact that Mr. Hall dies as a result is part of the whole picture. These are the most difficult cases we have because you sympathize with the family."
McGrane said he was aware of Larkin's contact with his office, saying that such an offense "doesn't necessarily arise to a criminal level; otherwise, the prisons would be full of people in prison for accidents. What about her conduct shows that her mental state was crime?"
McGrane added that he had watched the EMT's video of the incident "about 30 times - - and it is not easy to do - - trying to determine if the action indicates criminal intent. It comes down to, 'What kind of evidence can we stand in front of a jury?'"