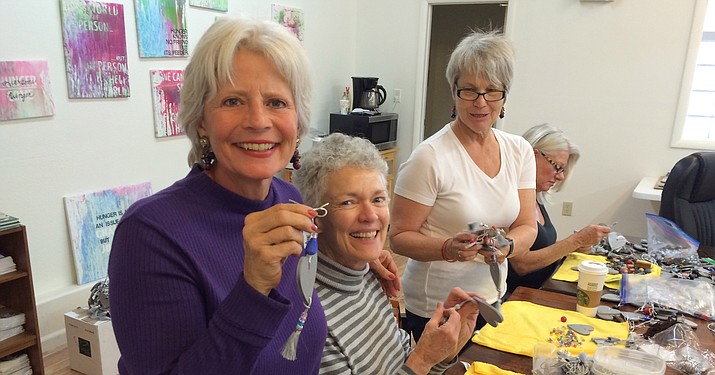 ---
---
VERDE VALLEY – SedonaKind.org is a group of volunteers who believes that each act of kindness, no matter how small, can create an unforeseen ripple effect that can make the world a better place to live.
"We distribute 5,000 charms to encourage acts of kindness large and small, locally and throughout the world," said Sandy Brandvold, volunteer, SedonaKind. "We use old pieces of jewelry that people discard and we put them together into a charm. On it says, 'Take me home and spread kindness.'"
The charms are placed at random locations to be eventually discovered. The inspiration for the idea came from a Tucson woman who lost her son and began fashioning bells as a therapy. The bells metamorphosed into a tribute and then eventually as a reminder to spread kindness. Now "Ben's Bells" are hung throughout the community with a note inviting people to take them as a reminder to spread kindness. And so it is with SedonaKind charms.
"People have written from Machu Picchu, the Great Wall of China. People have said how they found them and how important it was for them to find them, when they found them, that they needed it in their lives at that time," said Brandvold. "Maybe someone just died. We had a grandmother of a child from Sandy Hook on a hike here and she found one. She then founded her own group in honor of her grandson."
Volunteers with SedonaKind get together as a group, spread beads and other materials onto a table and craft the charms by hand. But the charms are just a ripple in the myriad waves of kindness spread by SedonaKind.
Come Nov. 6 through Nov. 16, the group kicks off more than a week of kindness activities designed to engage the entire community during the Sedona Kindness Week Celebration:
* Nov. 6, noon – 5 p.m.
Mitzvah Day
Everyone is invited to participate in this community-wide intergenerational, interfaith, spirit-led day of community service. Neighbors and organizations throughout the Verde Valley are welcome. To volunteer, call 928-649-0135 or email blitrell@aol.com.
* Starting Nov. 10
Gratitude Trees
Gratitude Trees placed at sites in Sedona and the Village of Oak will give residents and visitors alike the opportunity to write what they are grateful for on handmade, heart-shaped ornaments. The hearts are then hung on trees and displayed through the end of the year.
In Sedona, look for trees at the Sedona Library (adult and children's sections), the Sedona Airport and the Sedona Community Center. In the Village of Oak Creek, the trees will be displayed at the Oak Creek Country Club and The Collective at the Village of Oak Creek.
* Nov. 13
Sedona Kindness Day
In recognition of the historical value and international commitment to observing a day to celebrate Kindness, the City of Sedona issued a proclamation declaring Nov. 13 Sedona Kindness Day.
* Nov. 13
The Starfish Throwers
On Nov. 13, the movie The Starfish Throwers will be showing at the Mary Fisher Theatre at 4 p.m. and 7 p.m.
The Starfish Throwers explores how three individuals fight hunger and struggle to restore hope to the hopeless in unexpected and sometimes dangerous ways. Despite being half a world apart, a five-star chef, a retired school teacher and a master gardener fight for a seemingly lost cause - - until they discover their impact may reach further than their actions.
Tickets will be able to be reserved online at the Sedona Film Festival website www.sedonafilmfestival.org for a $5 donation. Proceeds will benefit the Yavapai Food Council.
* Nov. 11
Pay It Forward
Pay it Forward Day will allow everyone to participate in the mission of encouraging acts of kindness, small and large, locally and globally.
Patrons at participating local businesses "pay it forward" at the cash register by paying for the next person in line. It as simple and easy as dropping a pebble in a pond. Small acts of kindness touch others in simple ways that inspire the desire to "pay it forward."
If you own a local business and would like to participate, contact gmooresedona@gmail.com.
* Starting Nov. 15
Think Kindness.org school assemblies
Think Kindness is an organization that inspires measurable acts of kindness in schools and communities around the world. SedonaKind believes each act of kindness, no matter how small, has an unforeseeable ripple effect that makes the world a better place.
Students will be challenged to document over 5,000 Acts of Kindness in just 15 days. Anything from opening a door, picking up a dropped pen or even sharing a smile, no act is too small to document. According to SedonaKind, each school will notice an explosion of kindness within hours.
Participating schools as of press time include:
The Mountain View School – Nov. 15
The West Sedona School – Nov. 16
For more information on Sedona Kindness Week Celebration events, visit www.sedonakind.org.