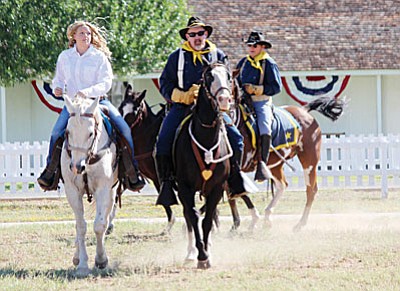 Originally Published: September 22, 2016 4:14 p.m.
CAMP VERDE - If Laramie Mahan could have a conversation with the young girl she was four years ago, the 2015 Colonel's Daughter would offer some simple, yet pragmatic advice.
"To not focus on other people," says Mahan, now 18. "Just focus on yourself to do a job that you'd be happy with."
For four years, Mahan participated in the Colonel's Daughter competition. But it wasn't until her fourth and final try did she even place in the top three.
"I definitely grew a lot" in the four years of competition, Mahan says. "When I started, me and my horse were pretty new to everything. And I was nervous with the talking. I really didn't get better until that last year."
Mahan says that competing first in FFA events, then rodeo helped her become more self-assured, not only in her riding and handling, but also in her public speaking.
"I learned to be more personal with my answers," Mahan says. "And I learned how to be more confident in myself and to meet new friends."
Now away at college in Texas, Mahan recently competed in her first college rodeo. Missing her home - and competing in the Colonel's Daughter - harken back to the time she first learned about the annual Camp Verde event.
"I was a little girl in the [Fort Verde Days] parade," Mahan says. "I saw the girl in the pretty dress. I thought it was the coolest thing. I wanted to be the girl in the dress."
At 2 p.m. Sept. 25 on the Parade Grounds of Fort Verde State Historic Park, eight of Camp Verde's young ladies will show their horsemanship, poise and personality as a panel of judges will select one of them to become the next Colonel's Daughter.
The competition was named Colonel's Daughter based on a novel written in 1882 by retired Capt. Charles E. King, who joined the 5th Cavalry in Camp Verde in May 1874.
As the story goes, King found inspiration for his book from Carrie Wilkins, the daughter of Lt. Col. John D. Wilkins of the 8th Cavalry.
Run each year by the Camp Verde Calvary, this year's Colonel will be Jody White.
Colonel's Daughter judging
Competition is judged based on 50 percent for horsemanship and 50 percent for poise and personality.
The winner will be named Colonel's Daughter and will receive gifts from Camp Verde merchants, which include a winning buckle and spurs.
The 56th Colonel's Daughter and her Court will ride in the Fort Verde Days parade, escorted by the Camp Verde Cavalry.
Admission to the Colonel's Daughter competition at Fort Verde is free.
But regular park entrance fees apply to tour the Fort's historic homes and museum, $7 per person ages 14 and older, $4 ages 7-13, and free for children age 6 and younger.
For more information contact Camp Verde Cavalry event Chairman Jim Meredith at 602-540-0029 or Fort Verde State Historic Park at 928-567-3275.
• What: Colonel's Daughter Competition
• When: 2 p.m. Sunday, Sept. 25
• Where: Parade Grounds, Fort Verde State Historic Park on Hollamon Street
• How much: Free to attend Colonel's Daughter. Fees apply to tour Fort Verde
• More info: 928-567-3275 or 602-540-0029