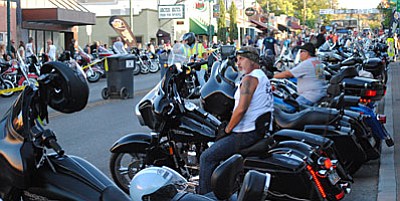 Originally Published: September 24, 2016 1:18 p.m.
The financial numbers are still pending, but all early reports show Cottonwood's Thunder Valley Rally was a total success.
Clean-up efforts left Old Town looking spiffy. There was strong law enforcement and security presence. For an event that brings 10,000 people into town, there were no law enforcement issues this year. Attendance was on par with last year's event. The addition of an admission fee certainly will help the city recoup some of its hefty investment to bring the biker event to Cottonwood.
But the real intangible with an event like Thunder Valley Rally is the weekend spike in sales tax revenue, not just for Cottonwood, but the entire Verde Valley. A study last year by Northern Arizona University claimed TVR provided a $1.7 million economic boost to the Valley; it's money that you really cannot pass on.
Ditto for this weeks' Verde River Day celebration. Like TVR, it brings a healthy dose of out-of-town dollars to the Verde Valley.
Throughout the Verde Valley, municipal officials and the Verde Valley Chamber of Commerce are keenly aware of the economic importance of such events as fall arrives and the thermometer shies away from triple-digits. The summer months, with snowbirds choosing less torrid climates, is sluggish in the Verde Valley. We need the fall special events and out-of-town dollars they bring to gap the summer shortfall and then hope for an economically robust Christmas season.
It's a sound economic strategy, not to mention a lot of fun.
There's more to come over the next few months. Clarktoberfest returns to Clarkdale Oct. 1. Camp Verde's biggest celebration, Fort Verde Days, is the following weekend, as is the Jerome Ghost Walk, the Apple Festival in Oak Creek Canyon and Blues Festival in Clarkdale. November will see Old Town take center stage again with its Walkin' on Main celebration.
Yea, we know how to throw a party in the Verde Valley.
More importantly, we know how to keep the cash registers ringing.