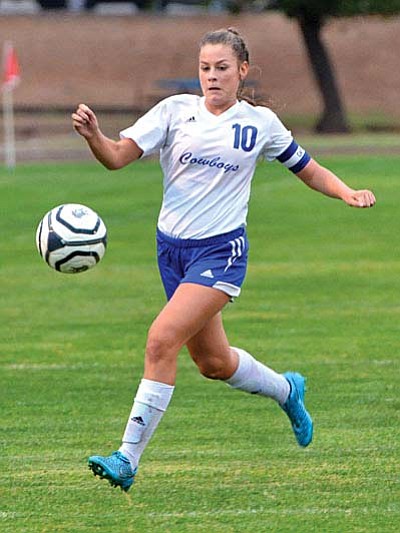 Originally Published: September 28, 2016 6:17 p.m.
Raiven Alvey is a senior captain for the Cowboys girls soccer team this year. They are off to a fast start this season. Alvey is leading her team in goals scored with four. She plays the striker position.
The Cowboys dropped a tough 3-0 decision to Northland Prep on Tuesday, Sept. 27.
Before the game, Sports Reporter J.T Keith caught up with the Athlete of the Week to get her thoughts of the season to date.
Camp Verde Bugle: What is your favorite memory associated with Camp Verde soccer?
Alvey: Every single tournament- I get to spend time with all of my teammates.
Camp Verde Bugle: What do you want to do for a career?
Alvey: Be a physical therapist or athletic trainer.
Camp Verde Bugle: Any thoughts on final game?
Alvey: This is my last year with my teammates, so I get emotional just thinking about it.
Camp Verde Bugle: Any pregame rituals?
Alvey: We pray before every game.
Camp Verde Bugle: Any team rituals?
Alvey: We have a sleep over and dinner, with tie dye tee shirts and dinner.
Camp Verde Bugle: What are your personal goals this season?
Alvey: Make it to state, and win the first game at the state. Furthermore, I want to make All-District, All-Region teams.
Camp Verde Bugle: Favorite dessert?
Alvey: Pumpkin spice blizzard from Dairy Queen
What they are saying about Alvey: "She's fast; she's determined," said assistant coach Madeline Reay. "She wants to attack the goal, and it is really good to have someone who wants to score that bad."