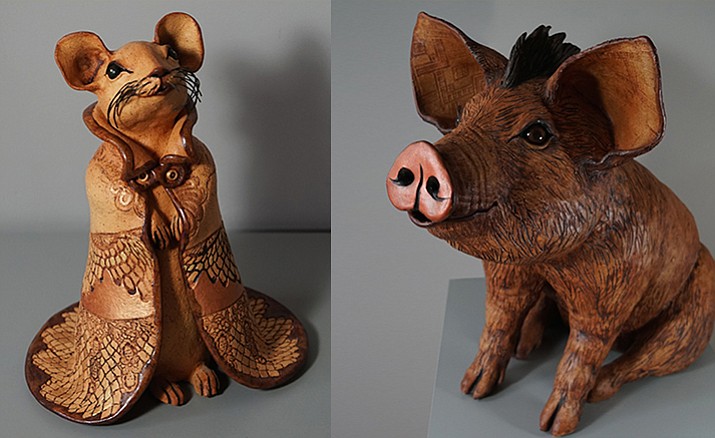 ---
---
It is proven that art has the power to enhance our lives. In April Creative Gateways presents The Earth without Art is just Eh. This thought-provoking show invites people to explore the impact of visual art on the surrounding environment through a variety of mediums; work in ceramics, glass and painting are all represented.
Featured artists include Terry and Marika Israelson, Michael and Sumati Colpitts, Pilisa Rainbow Lady and Meg Munro. The public is invited to the opening reception on Friday, April 7, from 5-8pm during 1st Friday in the Galleries. 
Visitors to the space are dazzled by ambient play of light reflected in the sinuous glasswork of artists Pilisa Rainbow Lady and Terry and Marika Israelson.
A working artist for over 35 years, Terry Israelson loves exploring the challenges and discipline that working in glass brings. His driving force is always visual whether he is captivated by a play of light, color or composition: landscapes, cracks in concrete or stains on walls all can spark unexpected inspiration. Recently he has been creating a series of light sconces, often incorporating photographs printed using powdered glass onto several different pieces of flat glass, fired and re-assembled to be used as a starting point for the sconces.
Marika Israelson's pieces play with light, texture, and color. She is the daughter of two artists who put a pencil in her hand and had her learning the principles of color and value while she was still in diapers. Years later she attended the Terra Rosa School at the same location which now houses Creative Gateways. She notes "Little did I know that 14 years later, I would end up learning and making art back in the same building. Even though it is called Creative Gateways now, I still consider it to be my school."
Pilisa Rainbow Lady's work reflects her diverse background, which spans a successful career in technology as well as being the founder of the Ringing Rocks Foundation where she worked with indigenous healers from around the world. She has been an artist all of her life working across mediums including fiber art, painting, and ceramics but found her passion in fused glass. Her luminous creations echo the ever-changing nature of glass itself and hold a sense of spontaneity that reflects a play of light and color amid their intriguing designs.

Michael Colpitts is a painter and ceramic artist whose inspiration includes the natural world, flight, and his experiences living, working and traveling across the globe. Currently he is making discoveries about the delicacy of working with porcelain finding that as a medium it's incredibly sensitive. "You can't take your attention off it for a moment, or stop being present." He muses, "It's a meditation. It requires your absolute focus and at the same time, you can't push too hard.
His wife Sumati Colpitts studied at Chicago's famed Art Institute and Kansas City Art Institute. She has traveled widely, first working with Michael in an ashram in India in 1989, before reuniting in Sedona almost a decade later. As a ceramicist, Colpitts' gift for tactile creativity results in personality-filled work, capturing and amplifying the essence of the subject. She deftly captures the core of her subjects whether it is the playfulness of a "Beaver" or the centered stillness of "Buddha.' Her popular figurative animal sculptures inspire and delight those who take them home.
The vibrant pieces of watercolorist Meg Munro invite the viewer into their inner center and stillness. Known for her signature glowing images, she uses the grisaille method from the Masters of the Renaissance period where the underlayer is a value painting: a scale of dark to light. Then transparent pure color is layered carefully on top without disturbing the underlying paint. Her work is in both public and private collections internationally including Saks 5th Avenue in Fort Meyers and Orlando Florida. She has also been exhibited at the Peter Gray Museum in Puerto Vallarta.

Join Creative Gateways during the opening reception for The Earth With Art is just Eh on Friday, April 7, from 5-8pm. Enjoy beverages and special treats as you browse the gallery and mingle with the artists.

Creative Gateways is an artist's collective and public gallery space in Sedona, Arizona. Its working studios are open to all and visitors are welcome to drop in at any time to meet the artists and engage with the creative process. The gallery space showcases the innovative and lively work that results from this very special environment, for visitors to discover, explore, and take home with them. Creative Gateways is located at 45 Birch Blvd in Sedona. For more information about Creative Gateways, please visit www.CreativeGateways.com or call 928-862-4440