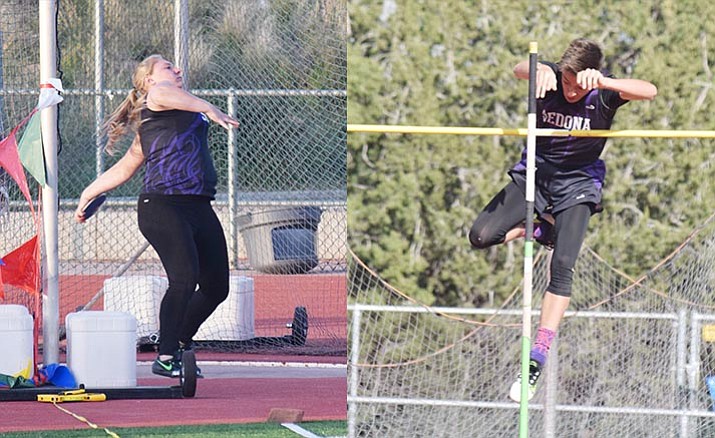 Originally Published: April 4, 2017 12:56 p.m.
Sedona-Red Rock senior Hannah Ringel continues to dominate the throwing events while teammate Joe Glomski is proving himself to be one of the most dominant track and field athletes in the state in the latest Division IV rankings by Arizona athletic.net.
In Camp Verde, junior Nate Schultz is right on Glomski's heels in two events and is also making a name for himself as one of the state's best 300-meter hurdlers among Division IV athletes.
As was the case a week ago, the University of Idaho-bound Ringel – who is shooting for her third-consecutive state championship in the shot put – is head and shoulders above her nearest Division IV competitors in both the shot put and discus. Her seasonal best of 40-feet, 10-inches is more than 6-feet better than the second best Division IV throw this year. She has a season best in the discus of 124-feet, 8-inches, which is more than 12 feet farther than her nearest competitor.
All classes combined, Ringel is ranked No. 2 overall in the shot put behind Division I thrower Kayleigh Conlon of Mountain Point. She ranks 7th overall in the discus, all classes combined. No other Verde Valley track and field athlete is as dominant in the overall state rankings this year as is Ringel.
Glomski, another senior at Sedona-Red Rock, is on a streak this year in both the long jump and triple jump. At Saturday's Red Rock Invitational, he won both events convincingly and is the Division IV state leader in both disciplines. His winning long jump of 22-feet, 11.75 inches is more than two feet better than the second best performance in the state this year. He also has the state's best jump – by an inch – in the triple jump at 43-feet, 11 inches. Glomski is ranked second in the state in the 100 meters with a best time of 11.32 seconds and also runs on the Scorpions' 4X100 relay team that is ranked sixth in the state in Division IV.
Camp Verde's Schultz, a junior, ranks among the state's best in Division IV this week in three different events. Schultz is third in the triple jump (42-6), fourth in the long jump (20-6.750. In addition, at Saturday's Red Rock Invitational, Schultz continued his steady improvement in the 300-meter hurdles with a 43.77-second clocking to move into the No. 3 slot among Division IV athletes.
Also noteworthy this week among Verde Valley athletes:
• Camp Verde sophomore Christopher Holdgrafer is ranked 7th in the 110-meter hurdles with a time of 16.72 seconds.
• Sedona senior Dawson Stevenson is ranked first in the high jump at 6-2.
• Sedona sophomore Drake Ortiz got a new personal record Saturday in the pole vault with a jump of 12-1. That moves him into the No. 4 spot in the state.
• Sedona frosh Jacqueline King is ranked 5th in the 100-meter hurdles with a best time of 16.85 seconds.
• Sedona junior Chenoa Crans ranks third this week in the 300 hurdles at 49.91 seconds.
• Camp Verde senior Sahyle Campbell-Kilburn is ranked 7th in the discus with a best throw of 97-6.
• Sedona senior Sophia Perry ranks 10th in the state in the long jump and 6th in the triple jump with junior teammate Collier Trcic holding down the No. 10 spot.
Division III Rankings
With Rio Rico senior Allie Schadler making her season debut at 800 meters (2:11.54), Mingus sophomore Meg Babcock slipped one notch this week in the state rankings. Her season best of 2:26.66 is No. 5 in the state among Division III athletes.
On the boys side, senior Ryan Alexander holds down the state's No. 5 best time at 800 meters with a 2:01.87 clocking.

More like this story