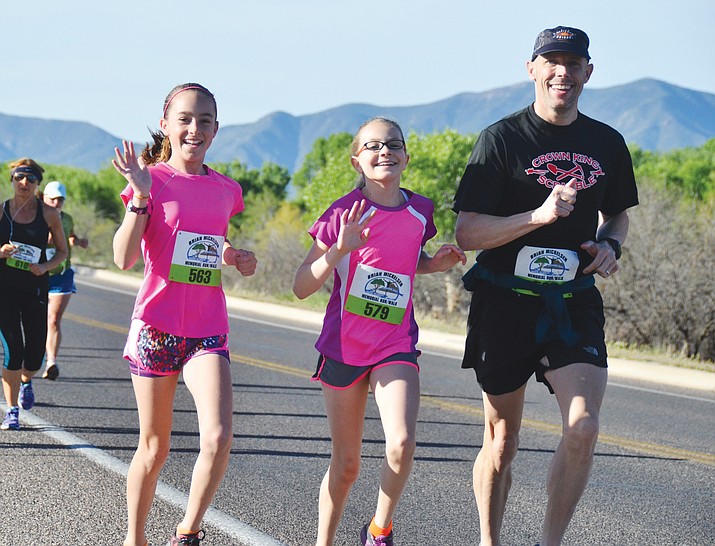 Originally Published: April 6, 2017 3:59 p.m.
On Saturday hundreds of participants will indulge in the 9th Annual Brian Mickelsen Memorial Run/Walk in Cottonwood.
The festivities kick off with the marathon at 6 a.m., then the half marathon at 7:30 a.m., the 10K at 7:40 a.m. and the 2 mile at 7:50 a.m. at Riverfront Park, which is also the finish line.
According to event coordinator Ryan Bigelow, the latest registration was 432, which is down but following a national trend, so not something he's worrying about.
Road closures are at 6 a.m. and 7:30 a.m. from 10th Street going north to the Tuzigoot entrance. They will reopen once the last runner goes through, which is about 30 minutes for each race.
In addition to Riverfront Park, Bigelow, who is also City of Cottonwood recreation services supervisor, said Tuzigoot and Dead Horse are great places to watch the race as well.
The Marathon and Half-Marathon courses are USATF Certified, so they are a Boston Qualifier. It starts at Riverfront Park. The marathon and half marathon are on Tuzigoot Road and up Sycamore Canyon Road. The 10K goes through Dead Horse Ranch State Park and the 2-mile goes to the entrance of Dead Horse and back.
Brian Mickelsen Memorial began as the Verde/Mingus Blowout 10K in 1992. The original course started at Riverfront Park, went through Old Town Cottonwood, down Bent River Road and then back to Riverfront.
The event is named after former Cottonwood city manager Brian Mickelsen, who served the city for 23 years.
After Mickelsen died while on his morning run in 2007 at the age of 49, the city renamed the event after him and added a half marathon.