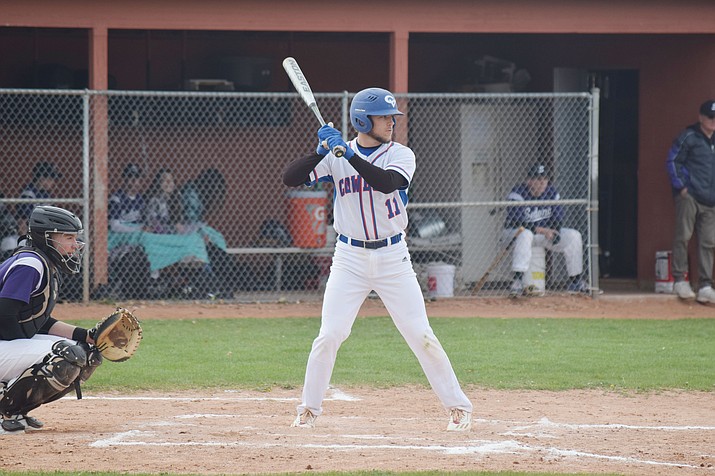 Originally Published: April 6, 2017 2:25 p.m.
While Camp Verde High baseball senior Ryan Cain is very versatile, he's found a home at shortstop for the powerful Cowboys.
Cain is hitting .417, with an on base percentage of .514, 22 RBIs and 26 runs for the No. 6 Cowboys (19-2, 3-0 Grand Canyon).
"He's been doing really well," said Camp Verde head coach Will Davis. "The best year he's had offensively in all four years and he's really settled into the shortstop position, doing really well for us."
Davis said Cain can play all the outfield positions, first, second, shortstop and third base but he beat out fellow senior Wyatt Howe for the shortstop position.
"Early in the year it looked like Wyatt might beat him out for the job, but as we got into the preseason and the first tournaments, it was pretty obvious that he belonged on that side and Wyatt on the second base side," Davis said.
Last week Cain had 4 RBIs, 4 hits and a double.
"He's a good kid, good leader, hustles," Davis said. "If you watch our games you'll see he runs the bases hard and a lot of that rubs off on other guys."
VVN: How do you think the season has been going for you?
Cain: I think the season's been going really well. We've had a few hiccups along the way, got lazy a couple times but we come back to practice serious, focused and get back on our grind. So I see the season as being really productive for the last seven games or so.
VVN: How about for you personally?
Cain: The season's gone really well for me personally. I don't know, I've been playing decently at short this year, that's where they moved me, usually playing outfield and hitting's been doing good. So far it's really been a fun senior season for me.
VVN: What's that move been like, going to short?
Cain: It's fun, I like taking ground balls, I like being involved in the infield. So I like outfield but it's just a different experience, being in the outfield.
VVN: So what's your favorite position then?
Cain: Um, I think short...or actually third's my favorite position, short is slowly developing to my favorite. It's getting more fun to me, so now if I'd have to say at the beginning of the season, probably third, now it's moved to short.
VVN: What's your favorite baseball player?
Cain: Right now, current baseball player, my favorite one is Yadier Molina on the St. Louis Cardinals. I just like the way he holds himself to a high standard and his composure in the game is just incredible.
VVN: And how about what's your favorite team?
Cain: St. Louis Cardinals.
VVN: What's the season been like for the seniors, with so many?
Cain: It's been super enjoyable, super fun. We come out, we work harder in practice than we ever have, we work harder in games, we're more focused, we don't have to worry about making errors or making stupid plays. We stay in games, if it's the first inning or it's the seventh inning, we're coming out ready to play.
VVN: How successful do you think this team can be this year?
Cain: For this team I see all the way to the state championship game. That's our goal and i think we can make that, no problem.
VVN: Do you have a favorite TV show?
Cain: Favorite TV show would have to be Seinfeld. I know it's old, whatever, but man, comedy just never gets old.
VVN: Do you have a favorite movie?
Cain: Favorite movie would have to be Step Brothers.
VVN: What's your favorite subject in school?
Cain: I'd have to say weights, you don't have to worry about learning nothing, just go in there and work hard.
VVN: Where do you see yourself in five years?
Cain: In five years I see myself graduating from ASU. Hopefully I'll go to community college first and then transfer to ASU and then get out of there with my business degree.
VVN: Do you know which community college?
Cain: Yavapai.
More like this story