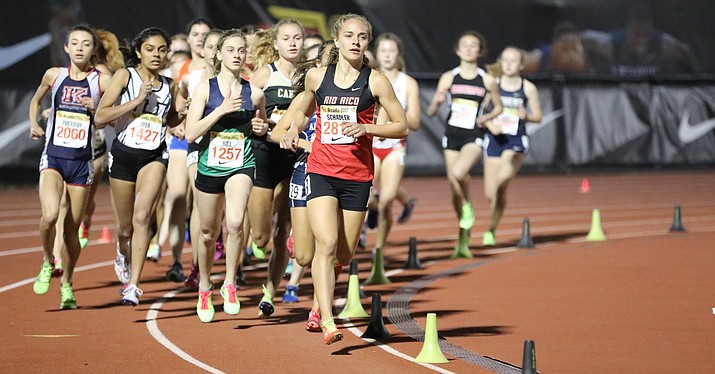 Originally Published: April 11, 2017 1:14 p.m.
Much like Arizona's Chandler Rotary Invitational, California's annual Arcadia Invitational brings together the cream of the crop among America's high school track and field talent.
The year's Arcadia showcase saw several Arizona athletes emerge as some of the event's brightest stars.
None perhaps were brighter than discus standouts Turner Washington of Tucson's Canyon del Oro High School and Elijah Mason of perennial state powerhouse Desert Vista High School in Phoenix.
Washington and Mason swept the top two spots in this year's Arcadia discus competition. In the process, they produced the most dazzling display of throws in Arizona history. Earlier this season at Chandler Rotary, Washington and Mason became the first Arizona prep duo in state history to throw more than 200 feet in the same competition.
Saturday, they did it again. In fact, collectively Washington and Mason had nine throws that went past the 200-foot barrier in a competition eventually won by Washington with a massive, nation-leading throw of 217-feet, 5-inches. That bettered his previous state mark of 215-8 set two weeks earlier, which eclipsed a state record that had been on the books for 30 years.
Constantly putting the competitive pressure on Washington was Desert Vista's Mason, who saw five of his six throws go past the 200-foot marker. Mason's best throw of the day hit the dust at 212-feet, 11-inches, which ties the one-time legendary state record set by Tempe's Dwight Johnson in 1987. Mason's mark is the third best throw in the nation so far this season.
And if that wasn't enough of a statement about the prowess of Arizona's 2017 prep discus talent, North Canyon's Austin Jackson finished seventh in the competition with a lifetime best throw of 190-feet, 10-inches.
Washington's nation-leading throw was one of three state records established by Arizona athletes at Arcadia.
Chandler girls do it again
For the third time this season, the Chandler High School girls 4-by-400 relay team lowered the state record, this time with a 3:46.14 clocking. They are the only 1600-meter quartet in Arizona history to eclipse the 3:50 barrier, and they've now done it three times. In fact, Chandler 4-by-400 teams dating back to 2003 own 10 of the 15 fastest times in Arizona history.
Schadler eclipses Jones' record in 3200
The third new entry into the Arizona record books came from Rio Rico High School senior Allie Schadler, who took down former Desert Vista standout and current University of Colorado two-time NCAA indoor national champion Dani Jones' mark in the 3200-meter run. Schadler finished third in the Arcadia 3200 Saturday night with a 10:05.70 clocking to shave nearly 4 seconds off the mark Jones had established in 2015.
Two weeks ago, Schadler came within about a second of Jones' mark in the 1600. She's just under 4 seconds off Joens' all-time Arizona best of 4:39.8 over a full mile.
Moulton records No. 2 time in AZ history in 400
After running 47.15 seconds to establish a new Chandler Rotary record over 400 meters two weeks ago, North Canyon junior Tyrees Moulton was seen as a legitimate threat to the state 400 record held by Spencer Chase (Desert Vista) since 2009. He's considered an even bigger threat now after turning in a 46.62 clocking Saturday, which is just 15-hundreds of a second shy of Chase's all-time state best.
In the process, Moulton became the No. 2 performer in the 400 in Arizona history, moving just past the 46.64 mark of Maryvale's Willie Jones, which stood as Arizona's state record for 32 years. Just a junior, Moulton has a huge upside as he also owns personal records of 10.74 for 100 meters and 21.36 for 200 meters. In addition, Moulton has great range as is evidenced by the 1:57.3 800 he ran in early March in his only attempt ever at the approximately half-mile distance.
In other top weekend performances by Arizona athletes:
• Desert Edge junior Tyson Jones solidified his position as one of the best prep shot-putters in Arizona history with throws of 63-feet and 63-5.5 in the Arcadia and Sun Angel meets last week. His season best of 66-8 came two weeks ago at Chandler Rotary and is the fourth best throw in Arizona history.
• Tolleson senior Trey Johnson duplicated Jones' effort by competing in both the Sun Angel and Arcadia meets last week. In the 110-meter hurdles, Johnson turned in times of 13.70 seconds at sun Angel (tie for ninth fastest all time) and 13.89 just a few days later. His season best of 13.65 seconds (Chandler Rotary) is the sixth fastest time ever in Arizona, behind five clockings recorded by 2016 U.S. Olympian and former Brophy Prep standout Devon Allen.
• Brandon McGuire of Kellis High School became the sixth-best performer (with the 16th best time ever) in the 300-meter hurdles with a 37.04-second performance at Arcadia. Three athletes from Brophy Prep (Robert Grant, Devon Allen and Isaiah Oliver) have the 12 fastest times in state history in the 300 hurdles, all run between 2012 and 2015.
• Highland senior Alena Ellsworth became only the eighth girl in Arizona history (10 if you count the non-electronic era times by Mavis Laing and Lois Drinkwater) to run 400 meters in less than 55 seconds with her 54.68 clocking at the Sun Angel meet. That makes her the No. 7 performer in Arizona history (ninth if you include the times by Laing and Drinkwater, both of whom ranked in the top 10 in the world in the event by Track and Field News in 1970/Laing and 1967/Drinkwater. While still in high school at Phoenix Central, six years before track and field was a sanctioned sport for girls in Arizona, Drinkwater earned a spot on the 1968 U.S. Olympic Team. Laing, Arcadia, was the 1970 U.S. National champion in the 440-yard dash. The same year, Laing was ranked No. 4 in the world and No. 1 in USA at 200 meters by Track and Field News.)
• Chandler sophomore Morgan Foster was second at Arcadia in the 800-meter run with a time of 2:09.52, her best of the season and third fastest of her career.
• Mountain Pointe senior Kayleigh Conlon moved into a tie for the third best girls shot put in Arizona history with her throw of 46-feet, 9-inches at Arcadia Saturday. She is one foot shy of the state record set by Chandler's Ky Westbook in 2013. In addition, Conlon threw the discus 156-feet, 3-inches at Arcadia. That makes her the No. 4 performer in Arizona history with the sixth best throw ever.
Arizona Boys Discus 200-foot club
Turner Washington, CDO, 2017, 217-5
Dwight Johnson, Tempe, 1987, 212-11
Elijah Mason, Desert Ridge, 2017, 212-11
Jim "Skip" Howard, Arcadia, 1971, 201-7
Doug Reynolds, Greenway, 1993, 200-9
Arizona's all-time best times boys 400 meters
Spencer Chase, Desert Vista, 2009, 46.47
Tyrees Moulton, North Canyon, 2017, 46.62
Dwight Jones, Maryvale, 1977, 46.64
George Page, Maryvale, 1992, 46.71
Jonas Motiejunas, Horizon, 1992, 46.75
Bernie Jackson, McClintock, 1980, 46.77
Markus Wheaton, Chandler, 2009, 46.80
Trae Armstrong, Deer Valley, 2012, 46.84
Paul Lucas, Mountain Pointe, 2014, 46.86
Javon Williams, Chandler, 2012, 46.97
Orlando McKay, Mesa, 1988, 47:09
Arizona's all-time best times girls 3200 meters
Allie Schadler, Rio Rico, 2017, 10:05.70
Danielle Jones, Desert Vista, 2015, 10:09.58
Sara Gorton, Mtn. Pointe, 1999, 10:15.94
Allie Schadler, Rio Rico, 2016, 10:16.72
Danielle Jones, Desert Vista, 2015, 10:19.62
Sara Gorton, Mtn. Pointe, 2000, 10:23.34
Sarah Fakler, Xavier Prep, 2013, 10:24.48
Jessica Tonn, Xavier Prep, 2009, 10:25.85  
Sally Meyerhoff, Mtn. Pointe, 2002, 10:26.51

Kari Hardt, Queen Creek, 2006, 10:26.79

Jessica Rydberg, Blue Ridge, 2009, 10:27.57
Roland Jumbo, Chinle, 2012, 10:28.15