Originally Published: April 15, 2017 3:21 p.m.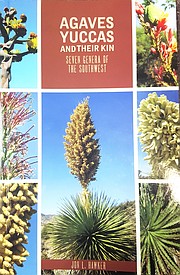 CLARKDALE – It took about a year for Jon L. Hawker to write "Agave and Yuccas and Their Kin: Seven Genera of the Southwest."
It is an illustrated, comprehensive 430-page field guide to help people identify what is growing around them.
"The reason this book exists is because there was not a book like this. I spent a decade going online, going through libraries, doing research, trying to find a rough field guide to the agaves and yuccas and I couldn't find one," explained Hawker.
"I wanted to identify what it was that I was finding," said the author.
He came across arcane, scientific work, he said, but nothing photographic.
"I decided well, before I die, I should leave everybody a field guide with good illustrations, color photographs," said Hawker.
He spent five years and drove 185,000 miles to complete the photography for his book. His yellow Labrador, Kelly, was happy to accompany him on his travels, often posing next to some of the most unique flora in the world.
The book
"Agave and Yuccas and Their Kin: Seven Genera of the Southwest" offers the reader a full-color guide to seven genera found wild in the southwestern United States that encompasses California, Nevada, Utah, Arizona, Colorado, New Mexico, and Texas.
It has received an award from the Border Regional Library Association and the 2016 Southwest Book Award.
"This is not really a scientific book," said Hawker in a previous interview, adding that he is "no expert" in the field of plant taxonomy.
However, he does see himself as "an agave public relations man, or a shill for yuccas, perhaps guilty of beargrass boosterism."
The book covers all of the named members or taxa of the genera Agave (around 36), Dasylirion (four), Hechtia (two), Hesperaloe (two), Hesperaloe (two), Nolina (at least 7) and Yucca (at least 26).
"The seven genera described in this book are included because they share a leaf arrangement called a rosette, which is a clump of spirally arranged leaves atop or around a stem of some size. Most happen to be spiny, at least at the tips of their leaves. The closeness of the taxonomic relationships between the groups varies," explained Hawker in his book.
He said Arizona is far and away "The Agave State."
In Arizona, there are at least 22 species of agaves, one species of dasylirion, one species of hesperoyucca, two species of nolinas, and 13 species of yuccas.
"They're not cactus," emphasized Hawker about the flora he wrote about. Just because a plant may look spiny, it doesn't mean it is a cactus, he said.
"They are agaves and yuccas and beargrass, and a couple of other kinds of plants," explained the author. And they are all related, he said. But very different.
"If you look at these things a little more closely, oh, they are different. Just like people," he said.
Agaves, Yuccas, and their kin in the Verde Valley
There are four species of agave in the Verde Valley that aren't found anywhere else, said Hawker, adding that the plants were first carried in by prehistoric tribes centuries ago.
They still survive.
Hawker said he has found Page Springs agave and Sacred Mountain agave on the hills around Cottonwood.
Also popular in the area is the Huachuca agave, which has been described as looking like a bloated artichoke.
"Visitors to Jerome in the Verde Valley will pass scores of Coues agaves, whether they come from Sedona or from Prescott. The most spectacular display is along the Perkinsville Road access just past the fire station in Jerome, then right at the gate to the Gold King Mine Ghost Town," said Hawker.
The Coues agave, a native species, will be blooming soon, he said.
Also in found in the area is the Golden-flowered agave.
"You'll see that when you drive the General Cook Trail," said Hawker.
They appear on both sides of the road as the elevation increases, he added.
"These have the prettiest color around here," said the author.
The Verde Valley also is home to two species of yucca. The Verde yucca, explained Hawker, is a subspecies of the Soaptree yucca.
"Then we have the Banana yucca," he said.
It produces edible fruit which tastes like banana. It is hard to find, he said, because animals are fond of it.
The Banana yucca is a key nectar source for hummingbirds, butterflies, bees, and bats, he said. They were an important food source for the first people of the region, he added.
People still utilize agave, yucca, and their kin to this day. Agave is used to create sweetener and mescal. Tequila is made from an agave plant that only grows in Mexico.

New agave is still being found in the area, particularly around the sites of prehistoric tribes.
Hawker said there have been three more agave species just added to Arizona's list. And while some species are endangered, such as the ones brought in centuries ago, he says the list will grow longer.
"The agaves around here, they are numerous and uncountable," he said.

There are also hybrids, the result of two groups of people carrying in flora from long ago.
About the author
Hawker is a retired college instructor who taught biology, botany, zoology, animal behavior, and ecology at St. Louis Community College for 35 years.
He married his wife in the Verde Valley in 1984, and bought property in the area in the mid1990s. They became fulltime residents in 2007 after he "retired for good."
He choose to retire in Arizona because of its proximity to different environments.
"I mean, from here, in a couple of hours you can get to 12,000 feet or 100 feet," he said.
"You can go from pine forest to grasslands. For a biologist, Arizona really has some of the richest species of diversity. In the county. I like it," he said.
Hawker is still involved in agave research.
"And yucca research. And so on," he added.
He still works with Wendy C. Hodgson, the Herbarium Director of the Desert Botanical Garden in Phoenix.
"We are finding new stuff all the time," said Hawker.
But the naming hasn't been settled yet, he explained.
"Science marches on," he said.
There are new species being discovered down in the Grand Canyon, "but we don't really know who they are yet."
He prefers to stay in the background now, but will go out into the field when the desire strikes.
Although he has St. Louis roots, Hawker has always been interested in the unique landscape of the Southwest.
He's attracted to tough plants.
"Tough plants that withstand and persevere, and are out of main stream, said Hawker.
"They're not petunias or beech trees," he added.
More like this story