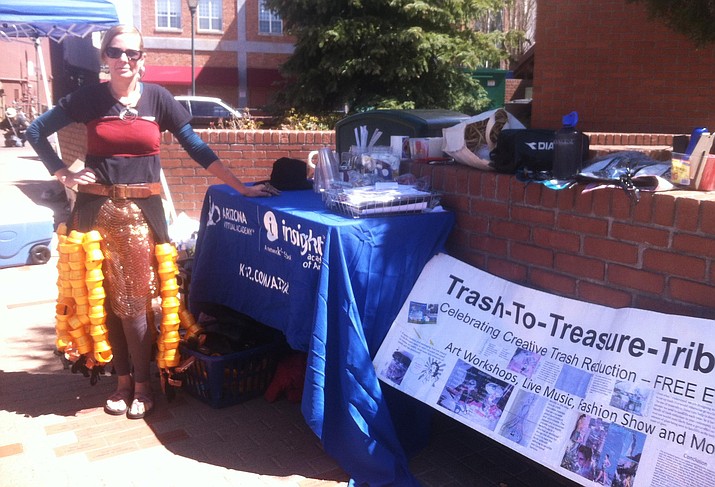 Originally Published: April 20, 2017 12:51 p.m.
CAMP VERDE – Leave it to ecologically conscious people to offer free water – yet ask that folks bring their own reusable water receptacles.
Think that's a little flippant? Not in the least. After all, that might be one of the easiest ways to recycle, by reusing something most people take for granted.
And isn't that the whole idea about recycling?
From 1 p.m. until 5 p.m. Saturday at Rezzonico Park, the Town of Camp Verde will hold its first Earth Day Arts Fest with an afternoon of events that show just how easy it is to respect the environment – and also have fun.
What's on the schedule?
Supporting Camp Verde's Tree City USA Designation, Earth Day in Camp Verde will begin with a tree planting to also celebrate the Town's Arbor Day Celebration. The tree planting will be accompanied by live music and spoken word by Christopher Fox Graham.
From 1:30 p.m. until 5 p.m., Ray Reeves of the Invincible Grins will play his upcycled suitcase-drum, "a natural choice for Earth Day," says Sebra Choe, the Town's Economic Development Specialist.
Also beginning at 1:30 p.m. is the Kayak clinic, which includes equipment and time on the river. It is a great way to introduce beginners to both safety and paddling techniques. The cost is $10 cash to participate in the clinic.
Local tutor and magician Bret Fox will put on a magic show beginning at 2 p.m. At 3 p.m., several of the community's young fashionistas will model outfits made from recycled materials at the event's Trashy Fashion Show.
From 3:30 p.m. until 5 p.m., meet The Janimal and watch him draw cartoons at his workshop.
But wait, there's more
Winners will be announced for Earth Day Arts Fest's upcycled art contest. Prizes will be given out for first, second and third place for the following categories: most beautiful, original, and functional works of art. Local businesses will give out both gifts and certificates.
Also, meet Smokey Bear from the U.S. Forest Service, and celebrate ongoing upkeep and renovation of Rezzonico Park. Walk the plans for the park, see where the new Ramadas will be placed, as well as new stargazing platforms, and the book trail for both walking and reading.
Rezzonico Park is located at the Camp Verde Community Library, located 130 Black Bridge Road.
For more information contact Town of Camp Verde's Parks and Recreation Department at 928-554-0829.
-- Follow Bill Helm on Twitter @BillHelm42
More like this story