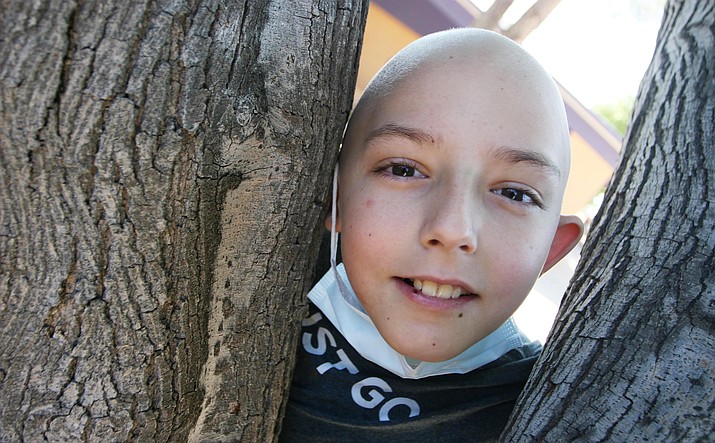 Originally Published: April 20, 2017 12:46 p.m.
COTTONWOOD – It's quite a story when a child is so loved by everyone that his hospital stays summon envy from his friends.
On a recent call to his classmates between chemotherapy treatments, both boys and girls were hanging on each of Dillin LaRue's words.
"What are you doing right now?" one child asked the 10-year-old whose daytime residence is Cottonwood Elementary School's fourth grade.
"Using my iPad," he responded.
"Aw!" they said with a slight tinge of jealousy.
His teacher, Brenda Lewis, said that one of her students offered to "trade places with him in a heartbeat to get him back to school."
But Dillin won't be back in school for a while. Perhaps not until early next year.
A warrior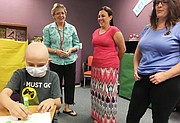 Ewing sarcoma is a rare malignancy generally found in bones or in soft tissue. For Dillin, the tumor is the size of a baseball and in his right lung.
Before two rounds of chemo, the tumor, found in January, was about the size of a softball.
If it weren't for the fact that Dillin likes to wrestle with his older brother Charlie, his mother may not have found out that something was wrong with your youngest child.
"Dillin had been complaining for a few weeks about pain in his side," said Lucy Tennihill. "I figured he'd hurt himself [wrestling]."
But the doctor said his cough "didn't sound like a chest cold" Lucy said. "Then they pulled 11 liters of fluid from his lung. The tumor was secreting, because his body was fighting it already."
Of course his body was already fighting the tumor. Both his teachers and administrators say Dillin is a warrior.
"He has been a real trooper, and concerned with other people's feelings," said Deborah Marston, Title I Aide at Cottonwood-Oak Creek School District. "I just pray that he is able to have some stability and good care, good nutrition, good role modeling and lots of love."
Profound connection
According to Lucy, one of the first things Dillin was concerned with upon diagnosis was how he would remain on the school's honor roll.
"Dillin is a high-achieving student," said Jessica Vocca, Dillin's principal at Cottonwood Elementary School. "Because he has this illness, we're making accommodations for him. His connection here is profound. He's inspiring, going through more than most adults."
Dillin's last day of school was Feb. 17. But he will be back next year.
"I'll fight it, I'll beat it, I'll get over it," Dillin said. "For a dog."
When he beats cancer, Dillin wants a dog – a husky – which he plans to name Wheatley.
"I was going to name it Keemo," he said.
Nothing gets Dillin down
With affordable housing options in the Verde Valley both few and far between, Lucy and her family generally struggle to afford a place to live. According to Barbara Amato, the school district's McKinney-Vento Homeless Assistance Act liaison, nothing, even a lack of consistent shelter, "gets Dillin down."
"He is a motivator and an inspiration to hundreds already," Amato said. "I believe he will continue to fight this and I believe he will win. I also think he will be the kid that stands before hundreds, if not thousands, and be able to say, 'Yeah, I've had it hard, I fought cancer, I've lost my home. What's your problem?'"
Treatment
Dillin and his family have been in a hotel the past five weeks. But they now need to be near the Phoenix Children's Hospital for the next 12 months of treatment, including another eight rounds of chemotherapy, surgery to remove the tumor, then more chemotherapy.
On April 20, Dillin began his fourth chemotherapy round. His attitude, "he takes it in stride," Lucy said.
Help Dillin fight cancer
From 5:30 p.m. until 7:30 p.m. Friday, Cottonwood Elementary School will hold a dinner and auction in Dillin's honor. Held at the school's cafeteria, spaghetti and meat balls will be served, as well as dessert.
For the dinner, Amato's cooking class students at Cottonwood Middle School have made "over 800 meatballs so far, and we intend on making more this afternoon so this benefit has been such a community effort," Amato said. "We have had many local businesses step up to donate gift certificates to raffle off, as well Vinnie's Pizza who donated garlic knots, Walmart who gave us a gift card for supplies, and many more. We are so grateful for our generous community."
Cost is $6 for adults, $3 for children.
Anyone interested in donating can visit YouCaring.com and enter Dillin LaRue in the search. So far, $1,609 has been raised for treatment, thanks to You Caring page created by Amato.
All money raised will help pay for Dillin's treatment, outpatient care and living expenses. Visit https://www.youcaring.com/dillinlarue-765521 for more information.
-- Follow Bill Helm on Twitter @BillHelm42
More like this story