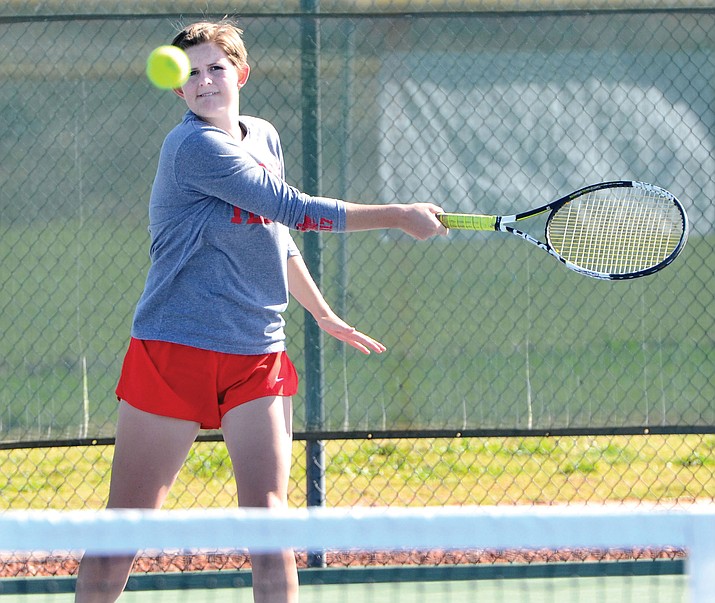 Originally Published: April 20, 2017 2:12 p.m.
With the team portion of the season over, Mingus Union tennis is sending six players to the individual state tournaments.
Senior Phoebe Chilton in singles and the doubles team of juniors Talon Whiteley and Emma Williams will represent Mingus Union at the state tournaments starting on Friday.
"We've played consistently well all season," said Mingus Union girls head coach Andrea Meyer. "We really haven't had a bad match at all. We just keep getting better and better."
In the first round, Chilton will play Bradshaw Mountain's No. 1 at the Phoenix Tennis Center on Friday. Whiteley and Williams will play St. Mary's in the first round.
"We're excited for it and we feel very good about our game," Whiteley said.
The state tournaments are six rounds played out over two weekends. If they advance, the third round is on Saturday at Paseo Racquet Center and the quarterfinals are on April 28.
On the boys side at Scottsdale Ranch Park and Tennis Center, junior Nick Ruggiero will play in the first round on Friday. The doubles team of sophomores Jordan Finger and Brigham Peterson will play McClintock in the first round.
On Wednesday in their last practice the girls going to the state tournament played the boys.
"We haven't played with them all season so I suggested it (Wednesday) so we could play different opponents with fast serves (laughs)," said Chilton, who played against Ruggiero.
Meyer said they also prepared for state by recording them at practice and showing them the little adjustments to make.
"I was impressed with our girls' ability to make some nuanced changes," Meyer said. "For example, we're working with Phoebe on a bounce hit sequence, saying to herself 'bounce hit' so she could get her shoulders turned on time for her ground strokes and she did really well with it and then Talon and Emma, they did really well at playing together as a team and anticipating."
Whiteley, who was Mingus Union's singles No. 1, said she and Williams have been playing competitively as a doubles team for two years but "for fun a lot longer than that."
Whiteley/Williams went 9-5 during the regular season, with two narrow losses.
After being the singles No. 3 for most of the season, Chilton beat
Williams in challenge match a couple weeks ago and took over the No. 2 spot.
"Those girls were close and I feel confident with either one of them playing the number two position but Emma was graceful about the loss and I didn't see any change in her game," Meyer said. "I know she continued to play aggressively and like a true teammate to everybody, which is in her nature, lovely, and it says a lot about them that they are able to compete ferociously for that spot and fairly and then come and play together as a team."
In the second and third position this year, Williams went 5-9 with a couple of close losses.
This is Chilton's first state tournament appearance in tennis but said she isn't nervous because she played in state in soccer.
"I'm definitely more comfortable playing doubles but I think I'll be fine," Chilton said.
Meyer said Chilton loves to play the net but she is best suited as a singles player.
"She thinks of herself as a doubles player but her mental nature is to feel very comfortable on the court, being responsible for her own shots and so on," Meyer said. "So psychologically, I think she's an adept singles player, it suits her well because she strategizes well and she enjoys challenges and she enjoys doing things independently and succeeding. I think she'll do very well."
Chilton said she thinks that she has played a lot better this year.
"When you tell Phoebe that she must win her match, that there's some external reason for that, for example her team is going to lose if she doesn't win, it's like pouring gas on a fire," Meyer said. "She is competitive with a capital C."
The Mingus Union girls team finished the regular season ranked No. 27 in Division II with an 8-6 record and the boys No. 54 and 1-12.
Meyer said is expecting Chilton and the doubles team to make it to next weekend at state, the quarterfinals.
"We're in great shape for this tournament and for the first time in years we've gotten a fairly easy first round," Meyer said. "We don't have to play the giant in the first round, so that will give us a little break."