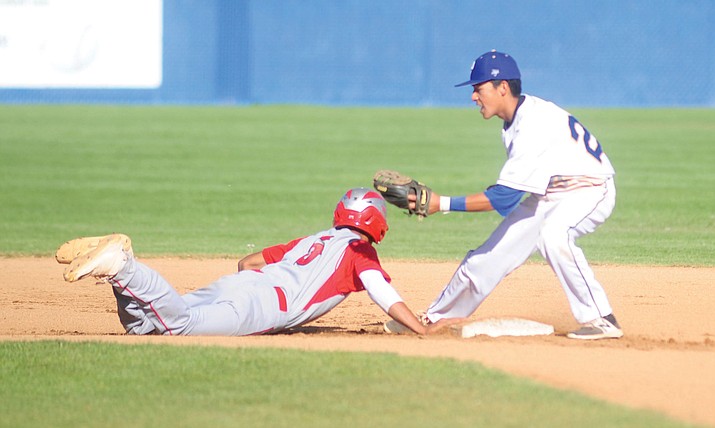 Originally Published: April 27, 2017 1:52 p.m.
Justin Warren and Luke Frederick combined to go 3 for 6 at the plate, but their clutch base hits during a three-run, fourth-inning rally put the No. 13-ranked Prescott baseball team over the top in a 3-2 win against rival Mingus on Tuesday afternoon.
It is the second win in eight days over the No. 8-ranked Marauders for Prescott, which has suddenly won five straight to become relevant in a 4A playoff picture that just three weeks ago seemed unlikely.
Trailing 2-0 in the bottom of the fourth, Cole Kelley walked, Ryan Greene singled and Joey Christopherson walked to load the bases for Warren, who took an outside fastball the other way for a two-RBI single to tie the game at 2-2.
"I was looking for it because in a previous at-bat he gave me fastballs outside," Warren said. "I tried to go the other way, but ended up going up the middle to do the job."
After Jake Schulz and Ray Chairez flied out, Frederick jumped on the second pitch he saw for the two-out, go-ahead RBI single to put the Badgers on top and they never trailed again.
"That was a big hit for us," Prescott skipper Kent Winslow said about his freshman's game-winning knock.
On the mound, Schulz was brilliant once again, allowing two runs on seven hits while striking out six in 6-1/3 innings pitched. Winslow removed his right-handed hurler in the seventh with one out after he reached the 100-pitch limit.
"It's not an easy thing to pitch against the same team twice, and to do it within five days is extremely difficult," Winslow said, adding that Schulz pitches well just about every time out.
"He battles, he has a great demeanor on the mound and nothing affects him," Winslow said. "He got down two runs early, but he kept pumping the zone, we scored a couple runs for him and he was money."
Schulz said Mingus is a "good hitting team."
"I just knew I had to locate, but my curve-ball and off-speed stuff wasn't working so hot in the beginning … Later on the game, I just located pitches, was executing and the defense had my back," Schulz said. "It was a good day."
Schulz pointed to the clutch hitting by Warren and Frederick in the fourth inning as one of the Badgers' best moments this season.
"Those two hits fired up our dugout. It was great to see, and the freshman [Frederick] coming up big, and Justin Warren, that guy is a stud, you can't beat him," Schulz said. "It was good to see the team get some fire in its eyes, beat a competitive team that is Mingus."
Longtime Mingus head coach Bob Young said Prescott is a "good ball club" and losing to them is "never a disgrace."
Although Mingus lost five of its best players this past weekend due to disciplinary action, Young said his club played better against Prescott this time around after losing 6-1 to the Badgers on April 17.
"We're not going to use [having to kick five players off the team] as an excuse," Young said, adding Schulz kept his offense at bay.
"The Prescott kid [Schulz] pitched a great game, kept us at bay," Young said.
UP NEXT
Prescott (12-13, 7-5 Grand Canyon) and Mingus (20-6, 8-4 Grand Canyon) are both expected to make the 4A state tournament. The 16-team bracket was not available at press time.
The first round is on Tuesday 4 p.m. and hosted by the higher seed.
Brian M. Bergner Jr. is associate sports editor and columnist for The Daily Courier. Follow him on Twitter, Instagram, Periscope and SoundCloud at @SportsWriter52, or on Facebook at @SportsAboveTheFold. Reach him at bbergner@prescottaz.com or 928-445-3333, ext. 1106.
More like this story