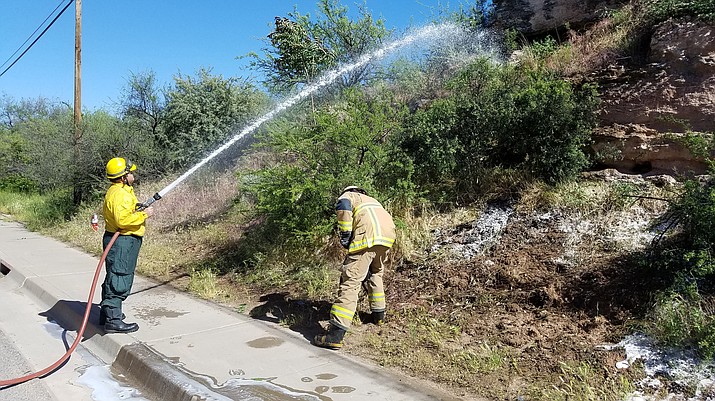 Originally Published: April 29, 2017 1:44 p.m.
PHOENIX – Like a lot of Arizona these days, the hillsides along SR 87 south of Payson look mighty green after a wet winter, said Arizona Department of Transportation.
"But that didn't stop a brush fire from breaking out last week after a vehicle dragging chains threw sparks off the roadway, backing up traffic as first responders addressed the blaze," stated an ADOT press release.
When warmer temperatures turn the ground cover brown, there will be even more reason for precautions to prevent brush fires along highways, emphasized ADOT.
"Everyone can help prevent fires," said Jesse Gutierrez, ADOT's deputy state engineer for statewide operations. "That starts with making sure your tires are properly inflated, being careful not to park over tall grasses and ensuring that chains aren't dragging."
During the winter and spring, ADOT crews mow vegetation along highway shoulders. Crews also remove brush, thin trees and spray fire retardant within the ADOT right-of-way to prevent fires and slow the spread of those that occur, stated the release.
ADOT said motorists have an important role as well:
• Don't park in tall grass, as the heat from parts under your vehicle can start a fire.
• Make sure nothing is hanging from underneath your vehicle and dragging on the pavement.
• Dragging chains during towing can cause sparks. Never substitute parts when towing.
• Check tire pressure before you travel. Exposed wheel rims can cause sparks.
ADOT participates in the "One Less Spark One Less Wildfire" campaign that the U.S. Forest Service and other land management agencies launched to focus on the role drivers and homeowners play in preventing wildfires.
Text-donation campaign asks public to 'Be a Hero for Wildlife'
PHOENIX – At the Arizona Game and Fish Department's Adobe Mountain Wildlife Center, wildlife experts work daily to rehabilitate and save some of the state's 800-plus native wildlife species, stated a AZGFD news release.
"It's often a thankful, albeit costly, job," stated the release.
To help defray rising costs of caring for Arizona's wildlife, AZGFD recently began its "Be a Hero for Wildlife" donation campaign to give the public an opportunity  to support its efforts to treat sick, injured, orphaned, and confiscated wildlife by texting CRITTER to 41444 from any smartphone.
"All this dedication and care comes at a great cost," said Mike Demlong, who manages AZGFD's Wildlife Center and Wildlife Education programs. "Many of the animals that come to us require extensive medical treatments, X-rays, monitoring and specialized care, and those expenses are considerable. It's rewarding work, especially when it comes to helping some of our younger more vulnerable wildlife."
"Unfortunately, the department does not receive state general fund dollars. That's what makes donations that much more important," Demlong said.
Funding raised through the "Be a hero for Wildlife" text-campaign will be used to care for the sick, injured, orphaned and confiscated animals housed at the Wildlife Center, in addition to the many animal ambassadors – such as a great-horned owl, golden eagle, desert tortoises and prairie dogs – that are used in educational outreach statewide, stated the release.
In addition to donations, the public can also help keep wildlife wild by leaving baby wildlife alone. The release stated that young wildlife is rarely abandoned so there is often little reason to "rescue it."
One or both of its parents is likely nearby searching for food and will return, said AZGFD.
"Baby birds are the most common wildlife species encountered removed from the wild by the public.
"Young birds that have fallen from the nest can be placed back in the nest or as close as possible. Baby birds that are partially flighted should be left alone or moved nearby out of harm's way," stated the release.
Those with questions about a specific situation should contact one of the wildlife rehabilitators listed on the department's website at: www.azgfd.com/wildlife/urbanrehab/ or contact your local Game and Fish office.
Fossil Creek access closed May 1-14
FOSSIL CREEK – Portions of the Fossil Creek Wild and Scenic River Corridor will be temporarily closed May 1-14 to allow for installation of vault toilets, according to a news release from Coconino National Forest.
During this time, reservations will be unavailable for the Waterfall, Irving, Tonto Bench, Fossil Creek Bridge, Homestead, Sally May, Purple Mountain, and Mazatzal parking lots. Reservations for the Fossil Springs Trailhead can still be made.
"The public is warned that there is no direct access to Fossil Creek from the Fossil Springs Trailhead. This trail is a very difficult, eight-mile round-trip hike. Hundreds of people are rescued on this trail each year, which puts a substantial burden on local emergency responders. Do not attempt this hike unprepared," stated the release.
Reservations are required now through Oct. 1 for day-use visitation in the Fossil Creek Permit Area.
The Forest Service implemented a reservation system in 2016 to manage high recreational use, stated the release. The reservation system provides 148 designated parking spots or approximately 740 visitors per day within the Fossil Creek Wild and Scenic River Corridor. "We are very pleased with the success of the reservation system last summer, and we are looking forward to its second year," said Nicole Branton, district ranger for the Red Rock Ranger District. "I recognize that closing portions of the area next month may pose an inconvenience, but I believe visitors' experience will be made more pleasant and resources better protected in the long run with improved toilet facilities."
Reservations for Fossil Creek can be made online at Recreation.gov or by calling 877-444-6777. Permits cost $6, entitling the permit holder to a single day pass that reserves a parking spot for the day in a specific parking lot.
ADOT improving Twin Arrows interchange
FLAGSTAFF – An Arizona Department of Transportation project underway at the Twin Arrows interchange along I-40 just east of Flagstaff will improve access for drivers.
The $4.5 million project between mileposts 218 and 220 will create new eastbound off- and on-ramps, and improve the bridge structure with new girders, wider abutments, a widened and repaved deck, and new safety barriers, said ADOT in a news release.
"I-40 drivers will encounter a lane restriction in both directions at the interchange as work continues," stated the release.
Access to Twin Arrows Road and I-40 will be maintained, though occasional detours can be expected, said ADOT. Work is expected to be complete by fall.
Take action when you see motorists trashing Arizona
PHOENIX – If watching someone toss a cigarette butt out the car window has ever made you mad, there's an easy way to take action: Report the offender to the Arizona Litter Hotline, said the Arizona Department of Transportation.
In partnership with Keep Arizona Beautiful, ADOT maintains this hotline to spread the word about the harm roadside litter causes, stated a news release from the Department.
"All that's required is providing the vehicle's license plate number and incident details in a call to 877-3LITTER or on the Keep Arizona Beautiful website at kazb.org," said ADOT.
Once Keep Arizona Beautiful receives a report, the owner will get a free litter bag and a letter noting that someone was reported tossing trash from the vehicle, explaining how roadside litter trashes Arizona and reminding the owner that littering fines go up to $500.