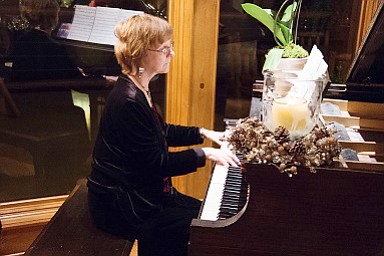 ---
---
Sedona United Methodist Church invites the community to a special concert featuring pianist and composer Ellen Foncannon Stephenson. The concert entitled, "The Story Behind the Song" will be held on Sunday, August 13, 2017 at 2:00p.m.
Ellen Foncannon Stephenson is the rare performing artist whose skills have transcended multiple disciplines. With early beginnings as church organist and piano accompanist, she also discovered a love of teaching, composition and performance that have resulted in a varied and successful career.
Ellen has established herself as an outstanding composer with over 600 choral and piano works, many of which are National Federation of Music Club selections. Her choral pieces, including over 40 publications, have been performed as far as Russia, and her playful parody, "Cold and Fugue Season" based on the music of Bach, has sold almost a million copies. With permission from the composer, Wayland Holyfield, Ellen wrote the first choral arrangement of the Arkansas state song, "Arkansas, You Run Deep in Me" and accompanied its premier performance.
For over 35 years, Ellen has taught music to people of all ages, using laughter and games to help unlock a person's innate creativity. She has been an educational consultant and speaker at national workshops and major trade shows, and has also received multiple sponsorships as an Arkansas Artist in Education.
But it is her love for the piano that has remained the driving force. Collaboration with Eric Schabacker (producer for Michael Jackson and Molly Hatchet) has led to the successful release of Winterwood: Finding Your Way Home, Light Reflected and, most recently, Thorncrown: Sacred Space, commissioned by Thorncrown Chapel. With a variety of styles, her music has been described as "an upbeat piano-driven fusion of classical, inspiration and jazz" and "elegant artistry with gentle passion and vibrant harmonies, as calming as the sound of rain and as energetic as sunshine."
Ellen received her education from Oral Roberts University, Fort Hays State University and the University of Kansas. She has dedicated her life to the love of music and has often said, "I cannot imagine life without the gift of music."
Sedona United Methodist Church is thrilled to welcome Ellen back to Sedona, where she worked as the organist and pianist of the church for several years.
Admission to the concert is free. The church is located at 110 Indian Cliffs Road in Sedona. For more information, please contact the church office at 928-282-1780 or visit www.sedonaumc.org