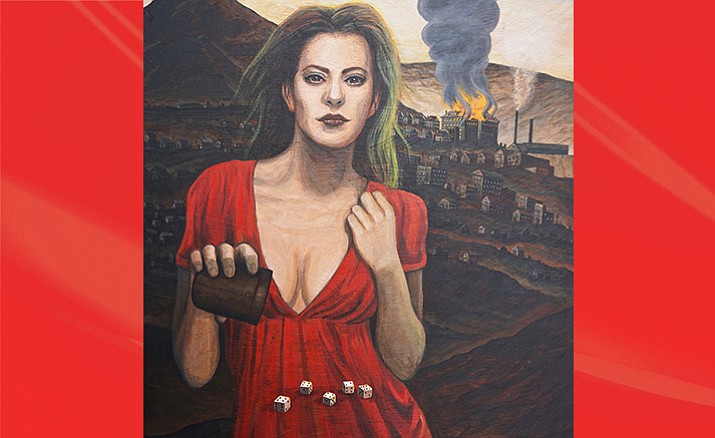 ---
---
'Tales of Jerome' new paintings by local Cottonwood artist Jason S. Voss, runs through August at Cartwheels at 909 N Main Street and will be featured during Old Town's Second Saturday Art Walk in August. Jason's unique work is inspired by his knowledge of Jerome Arizona, where he currently works for Tours of Jerome. His paintings depict Jerome's history such as the burning down of the famous Montana Hotel on Feb 28th 1915 under mysterious circumstances. 'The Cribs' section, which were part of Jerome's infamous red light district, created a block off main street, when the town wanted to clean up its rowdy reputation in 1913 after Arizona became a state. Jerome's fortune and high stakes gambling, is explored through his depictions of mysterious women envisioning Lady Fate. The woman in red, who wanders the hallways of the old Connor Hotel and Spirit Room, Tarot cards, The Stars and zodiac signs, all tied into Jerome's copper mining history.
Cartwheels also has over 65 local Arizona jewelers, artists and craftsmen on display so stop in and chat with some of them about their work and sample complimentary wine and refreshments.
August's Art Walk will take place in Old Town Cottonwood on August 12th from 6-9PM. For more information about Second Saturday Art Walk contact the individual business or email secondsatoldtown@gmail.com.

Old Town Frame Company
Steve Easterling, resident framer, artist and the "house band" of Old Town Frame Co., is heading east. Come visit us for Second Saturday Art Walk to take in his last musical performance and view some of his fantastic oil paintings. Wine and light snacks will be on hand so stop by, enjoy some great music, art and friends and let's send Steve out with a bang!
3 Kings Kasbar
Try a new amazing restaurant and come relax on the patio to the sounds of Sedona musician, Dan Vega and enjoy craft cocktails and great Tapas located at 102 E Pima Street. 
In the art space in the renovated church next door, there is artwork showcased by Anthony Averbeck.  Come in and get on the list for up-coming art classes and featured events.
ARC Contemporary Fine Art @ The Manheim
The featured August artist is David Lash and his new series "Free Birds". Additional exhibitions include Natasha Pudalov with "Travels with Mr. Fox", Guilio Maestro with his Spirit Circle Paintings, and introducing Tom Bartel with "New Clay Heads".
Arizona Stronghold
Our featured artist is Ahbleza McClure. Ahbleza is an Arizona native that lives right here in the Verde Valley. He does illustrations on high quality cotton paper. The artist describes his art as: "Soulful channeling of the infinite with whimsical characters and surrealistic settings. If R. Crumb and Salvador Dali had a baby in the Aboriginal Australian outback."  For more information about Ahbleza's, please go to facebook.com/vestamusicandart and send him a message.
​Music for the night will be brought to you by his significant other of 13 years and her brother.  Eva and Douglas George are a local duo and will be playing original folk/rock/pop with sibling harmonies.​
Burning Tree Cellars
Burning Tree Cellars, will be having local musicians Mark & Jo, playing from 6PM-9PM.
Pink Rain and All Things Creative
Pink Rain Boutique and All Things Creative will feature the well-known and well-loved blues band "Sweet Baby Ray's Blue Smoke", from 6-9pm in front of our stores.  Pink Rain will showcase hand decorated and painted denim bags and jeans.
The recently combined Treasure Junkies and All Things Creative Gallery and Boutique is featuring giclée art and photography at half price this month. Original art and photography are part of its local charm as well as hand crafted jewelry, hand tooled leather, art furniture and garments and many other delights to enjoy along with the live music and a glass of wine.
Zackford Gallery
We will leave the porch light on for you to explore our elite collections of Native American Art as well as the following local artists:
Judy Jaaskelainien, Jahn Baker, Ken Nicolai, Lucie Giebelhaus, Michael Turner, Richard Johnson and crafted wooden toys by Charlene Zack.