Originally Published: August 10, 2017 2:48 p.m.
RIMROCK -- Aug. 4, around 11:45 p.m., Yavapai County Sheriff's Office deputies were dispatched to the 4100 block of Aztec Road in Rimrock, regarding a subject firing rounds in his backyard.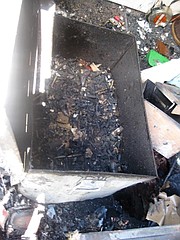 Upon arrival, deputies saw smoke coming from inside the house. In addition, popping noises were heard and deputies in turn notified the fire department, according to a new release from Yavapai County Sheriff's Office Media Relations Coordinator Dwight D'Evelyn.
Deputies called out to anyone who might be in the home, but there was no response, the news release stated. As fire personnel arrived from the Copper Canyon Fire and Medical Authority, flames could now be seen. A neighbor told deputies that the resident, who rarely leaves the home, was likely still inside. Once fire personnel were able to open the front door, they called out and heard a male voice respond but he refused to exit.
Fire personnel eventually located the man and escorted him out of the house to awaiting deputies. He was identified as 50-year-old Jan Miller, who admitted firing rounds in the air and starting the fire.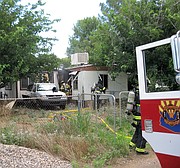 Miller, according to the news release, poured 'Everclear' brand alcohol on a container of live ammunition and then set it on fire.

Fire officials reported that the popping noises heard earlier resulted from ammunition exploding due to the heat of the fire. They also discovered a possible explosive device that a bomb technician later determined was actually a drum magazine for an AK-47 rifle.
Due to concern for the safety of fire personnel and surrounding homes at the time an explosive device was believed involved, a large perimeter extending at least two houses in all directions was set. This safety zone remained in place pending the arrival of the Department of Public Safety bomb technician.
After the home was safe to enter, several firearms were located and seized.
Miller was arrested on several charges including arson, four counts of discharging a firearm within city limits, six counts of endangerment, and possession of marijuana (found during his booking). He remains in the Camp Verde Detention Center on a $15,000 bond.
Citizens can contact the Yavapai County Sheriff's Office with information or questions at 928-771-3260 or the YCSO website: www.ycsoaz.gov
More like this story