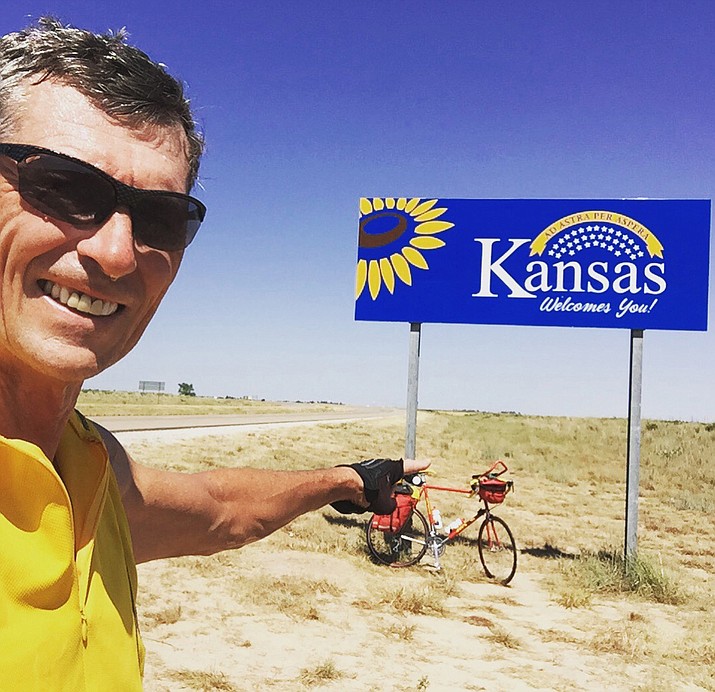 Originally Published: August 12, 2017 2:55 p.m.
COTTONWOOD – Last November, Cottonwood resident Rick Peterson tore his Achilles tendon pushing his broken-down Jeep.
In July, he rode his bicycle 1,445 miles to Pomeroy, Iowa, in 14 days.
Peterson spent three months unable to even walk on his injured leg. After almost half a year of rehabilitation, one would never know he had been injured at all if not for the red surgery scar on the back of his ankle.
Peterson had wanted to bike to his Iowa hometown of Pomeroy for years.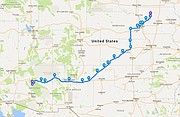 "We've driven it back and forth multiple times over the years. I couldn't help but go down the road and think as a cyclist, 'It would be cool to bike this road or that road,' so I put them all together and that was the start of the ride," said Peterson.
Peterson began his journey July 5. He planned his trip to coincide with Register's Annual Great Bicycle Ride Across Iowa (known as RAGBRAI), the biggest bike touring event in the world. The event occurs the entirety last week of July, leaving Peterson with 17 days to get to Iowa.
"It was in the back of my mind as riding back to that," said Peterson. The race occurs the last week of July, so Peterson planned on leaving on July 5 to give himself 17 days.
Peterson has ridden in the race 35 out of the 45 years it has existed. The date of the event did not leave much time for training, but he did what he could without stressing his tendon.
Peterson decided that his first goal would be to get to Albuquerque, and if his Achilles was not doing well, he would stop and make his way back to Cottonwood.
Peterson often spent meal times speaking with locals in the small towns he rode into. As he traveled through eastern Arizona he had planned to go take a short cut through the Zuni reservation – luckily for Peterson, locals informed him the road was closed, sparing him from riding an unnecessary extra 100 miles.
Upon arriving in Albuquerque, Peterson had completed around 400 miles of the journey. His tendon injury had held up well.
"I liken it to swimming across a lake – you get to a point where if you could turn around and swim back halfway, but you might as well swim across the lake," said Peterson.
"I think all of [his family members] were very excited for him. It was something that was on his bucket list for so long, but we were also nervous for his safety," said Jill Bridge, Peterson's daughter. "My poor mother was beside herself a couple of days because she just wanted him to be safe."
"We're so proud of him," said Bridge.
Peterson's family tracked his location with an app on their phones. Peterson texted them photos as he crossed state lines, including a photo of Peterson with a 'No Bicycles on the Highway' sign.
"It was like we were with him," said Bridge.
Peterson rode more than 300 miles on Interstate 40. There were stretches were Peterson was unable to stop, some as long as 70 miles. Days like those, in the brunt of intense heat without shade, Peterson carried 10 gallons of water with him. He used it all up just before he got to Dalhart, Texas.
He often ate at convenience stores or truck stops – places like Subway or Pizza Hut – but opted for mom-and-pop places where he could to enjoy as much good conversation with locals as possible. Peterson drank at least three to four gallons of water daily and estimates he burned 6,000 to 8,000 calories a day.
"When you're drinking that much fluid you don't have a lot of room to eat. Do I drink another bottle of Gatorade or do I get something to eat?" said Peterson.
Nine of the 40 pounds Peterson carried with him were his tent and sleeping bag. If he were to do the ride again, he says he would ditch the tent altogether. He set up the tent once and his second attempt to sleep in it failed due to a wind storm – a campground manager kicked him off the campground "unless that tent can withstand 40-mile-per-hour winds."
Peterson opted for motels the rest of the way, treasuring the air conditioning and television they provided, along with the ability to wash his clothes.
As he got halfway through Nebraska, he started to encounter bicyclists who were also riding to RAGBRAI. When he got to his hometown of Pomeroy, he had a cheering crowd waiting for him.
"I was amazed. Everyone knew I was coming because it's a small community and I've got a lot of relatives and friends there," Peterson said.
July 18, he arrived – with four days to spare before RAGBRAI. His family had set up a sign and tied balloons around Pomeroy's flagpole.
"The best part was the fact that I knew I had a huge support group. You kind of feed off that. Including my [physical] therapist and the doc and people that I've worked with for years, [as well as] people I know here that know I ride my bike and my family," said Peterson.
Peterson also cites Race Across America as a source of inspiration. Bridge pointed out that they at least get assistance, with a laugh.


"Now that I've done it, I'm fine. I'll probably never do it again. And if I did I'd be a lot smarter – by smarter I mean packing lighter," said Peterson with a chuckle.
During the 14-day ride, Peterson embraced nine days of headwinds, eight days of above-100-degree weather, and the journey of a lifetime.