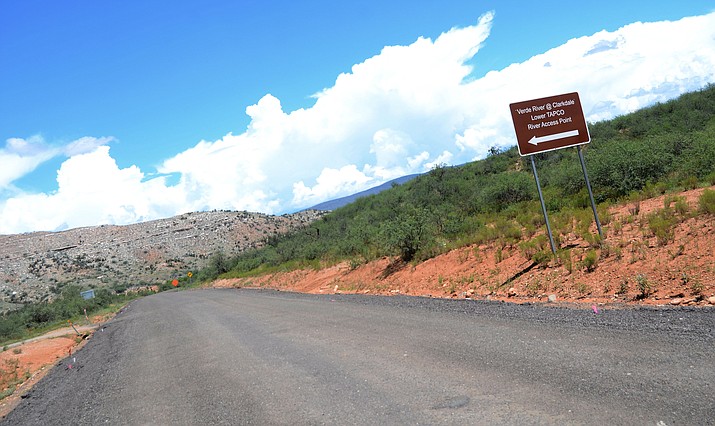 Originally Published: August 12, 2017 2:51 p.m.
CLARKDALE -- Hundreds of property owners in Clarkdale have signed up to have their land cleaned up in the United Verde Soil Program, but first Yavapai County has to approve a plan to permanently store the soil at a location 800 feet from the Verde River near the Lower TAPCO river access parking area.
So far, 354 residential and commercial properties have signed up to have their soiled cleaned up in the United Verde Soil Program in Clarkdale, as of July 31,, according a GHD Service Inc. report submitted on behalf of Freeport Minerals Corp. to the Town of Clarkdale. Three property owners have declined the soil clean-up.
But the voluntary program can't start until Yavapai County approves a location to put the contaminated soil.
Freeport has a conditional use application pending with Yavapai County to take the contaminated soil to the Sycamore Canyon Road basically across from the Lower TAPCO RAP (river access point), according to Gayle Mabery, Clarkdale town manager.
"That is the only site I believe they have an application in on," she said. Originally, they were looking at a site in Tavasci Marsh, but Mabery said it was her understanding they did not proceed with an application with that site. Other sites in Clarkdale were also looked at, but not pursued, she added.
"There are 1,139 available eligible properties within the current study area and 646 properties have been sampled or inspected," according to an email from Erick E. Kinneberg, director of external communications for Freeport-McMoRan.
They have expanded the study area boundary once and it's possible they will expand it again, according to Mabery. The original study area of Upper Clarkdale, Lower Clarkdale and Patio Park were expanded to include the Mountain Gate, Centerville, Palisades and Panorama neighborhoods.
Many homes in the older parts of town are participating in the soil reclamation, but there are less people signing up for a property clean-up in the newly designated areas, where there are more rental homes.
Freeport does not need a permit from the town to dispose of the soil, Mabery said. "We don't have a position on it currently," she said, adding that "We likely will," referring to the proposal to relocate the soil to Sycamore Canyon Road.
 "I believe they are supposed to be submitting a site plan to Yavapai County," she explained. "We haven't seen that yet."
Freeport spokesman Kinneberg explained in the email that the application has been filed. "Freeport Minerals Corp. has submitted a Conditional Use Permit application to Yavapai County to use Freeport Minerals Corp. property in Yavapai County north of Sycamore Canyon Road as a soil repository and construction staging area for the United Verde Soil Program (UVSP)."
"Other sites have been considered, but the Sycamore Canyon Road property currently is the best suited site for a soil repository in order to start soil remediation this year," the email stated.
How much dirt will be moved?
Mabery said there is no way to know how much soil will have to be removed to the new site. As they find high rates of exceedance in the newly expanded area in town, then the boundaries are expanded.
"It will be a significant amount. There are a lot of properties that are going to be need to be remediated," Mabery said.
"The final volume of soil is dependent on soil testing results and participation of the residents. The final repository design is anticipated to be approximately 10 to 12 feet in height. Once the soilplacement is completed, the site will be revegetated to conform to the surrounding landscape," the Freeport-McMoRan email stated.
Yavapai County Supervisor Randy Garrison agreed that he expects the remediation boundary areas to expand and that is part of the problem.
There is no way to determine how much dirt will have to be removed, stored and treated, he pointed out.
Garrison said the application for a conditional use permit for their remediation site on Sycamore Canyon Road is in front of Yavapai County staff and in very early stages. Then it has to go to a committee and board and then to the Arizona Department of Environmental Quality, he said
The soil testing has the oversight of the Arizona Department of Environmental Quality and the Yavapai-Apache Nation Environmental Protection Agency,
Garrison said he believed the mining company thought it would be easier to find a site to put the removed soil. Since it is so close to the Verde River's TAPCP river access site, there are runoff issues, he added. The county also just put down a down a new hard-top on Sycamore Canyon Road, and Garrison has previously voiced concerns about impact on the new road from the trucks that will be trucking the soil. This is a "long ways out yet," Garrison said.
History behind the soil
The Clarkdale copper smelter was operated by the United Verde Copper Company from 1915 to 1932 and by Phelps Dodge Corporation from 1935 to 1953.
As the corporate successor to Phelps Dodge Corporation, Freeport Minerals entered into the Arizona Department of Environmental Equality (ADEQ) Voluntary Remediation Program to investigate potential impacts to soil from historical smelter operations. The soil testing has the oversight of both the ADEQ and the Yavapai-Apache Nation Environmental Protection Agency.
Letters about the program have been sent to property owners in the expanded area. If a property owner gives permission for soil testing to be done, and the results come back positive, they can agree to have the contaminated soil removed.
For the past 15 months, Clarkdale soil samples were sent to an independent laboratory and tested to determine the concentrations of arsenic, copper, lead, tin, zinc, and boron in the soil. If concentrations of one or more of the metals exceed soil target cleanup levels, Freeport Minerals Corp. will remove and replace the impacted soil and restore the landscaping to similar condition. The program is free and voluntary.
Mabery said if a property owner, who falls within the boundary, agrees to have their soil remediated, they will have their soil removed and replaced with new soil. It can be up to two feet of soil but they do increments of six inches depending on the testing, she said. The program is voluntary.
The Clarkdale-Jerome School property won't have to remediated, because the property was scraped off when built in the 1980s she said.