Originally Published: August 12, 2017 2:39 p.m.
COTTONWOOD – In southeast Alaska, the community of Game Creek is nestled in the shadow of neighboring Hoonah, a city dwarfed by Juneau, about 30 miles to the east.
With close to 800 two-legged residents, Hoonah is the state's 80th most populated community.
On the twelfth of July, 16 members of Cottonwood's Emmanuel Fellowship Church arrived via ferry in Hoonah, then made the short pilgrimage to the Game Creek Farm, where for five days they nearly doubled the agricultural community's population.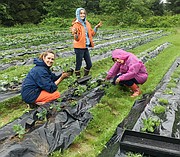 Inspired by conversations with a husband and wife who had ministered on the Farm, the Cottonwood Church's youth group, known as Inside Out Youth Ministries, spent 10 days in Alaska this summer and performed service projects and community service in both Game Creek and in Juneau, the state's capital.
"There is a bridge between us and youth in Alaska and we would like to bring them here," said Greg Roeller, Inside Out youth pastor.
Test of leadership
While in Alaska, Kaiden Slusser had what he called a "strong test of leadership."
Better known as Kai, the 18-year-old senior at Mingus Union High School was told to "watch over three young men who were very strong-willed and trying at times."
But they were his friends, "nonetheless."
"Seeing us all grow closer together was a great treat for me," he said. "They gained a newfound respect for their leaders and peers, and it was excellent exposure to missionary work for them. I also learned how important a team is."
Slusser and two others built a rail for the farm's dock "so the kids wouldn't fall off and injure themselves."
"Together, in a whole morning and afternoon, we accomplished the task and I felt better about what we did there," Slusser said. "I feel like we left on a good note with the people on the farm and at the church we partnered with."
Building on relationships
According to Shari Dutton assistant leader for Inside Out Youth Ministries, church members John and Lila Wright of Cornville "have a relationship" with people at the Game Creek Farm, as well as at the Nazarene Church, Salvation Army, and the Food Bank in Juneau.
"The purpose of the trip was to do community service and to minister to the families that live on the farm," Dutton said.
Eight members of Inside Out and their eight adult chaperones flew into Juneau the evening of July 9 with a low-60s temperature and rain, quite a difference from the 115 degrees they left behind at the Phoenix airport earlier that day.
Until July 12, when they traveled to the farm, they were guests of the Mendenhall Valley Nazarene church where they landscaped, cleared brush and performed general clean-up at the church, before they moved on to Hoonah and then to Game Creek where they repaired a broken dock, fixed a boardwalk, worked in the gardens, and stockpiled wood for the winter, Roeller said.
"We also went halibut fishing, salmon fishing, crabbing, bear watching and blueberry picking for fun," Roeller said.
The farm wasn't just green because of rainfall, its agriculture was primarily green, with lettuce, kale, spinach and cabbage the dominant produce growing on the farm.
Also plenty of cows and chickens on the farm, Roeller said.
"Always plenty of eggs and milk," he said.
Honored and blessed
Dutton said that after "4 1/2 days enjoying the fellowship of the people at the farm," Inside Out returned to Juneau where they cleaned, stocked shelves and read to homeless at the Juneau Salvation Army.
At the Southeast Alaska Food Bank in Juneau, the church group cut weeds and stocked shelves.
Inside Out was also able to do street ministry at the local bus stops, Dutton said.
"We were so honored and blessed to be able to go on this mission trip and feel that God used us to bless the people we were there to serve," Dutton said. "The kids were amazing and we all worked very hard while we were there, but we were also able to enjoy time at a museum to learn more of the local culture of the Tlinket tribe and visit the tourist areas where the cruise ships dock."
Unconditional love
For 18-year-old Katie Williams, being able to see the farm in Game Creek, and to spend time "with the wonderful people there" was her favorite part of the Inside Out's Alaska trip.
"We fished, picked blueberries, and most importantly, tried to help with any repairs so they had less to worry about," said Williams, a senior at Mingus Union High School. "By impacting the lives of the people on the farm, in the public, and in our own group, I know we accomplished what we went there for, to spread the unconditional love of Jesus."
-- Follow Bill Helm on Twitter @BillHelm42
More like this story