Originally Published: August 22, 2017 2:03 p.m.
RIMROCK – A young lad of 10 in Montreal is when James H. Keyworth first became what he calls an "amateur astronomer."
By age 13, Keyworth took possession of his first telescope.
"I got to see the moon up close," says Keyworth, a resident of Cottonwood since 2012. "It was exciting."
It didn't take long before Keyworth began to talk to his chums about the sun and the planets.
"They'd call me 'The Perfesser,'" Keyworth says. "That's how they pronounced it."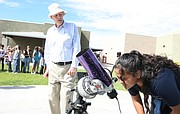 On Monday, Keyworth the Perfesser set up shop at Beaver Creek School. With his favorite telescope and the right filter to allow viewing of the sun, the amateur astronomer told students and adults about the solar eclipse – and how to properly view it.
In his role as The Perfesser, Keyworth talked about why there are such things as solar eclipses, and also explained what's happening.
Beaver Creek School eighth grader Ben Lawler says he enjoyed Monday's eclipse because he likes "to be in the dark and walk around."
"It's cool when the moon goes over the sun," Lawler says.
A solar eclipse occurs when the Moon passes between the Sun and Earth, and when the Moon blocks the Sun. Solar eclipses can only happen at new moon when the Sun and the Moon are in conjunction. In a total eclipse, the Moon fully blocks the sun. In a partial eclipse, only part of the Sun is blocked.
Monday's eclipse wasn't the first for Keyworth. In 1978, when he lived in Brandon Manitoba, Keyworth viewed a solar eclipse with his telescope. He'll never forget the day, in part because the temperature was negative-18 degrees Celsius.
"At first it was okay because the sun was shining," The Perfesser says.
But then the moon blocked the sun – and blocked what little heat his ungloved hands could attract. Other than telling the school's population to not look at the sun with their bare eyes, Keyworth's goal for Monday was that everyone enjoy themselves.
"They don't have to learn anything," he says. "Just have fun, see something they've probably not seen before."
-- Follow Bill Helm on Twitter @BillHelm42
More like this story