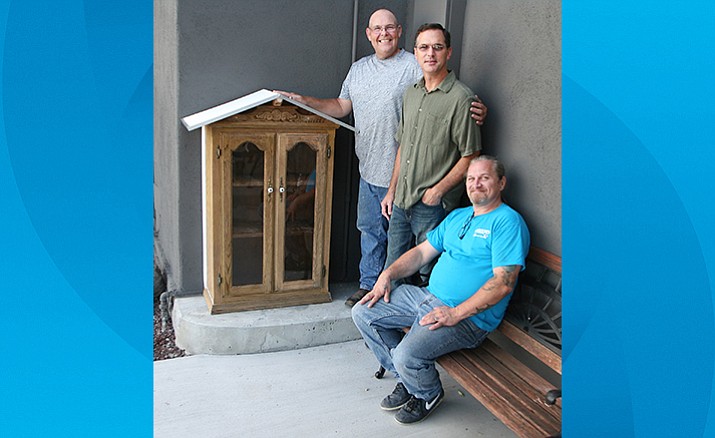 Originally Published: August 24, 2017 1:40 p.m.
CAMP VERDE – More than 20 years ago, the idea of Bread of Life Missions was birthed by Wally Clark, then a member of Calvary Chapel of Camp Verde.
Each Tuesday, Bread of Life serves dinner for about 140 people at the Camp Verde Community Center gymnasium.
Following dinner, about 75 families then take home a week's supply of food.
Though Bread of Life is one of a few programs in the Verde Valley whose function is to feed the hungry, it isn't open 24-7. And neither are the other programs.
A few months ago, Bread of Life's board president was online looking for practical ways to distribute free food during off hours.
An idea hit her: the blessing box.
"So I brought it to the board," Phoebe Hach said of the idea. "I told them that this is what we should be doing. And they agreed."
Before the weekend, Bread of Life's blessing box will be mounted on a back wall at Calvary Chapel Camp Verde. According to Calvary Chapel Camp Verde Pastor Scott Evans, Bread of Life will stock the box with non-perishable foods.
But his parishioners will also be invited to contribute – or to receive.
"Take what you need. Leave what you can. But above all else, be blessed" are the words that will be on a sign above the blessing box, Evans said.
The purpose of the box isn't solely to provide food on the spot, according to Bread of Life Director Duane Burris. Not everyone knows about Bread of Life's free Tuesday night dinner, message and grocery program. Burris wants everyone to know about the program, especially folks who need hot food – and/or groceries.
But Bread of Life endeavors to feed both the body and the soul around the clock. So the Blessing Box will always be open, Burris said.
With Beaver Creek Baptist Church and "also maybe" Parkside Community Church in Camp Verde, Burris said that Bread of Life is trying to have additional Blessing Box locations.
"We're trying to find a nice cabinet," Burris said. "Hoping to get one in September."
Camp Verde resident Dave Parker donated the box to be used at Calvary Chapel, a structure that looks much like the little lending libraries that have sprouted up around the Verde Valley.
Each Wednesday, Burris plans to stock the Blessing Box with items such as rice, beans, peanut butter, cereal and canned items.
"It will be pretty much the only place to get free food when the food banks aren't open," Burris said. "There will be times when you need a can of food right now."
For anyone who not only has an immediate need for food, but also needs to eat it then and there, Calvary Chapel Camp Verde will also make its microwave and tables available, Evans said.
Anyone who wants to make a donation of non-perishable foods can bring them to Calvary Chapel Camp Verde, located at 514 S. Main St.
Cash donations are also accepted through the Bread of Life website, www.bolmaz.org, or through the mail at Bread of Life Mission, P.O. Box 2991, Camp Verde AZ 86322.
Or call 928-592-8997 for more information.
-- Follow Bill Helm on Twitter @BillHelm42