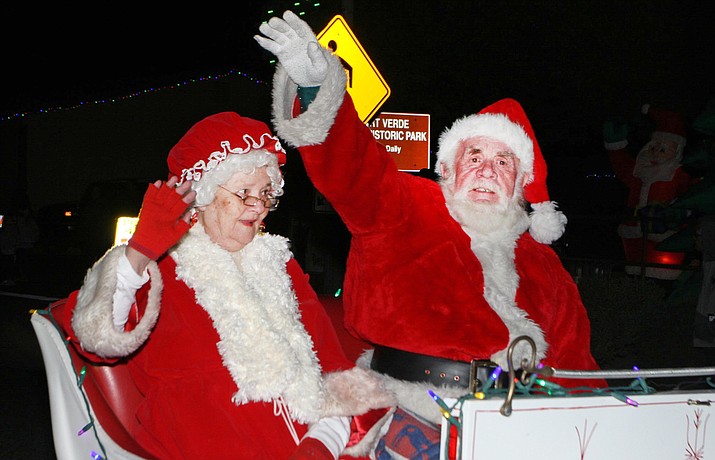 Originally Published: December 2, 2017 2:36 p.m.
CAMP VERDE – Lights – cameras – and plenty of action.
Christmas in Camp Verde begins Saturday at 10 a.m. with the annual Craft Bazaar, held at the Community Center Gym, and continues with the annual Parade of Lights at 6 p.m. along Main Street.
The parade ends each year as Santa and Mrs. Claus arrive from the North Pole in their sleigh. Ho, ho, ho!
Following the parade, meet Santa Claus and Mrs. Claus at the community center gym.
Santa Claus, also known as Saint Nicholas, Saint Nick, Kris Kringle, Father Christmas, or simply Santa. But does anyone know Mrs. Claus' name?
Mike Marshall said the Town's annual Craft Bazaar normally has about 34 booths.
"And we are on track to meet that this year," he says.
With what Marshall calls a "wide range of crafter types," Marshall is expecting an author, jewelry makers, crochet and wood items, jams, jellies and salsa at this year's bazaar, as well as crafters making leather goods, purses, note cards, wall hangings, quilts, beauty products and of course. Christmas décor.
"In years past we have had to turn crafters away who wait too long," he says.
The Craft Bazaar will be open from 10 a.m. until 4 p.m. at the Community Center Gym.
This is the ninth consecutive year that Camp Verde residents Chet and Mary Linder have portrayed Santa and Mrs. Claus at the Town's annual Parade of Lights.
Marshall, the Town of Camp Verde's Parks and Recreation Division Manager, said Santa and Mrs. Claus are usually joined by a dozen or so parade floats, as local businesses, organizations and neighborhood groups cascade down Main Street with vibrantly lighted and decorated floats.
"The parade is growing and we hope for more [floats] this year," Marshall says.
Marshall says that the Parade of Lights has a "lot of potential" because it is open to any individual, group or business who wants to enter.
"Because the parade has no charge and a deadline close to the event we normally get entries up until the last minute," Marshall says. "With no theme requirement other than the lights it makes it easy to get in the spirit."
Check out the lighted fire truck, flat bed trailers, as well as at least two decorated horse and riders, and one of the parade's longest running entries is a group of friends and neighbors on decorated ATVs.
"We are still looking for parade entries," Marshall says. "Always room for more."
There's no telling how many children will sit on Santa Claus' lap this year.
After the parade, Santa and Mrs. Claus wil l be on the stage in the Community Center Gym for children to tell him what they want for Christmas.
Santa will also listen to children's wish lists, pose for photos and pass out candy canes.
Want to see Santa earlier in the day? Then be one of the first to see Saint Nicholas as he makes an early stop to the bazaar between 1 p.m. and 3 p.m.
Admission is free to both the Parade of Lights and to meet Santa.
The Camp Verde Community Center Gymnasium is located at 51 E. Hollamon St.
-- Follow Bill Helm on Twitter @BillHelm42