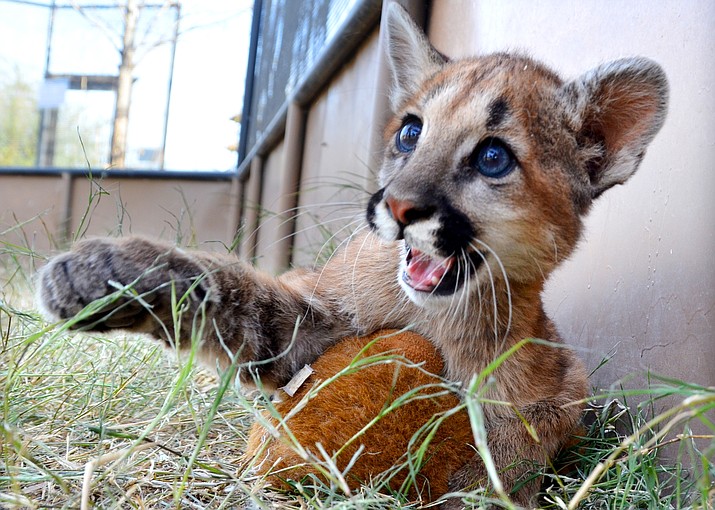 Originally Published: December 2, 2017 2:33 p.m.
CAMP VERDE -- Will a tom cat from Cornville fall in love with a kitten from Camp Verde?
It may not capture the nation's attention like the latest Royal Couple in England, but "Sage," the Cornville mountain lion abandoned by its mother on the Verde River recently, soon will be housed with "Libby," a female mountain lion living at the Out of Africa Wildlife Park.
Libby was rescued in Southern Arizona two years ago, and they will be the only mountain lions at the Camp Verde wildlife park.
Since Libby is two years older than Sage, it will be a while and it will be "up to them" if they have offspring, explained his Out of Africa handler Jeff Harwell.
At first, wildlife officials believed Sage was a female, but it turns out the feisty and playful mountain lion is a male and now weighs 13 pounds at 3 months of age. He will be between 120 and 150 pounds when full-grown.
When he was just 6 weeks old, the male mountain lion was found abandoned by its mother, falling over and covered in parasites near the Verde River in Cornville and was brought in by Arizona Game and Fish to Billy Harvey at the Runnin' W Wildlife Center in Cornville where the cub was initially treated.
The infant mountain lion was given a full examination by veterinarians at the Arizona Exotic Animal Hospital. He was found to be in poor-to-fair health. Arizona Game and Fish officials decided to send the mountain lion to Out of Africa rather than trying to release it.
Sage now has a favorite stuffed toy that he sleeps with, said Harwell, while wrestling with the active mountain lion cub on Tuesday. Sage is much more assertive and active than Libby and park officials hope he will make Libby less shy and more social.
Harwell said mountain lions roam for hundreds of miles and Sage was only found about 10 miles away from Out of Africa "as the crow flies" in Cornville.
Asked if there was a possibility that Sage's mother could roam to Camp Verde and the cub could see his mother again from Out of Africa, Harwell said that it was unlikely that Sage's mother was alive if she abandoned her cub.
"Unfortunately I'm pretty sure his mother passed away, or otherwise I think, probably, he would still be with her," explained Harwell. "He was lucky enough that Game and Fish was able to pick him up."
"He's going to have an amazing life … full of toys and keepers that love him."
Michael Demlong, AZGFD Wildlife Education program manager, said they had offers from animal sanctuaries and zoos, "both in Arizona and out of state" to provide a "forever home" for the abandoned mountain lion.
Sanctuaries, unlike wildlife parks, provide wild animals a living experience closer to their natural surroundings. Some sanctuaries don't name their animals, provide larger roaming areas and don't interact with the public.
However, Out of Africa was chosen because of the decades of experience of housing and caring for large adult and infant felines and other carnivores, Demlong explained in an email.
He added that the park was also close the where the cub was found near the Cornville area and pointed out that the Sage will fulfill the need for a "companion" for the solitary female mountain lion (Libby) that was rescued from the Tohono O'odham Nation two years ago.
Delong said AGFD has a strong, positive partnership with Out of Africa over the decade as they have provided homes for multiple non-releasable or confiscated wildlife such as an otter, bears, Gila monsters, tigers and many others.
"The park also takes on all expenses for housing, food and medical care," Demlong pointed out.
As far as re-releasing Sage, Delong said he knows of "no reputable, licensed organization, agency or facility in the U.S. that accepts large cats (such mountain lion cubs) and successfully returns them to the wild after receiving authorization from the state wildlife management agency."
He pointed out that if a cub is not rehabilitated correctly it could starve to death, be preyed on by other animals, or it may try to interact with humans and livestock.

At Out of Africa, "the lion cub has the potential to help educate thousands of people each year about Arizona's diverse wildlife and can help instill an appreciation for our wildlife, Delong said.