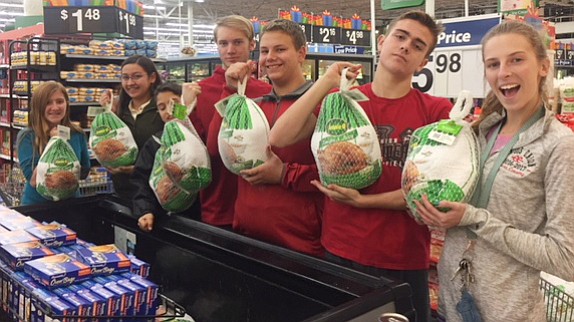 Originally Published: December 2, 2017 2:19 p.m.
COTTONWOOD – The Cottonwood Youth Advisory Commission aims to make a real, lasting difference in the community.
"The fall began with the planning and building of the Haunted House, which was a huge success," said Youth Programs Coordinator Kirsten Hastings in a press release.
The Commission partnered with James Ball and the talented Mingus Union High School Drama department. Seven hundred and seventy people passed through the doors and 285 cans of food were collected and donated to the Food Pantry at Journey Church.
"Thank you Verde Valley residents for coming out and supporting the event! We also would like to thank Taylor Waste, Signs 928, Lawler Construction and Carla's Dog Grooming for sponsoring this event," said Hastings.
The Commission donated 400 pounds of turkey to the Old Town Mission so that less fortunate families could have a Thanksgiving meal.
The CYAC will also be hosting the Angel Tree project, which will serve 90 needy children in the Verde Valley. If you are interested in hosting a child this year, the Angels will be up on the tree beginning Friday at the Cottonwood Recreation Center, located 150 South 6th St.
"Simply grab a tag, register it with the front desk and then drop off unwrapped gifts by Dec. 15," stated the release.
"The Cottonwood Youth Advisory Commission's efforts are small yet significant acts of kindness that brings about change locally. A strong community with a high quality of life means safer, healthier lives for all of us. It is no doubt that our youth play an essential role in our community and let us not forget they are our leaders of tomorrow," said Hastings.
More like this story