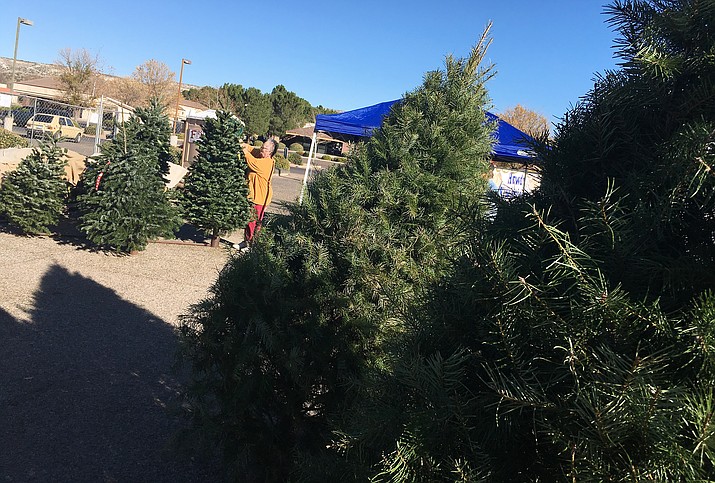 Originally Published: December 7, 2017 1:44 p.m.
CAMP VERDE – It may be more desirable to work in nice, round numbers.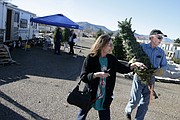 But the Camp Verde Kiwanis started its annual Christmas tree fundraiser this year with 201 Noble Fir, Douglas Fir and Nordmann Fir trees.
"We've sold 45 or 46 trees since we opened Nov. 29," said longtime Kiwanian Dave Kaminsky. "We've sold five or six in the past half-hour."
Cracking a little Christmas humor, Camp Verde resident Diana Demarest said she bought a 4.5-foot Noble Fir "because I'm a noble person."
Demarest, who is a distant relation to television and movie actor William Demarest, purchased the diminutive tree because at 5-foot 1-inches, she can reach the top.
"I just hope my cat Monty doesn't climb it," Demarest said as Kaminsky placed the tree in the back of her car.
This year is the first time Demarest can recall buying a tree from the Camp Verde Kiwanis.
"Been watching so many Christmas movies, I even redesigned my living room to have a real Christmas tree," she said.
Through Dec. 23, or until supplies run out, trees as short as four feet and as tall as nine feet will be available at Camp Verde Kiwanis lot, located at the main entrance to the Bashas' center on Finnie Flat Road.
"Most people who come are repeats," Kaminsky said. "But we always encourage people to come out for the first time."
The Camp Verde Kiwanis Christmas tree lot is open Wednesday, Thursday and Friday from 1 p.m. until 6 p.m., Saturday from 10 a.m. until 6 p.m. and Sunday from noon until 5 p.m. Trees cost between $40 and $100 depending on height and style.
Anyone who buys a tree from the Camp Verde Kiwanis can ask for the tree to be trimmed for best appearance. And Kiwanis will even deliver them if asked, Kaminsky says.
The Kiwanis will even lop an inch off the bottom, which "opens the pours of the trees so they soak up water even after being cut," Kaminsky says.
Proceeds from the sale of the Christmas trees are used for various education-related community projects, including student leadership and recognition programs, Key Club, Builders Club, BUGS (Bringing Up Grades), dictionaries for third graders in Camp Verde schools, music programs within Camp Verde Unified School District, Adopt-a-Family, Little League and AYSO sponsorships and college scholarships.
-- Follow Bill Helm on Twitter @BillHelm42
More like this story