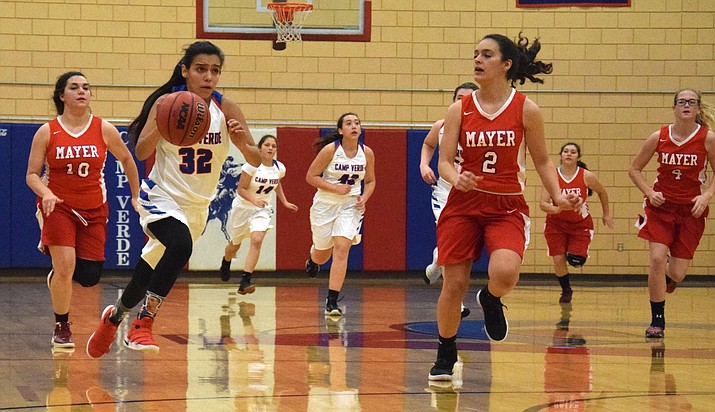 Originally Published: December 7, 2017 1:36 p.m.
Camp Verde High girls basketball suffered its first two losses of the season but head coach Mark Showers said they were good experiences.
The Cowboys (6-2) reached the championship game of the Phoenix Country Day School Desert Classic, losing 52-30 to defending 3A state champion Chandler Valley Christian.
The Cowboys opened the tournament with a 62-36 win over Tonopah Valley, then beat the hosts 41-17 and then Salome 56-13 to win their pool. Phoenix Country Day knocked Camp Verde out of the state tournament last year, 45-23.
Then the Cowboys beat Horizon Honors 45-24 in the semifinals.
Sophomore Jacy Finley had 18 points and 18 rebounds against Valley Christian.
"The kids during the tournament learned a lot, we were able to get a lot of kids playing time, work on some things, fortunately many of the schools ran both man defense and zone defense, we were able to work on all of our offensive sets," Showers said. "Valley Christian pressed us, so we were able to work on our press offense. It was a good tournament. Valley Christian was extremely tough, aggressive, they're defending 3A state champions and that was a perfect game for us because it made our kids toughen up our guards had to play harder, Jacy had to play harder on the post, it was good for us, very good for us."
Sophomore Amanda Lozanilla had 17 points against Horizon Honors, sophomore Bennett Holm 12 points against Salome, Finley scored 13 against PCD and Lozanilla had 15 against TV.
"In an invitational tournament early in the season, variety is huge because then you can work on all sorts of things," Showers said. "It's unfortunate when you go into a tournament and the teams you play all do the same thing, you don't want that, you want a variety of things So overall it was probably one of the best preseason tournaments I've been a part of because there was so many different things that we were able to work on."
On Tuesday the Cowboys lost their second straight to a 3A school, losing 51-49 at Payson. Longhorn junior Raegen Ashby proved to be a handful.
"(Tuesday) the kids played hard," Showers said. "We could not shut their big girl down, big girl number 22 had 26 points and that was really in a lot of ways the difference in the game. We tried everything. We doubled down on her, we doubled her, we went man, we did all sorts of things and at one point we were down 11 and came back and cut it to two just before the end of the game. Again, it was a good test for us because the kids had to toughen up, they had to deal with some adversity and they dealt with it pretty well unfortunately we didn't win the game."
The Cowboys' next game is on Friday when they host Anthem Prep at 5:30 p.m.