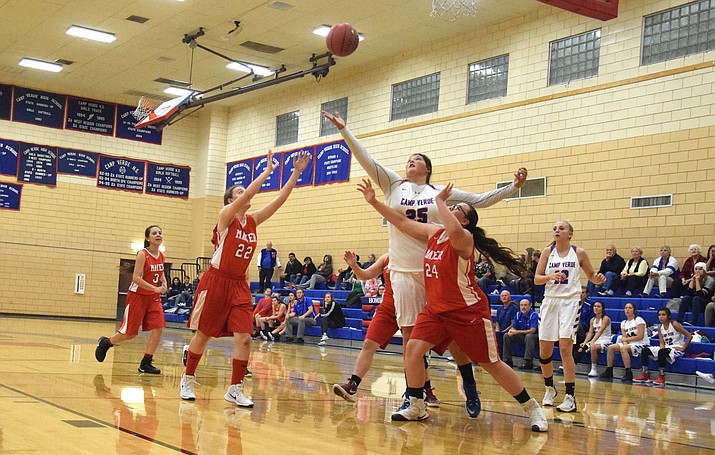 Originally Published: December 7, 2017 1:41 p.m.
Camp Verde High sophomore girls basketball player Jacy Finley is off to a dominant start.
The sophomore post is averaging a double double as of Dec. 6. She's scored in double figures in every game so far this year for the Cowboys except their win over Horizon Honors but she had 12 rebounds against the Eagles.
Camp Verde head coach Mark Showers said she has done "very well" this season.
"She's had three games where she's had 18 rebounds," Showers said. "Right now she's averaging 12 points and 12 rebounds a game, so she's doing well."
Finley was honorable mention All-2A Central last year for basketball and was first team all-region for softball.
Against 3A defending state champion Chandler Valley Christian in the championship game of the Phoenix Country Day School Desert Classic, Finley had 18 points, 18 rebounds and a steal.
"She's a lot stronger, more confident," Showers said about Finley her sophomore year versus her freshman year. "That in and of itself has been a big boost."
VVN: How do you think the season has been going for you guys?
Finley: I think it's been doing really good, even after we lost a bunch of seniors. We have a really young team and we've been striving at working together, playing harder and driving more toward the basket and we're doing good at it.
VVN: How cool is it to get to the championship game last week?
Finley: It was really cool because last year I know we didn't do the best but this year we improved a lot and it's a lot of fun. Especially when we played Horizon Honors. In the beginning we were behind a little bit and then towards the end we ended up working harder and pushing ourselves to overcome it.
VVN: How much do you think it will help you guys playing a bunch of different teams, a variety, and playing good teams?
Finley: I think it will help a lot, especially when we played Valley Christian. They were a really good team and I think like playing them and playing up at their level, just trying to stay with them, helps us a lot with all of our plays and like our defense and stuff.
VVN: How do you think it's gone for you so far this year?
Finley: It's gone pretty good. I've been better in the post area and getting outside more to shoot, outside instead of down below.
VVN: Coach Showers talked about how well you did in the championship game, what was that like? How fun was that?
Finley: It was a lot of fun. We were all pretty tired. It was fun and we did really well. We were a little slow in the beginning but then we ended up sticking with them a little bit and working hard.
VVN: Did you go into this season thinking you needed to step up and play better or did you just focus on playing, you know?
Finley: Yeah, I was focusing on playing better than I did last year and just like get more skilled I guess.
VVN: Is this where you hope to be playing or did you hope to be doing even better at this point?
Finley: I would hope to be doing better. I'm doing pretty good now, but I hope to work a little harder, every practice just to get better as I go along.
VVN: What does it feel like to get a rebound, get a big rebound?
Finley: It feels cool (laughs) because like you jump up and everybody's all surrounding you, I don't know.
VVN: Is it more fun to get a big rebound or score?
Finley: I think it's more fun to get a big rebound.