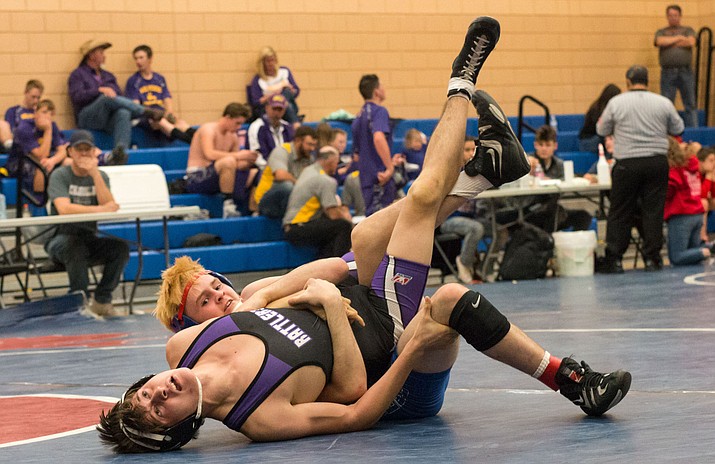 Originally Published: December 7, 2017 1:53 p.m.
Camp Verde High wrestling won two more duals after finishing second at the Verde Duals.
On Wednesday night at Phoenix Pinnacle, the Cowboys beat Mesa Dobson 59-22 and Pinnacle 47-22.
"Pinnacle is a very good team, they proved it at Verde Duals," said Camp Verde head coach Tracy Tudor. "They were very good. We were kinda worried that it was going to be closer than it was but we got on a roll and a couple of our kids really wrestled well."
Daniel White (145 pounds), who was the Cowboys' wrestler of the week, beat a "very good wrestler" Tudor said.
The wins came after the host took second at the Verde Duals. Oro Valley Ironwood Ridge, which is located just outside of Tucson, won the team title. The Nighthawks won the 2011, 2012, 2013 and 2016 state championships at the Division I and II levels.
"We did well," Tudor said. "We got second place to a very talented Ironwood Ridge, who actually won it Casteel, they got third, Coconino got fourth."
Three Cowboys won championships at the Verde Duals, Keene Todacheene (106), Korben Uhler (132) and Conrad Brady (170), who took home the outstanding wrestler award.
Up next for the Cowboys is the Veterans Memorial Invitational at Window Rock. The tournament features 28 teams and the headliner is Tucson Sunnyside, who has won 25 state championships since 1985.
"We've got Window Rock coming up in the middle of the month, that's a big tournament," Tudor said. "Featured opponent for us is going to be Sunnyside out of Tucson/ They're one of the best teams in the whole state, so we'll be matching up with those guys and we'll get to duel them sometime, I'm hoping in the championship."
More like this story