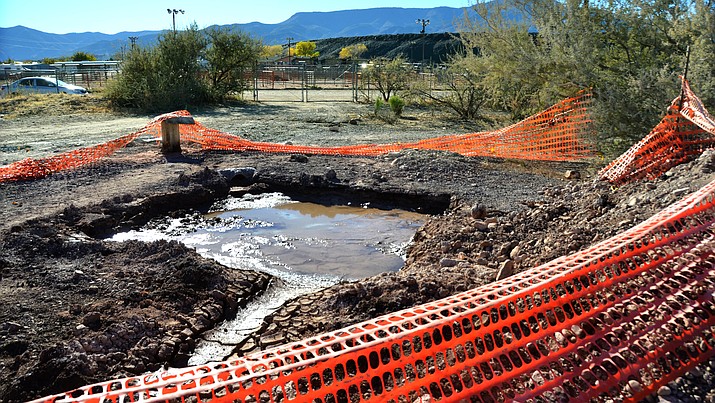 Originally Published: December 7, 2017 1:38 p.m.
COTTONWOOD -- An injection well at the Verde Valley Fairgrounds to pump reclaimed water from the new Riverfront Park treatment plant looks "promising," according to Tom Whitmer, Cottonwood's Director of Natural Resources.
The injection well is important in order to operate the city's new water reclamation plant in Riverfront Park and provide a place to put the high-grade effluent.
However, Whitmer said in an email that the city won't know for sure until they see future test results.
"All things thus far look promising for being able to use the site as an injection well, but until I see the results of the geophysics and we complete the pump test and injection test, we won't know for sure," he said, adding that tests could begin this week.
"They have completed the drilling and are now disassembling the buoy line," he said. They have completed the geophysical logging but the city has not received a copy of the results yet, he said late last week.
The city drilled the test exploratory injection well near the Kid's Park at the Verde Valley Fairgrounds after attempting a similar injection well at Riverfront Park near the water reclamation plant. But it turned out that there was too much water underground at Riverfront Park for a reclaimed water injection well to work.
Water will be treated at the Cottonwood waste water treatment plant and force-fed back into the groundwater supply to boost the city's water portfolio. The city is laying purple water pipes throughout the city.
The city still will use the treated effluent water to irrigate the Riverfront Park facilities. It now likely will be expanded to other parks in the city and the Cottonwood Middle School ballfields.
There is consideration for creating an orchard site near the community garden as another use for the effluent. Some of it will be used to irrigate the Cottonwood Cemetery grounds.
But there will more A+ quality effluent than they can use and it will be injected into the ground. The Riverfront Park facility will generate about 280,000 gallons daily, Whitmer has told council members.
More like this story