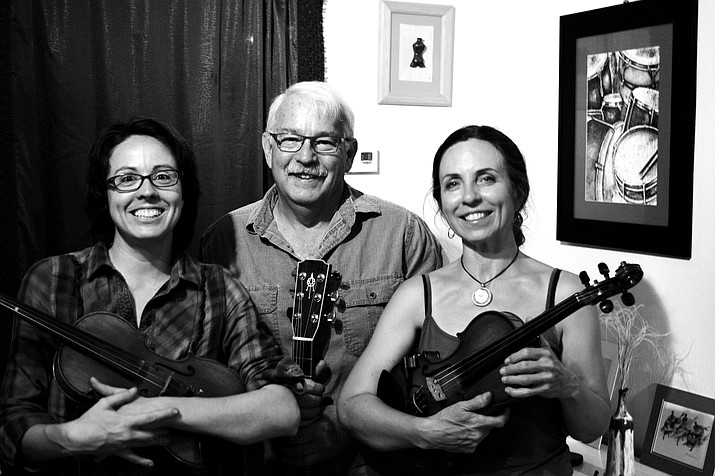 Originally Published: December 7, 2017 12:10 p.m.
What's Happening listings are published on a space-available basis in The Verde Independent and Camp Verde Bugle. They are also published in the What's Happening section of verdenews.com and cvbugle.com. If you want guaranteed placement or guaranteed dates of publication in the print edition, please submit to mlovett@verdenews.com for a classified listing or jschield@verdenews.com for display advertising.
Contra Dance returns to Clarkdale Dec. 16
December's contra dance will take place at the Clarkdale Memorial Clubhouse (auditorium,) 19 N. 9th St. (9th and Main) on Saturday, Dec. 16, 6:30 p.m. Dance to the live music of Under the Bridge, featuring Sonja Whisman and Emily Millhouse on fiddles and Ron Barton on guitar. Michael Barraclough will teach and call every dance. If you can walk, you can contra -- no experience or partner needed.  Wear comfortable clothes and shoes and bring a snack to share if possible. Be sure to arrive at 6:30 for the half-hour lesson that covers the basics and then dance until 10 p.m.. See examples of contra dance on Youtube. Donation is $10 per dancer and $7 for students.  This dance is sponsored by the Clarkdale Historical Society and the Flagstaff Friends of Traditional Music. Contact Sandy Boothe for more information: 928-634-0486 or sandy@ringsforever.com. Photo, from left, Emily Millhouse, Ron Barton, Sonja Whisman. Courtesy photo from Under the Bridge.
Era of the Big Bands: Christmas Memories
The Big Band era, 1930s and 1940s, came during turmoil in the United States with Prohibition, the Depression and World War II. People were anxious to temporarily forget their troubles and the insurgence of the Big Bands gave them that outlet.
For many, dancing and romancing to the bands were some of the happiest moments of their youth, and this music brings back those memories, both to those who lived through the era and now their children who grew up listening to their parents' music.
The Cottonwood Public Library will present Erik Larson from Arizona Humanities as he brings original recordings of the bests of the bands and vocalists performing Big Band Christmas music from this era. He encourages his audiences to ask questions, identify the performers and share stories in an interactive environment. The presentation is free and open to the public and seating is limited.
Erik Larson earned a B. A. degree from San Diego State University in 1962 and served with Boys Clubs of America (now Boys & Girls Clubs) for thirty years as the director of five different Clubs throughout the Midwest and California. While in Aberdeen, South Dakota and Des Moines, Iowa he received a national award for creating outreach programs designed to help youth from single parent or otherwise disadvantaged families. Eventually he was asked to join the National Staff as a management consultant to individual Club staffs and boards of directors. For nearly two decades, he has been a volunteer docent at Riordan Mansion State Historic Park in Flagstaff.
This special holiday presentation takes place on Thursday, Dec. 21, 2-4 p.m. in Library Meeting Room B. The library is located at 100 S 6th St. This program is made possible by Arizona Humanities.
Kelli Ward speaks at Republican Club Dec. 12
Kelli Ward, candidate for Arizona U.S. Senate will speak at Cottonwood Republican Club Tuesday, Dec. 12.
Everyone is invited to the Mingus Mountain Republican Club Luncheon Dec. 12 at 11 a.m. at the Veterans of Foreign Wars Post #7400, 705 E. Aspen St., Cottonwood. Keynote speaker will be conservative past Arizona State Senator Kelli Ward, now running for U.S senate to replace Jeff Flake. Kelli states that she will be a champion for "America First" policies that reignite the American economy, eliminate job-killing regulations and improve the life and liberty of every American. Kelli will be available for questions at the end of her presentation.
Lunch includes prime rib, salad and dessert with coffee or iced tea at $15.00. Without lunch, there is a meeting fee of $3, sodas are $1 extra. Lunch is served at 11:15 a.m. RSVP by email, MingusMountainRepublicans@gmail.com or call Carol at 928-301-2121
Grasshopper Basketball registration open in Camp Verde
Camp Verde Parks and Recreation reminds everyone that registration is open for our popular youth Grasshopper Basketball Program.
This program for boys and girls in 5th through 8th grade is a fun way to learn basketball and teamwork. Co-ed teams of boys and girls, led by volunteer coaches, are grouped by grade level and practice one night per week and compete on Saturday mornings. Smaller sized basketballs are used to make the game more enjoyable and successful for the younger grades.
Volunteer coaches are always needed for these teams. Finding enough coaches for the kids who want to play is always a challenge and community involvement is absolutely required. Coaching experience is not required, only the desire to help your kids and others have a good time.
Parents interested in coaching should sign their kids up early and check the coaching box on the form.
Registration is only $40 per child and $35 for each additional child from the same family and includes a uniform shirt.
Partial scholarships may be available to help those in need courtesy of funding provided by the Kiwanis Club of Camp Verde.
Sign-up forms are available through the schools or can be picked up at Parks & Recreation. Return all registration forms to Parks & Recreation by December 21.
Games are scheduled to start Saturday, January 20 and the Tournament will finish in early March.
For more information or to register come to Parks & Recreation at 395 S. Main St. or call (928)554-0829 or email us at parks@campverde.az.gov.
Santa coming to Hillside in Camp Verde
Hillside Canine has invited Santa to visit during December and has now received confirmation from the North Pole – HE IS COMING! Because of the high number of "Nice" dogs and children in the vicinity of Camp Verde, he is actually coming twice! Bring your dogs and/or children for a photo with Santa on Saturday December 9th AND Saturday December 16th between 10 am and 2 pm. Hillside Canine Resort & Spa 874 N. Industrial Drive Camp Verde, Az. 928-567-6304 In consultation with Santa, we are running this as a fund raising event for Northern AZ Service Dogs (501c3). A donation of $10 (or more!) would be appreciated. Northern AZ Service Dogs: https://www.northernazservicedogs.com/index.html Northern Arizona Service Dogs is dedicated to providing adults and children with service dogs in Arizona and throughout the United States. With over a century of combined experience, our expert support and training staff is second to none when it comes to providing you or your loved ones with high quality, reliable service dogs for many unique abilities and needs. As an official non-profit charity organization, we strive to empower the wonderful people we serve by providing service dogs that increase their independence and self-esteem, while promoting community understanding, involvement and support.
Monthly breakfast at VFW Saturday morning
VFW Post 7400 will have its monthly breakfast, Saturday December 9, 2017.  Basic Breakfast: eggs your way, choice of ham, bacon or sausage, hash browns and toast wheat or white donation of $7.  Pancake breakfast choice of ham, bacon or sausage donation of $4.00 or Biscuits and Gravy choice of ham, bacon or sausage donation of $4.00.  Come and joins us for breakfast, visit with veterans and check out our museum. Start serving at 8:30 AM  
Make holidays bright for a senior in need
Verde Valley Caregivers is making the holiday season memorable for older adults who are often alone this time of year. VVCC's Annual Holiday Giving Tree project has launched with trees up at Camp Verde, Cottonwood and Sedona Public Libraries, and at the Oak Creek Country Club in Village of Oak Creek.
The public is invited to select gift tags from the trees, purchase the needed items, and return the wrapped gift to a box located near each tree. Neighbors typically ask for warm socks, slippers, or a blanket. Some neighbors report this is the only present they receive at Christmas time. All of our neighbors are so thankful.
A neighbor recently commented: "Thank you for rides during the year and the holiday present and for making my life a little easier."
The trees will be up through Dec. 13. For more information please call 928-204-1238.
Salvation Army looks for holiday volunteers
As many people get ready for the holidays, so do those who help those in need. Camp Verde Salvation Army is once again looking for volunteers to ring the bells in front of Bashas Grocery Store.
The majority of the money raised from bell ringing stays to assist those living in the Lower Verde Valley communities. Your help is needed; we are looking for volunteers to ring the bells from Tuesday through Saturday during the times of 11 a.m. to 1 p.m., 1-3 p.m., and/or 3-6 p.m.
From Nov. 22 through Dec. 23, except Thanksgiving Day. Please call and help us ring the bells. Call 928-300-3165 if you can give your time to ring the bells for Camp Verde Salvation Army.

Give the gift of time this holiday season
Most holiday celebrations center around being with family and friends but for children in the foster care system it can be a harsh reminder of what is missing.
There are nearly 16,000 children in Arizona spending the holidays away from their parents and often their siblings too. While caretakers may try to make the day special, all the excitement of the holidays can leave children in foster care feeling very alone. With the help of the community more kids could find a permanent home for the holidays.
This holiday season consider giving the gift of advocacy to a child in foster care. Court Appointed Special Advocates (CASA advocates) visit the child(ren) regularly and develop a relationship with them. They gather information on the case and report back to the judge to ensure each child has the resources and help they need while in the system and is on track to get into a permanent, loving home as soon as possible.
CASA volunteers are everyday community members who donate their time to be the eyes and ears of the judge in the community. Children with a CASA advocate spend less time in foster care and are half as likely to reenter care.
No specific background or training is needed to become a volunteer CASA advocate. Anyone 21 years of age or older, who can pass a thorough background check and complete 30 hours of free training, is welcome to apply.
For more information on the CASA Program visit CASAofYavapaiCounty.org.
Holiday charity organization needs volunteers, tables
The Giving Angels is a charity that provides 600-plus holiday gifts to independent, low-income seniors in the Verde Valley. We desperately need volunteers to help us wrap, bag and deliver holiday gift bags on Dec. 11 and 12 and to deliver the 600 gift bags on Dec. 14.
Also, we're in need to borrow 10 large 6' folding tables for our volunteers to put the bags together. If you're unable to volunteer monetary donations are greatly appreciated. We are 501(c)(3) organization so donations are tax deductible.
Donation can be made on line at www.givingangelsofaz.com or by mail at The Giving Angels, P.O. Box 3118, Sedona, AZ 86340

Many of these seniors live alone and rarely see anyone all year. So, connecting with them involves more than the delivery of a much-appreciated gift, it's also a time for them to talk with someone that cares. To volunteer, contact The Giving Angels at 928-254-3930.
United Christian School Christmas program set for Dec. 8
"The Big, Big Story" is a musical that involves UCS students from Preschool to 6th grade. A reporter and camera person have come to town to follow up on a tip that a "big" story is about to take place. Enjoy the telling of an old story with a new twist at Parkside Church on Friday, Dec. 8 at 6 p.m. The church is located 401 Camp Lincoln Rd. in Camp Verde.
Polar Express Party Dec. 8
Polar Express Party-All Aboard will be held on Friday Dec. 8 at the VFW located 705 E. Aspen. Doors open at 6 p.m. and the event starts promptly at 6:30 p.m.
There are only 180 tickets at a $5 donation. Tickets can be purchased at: Desert Dance, Acme Pizza, Teaser's, Chamber of Commerce, The Cowboy Shop, Vinnie's Pizza and Mooey's Christmas Shop in Jerome. We will be making ornaments, crafts, and letters to Santa. Come in your pajamas! Children must be accompanied by an adult.
More like this story